Activities in Singapore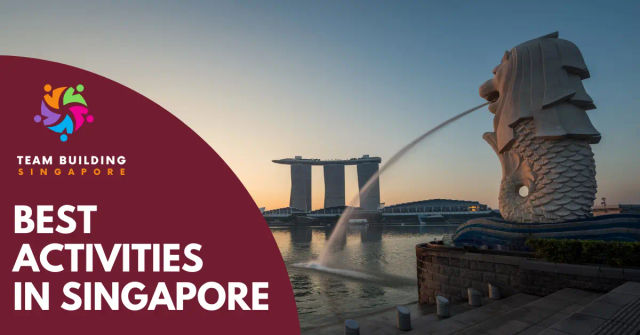 Singapore, a dazzling city-state nestled in Southeast Asia, offers an array of activities that cater to every traveler's desires. From its gleaming modernity to its rich cultural tapestry, the Lion City beckons with a multitude of experiences waiting to be discovered.
Exploring the best activities in Singapore is like embarking on a journey through time and culture, where each corner reveals a unique facet of this dynamic destination.
Key Consideration Factors
Before deciding on what activities in Singapore to do, check out these consideration factors first:
Budget: Singapore is a great place to shop, dine and explore on any budget.
Weather: Singapore's tropical weather means that it's usually hot and humid all year round.
Time: Consider how much time you have in the city – some activities are quick hits while others may take days or weeks to complete.
Interests and Age Group: Singapore has something for everyone. Whether you're looking for fun activities or more cultural experiences, there are plenty of options to choose from based on your interests and age group.
Best Activities in Singapore
1. Bubble Soccer
Dive into the exhilarating world of Bubble Soccer, a sport that combines the excitement of soccer with the playful twist of being encased in a giant inflatable bubble. Imagine running, bouncing, and colliding with opponents while encapsulated in a soft and bouncy bubble, adding a hilarious and unexpected element to the game. This social and physically engaging activity is perfect for group outings, team-building events, and friendly competitions that guarantee laughter and unforgettable memories.
2. Ninja Tag
Experience the thrill of being a ninja in the modern world with Ninja Tag. Navigate through a thrilling obstacle course that challenges your agility, balance, and problem-solving skills. Dodge laser beams, crawl through tunnels, and scale walls as you race against the clock and compete against friends. This heart-pounding activity brings out your inner warrior while providing an exhilarating and memorable challenge.
3. Combat Archery Tag
Embark on a fast-paced adventure that combines archery with the excitement of a tag game. Equipped with foam-tipped arrows and bows, participants engage in strategic battles, aiming to hit opponents to eliminate them from the game. Dive behind obstacles, plan tactics with your team, and showcase your accuracy and reflexes in this thrilling combat experience that blends archery skills with adrenaline-pumping action.
4. Giant Whack-A-Mole
Step into a life-sized version of the classic arcade game and become a part of the action with Giant Whack-A-Mole. This unique and interactive activity transforms you into the player as you use soft mallets to "whack" inflatable moles that pop up from their holes. Test your speed, coordination, and reaction time in this larger-than-life experience that's perfect for both children and adults.
5. Bullet Ball
Combine soccer with billiards in the dynamic and engaging game of Bullet Ball. Play on a pool table-sized field and use your feet to send soccer balls into pockets. Employ strategy, precision, and teamwork to outscore your opponents in this exciting fusion of two beloved games, creating an experience that's both competitive and entertaining.
6. Laser Tag
Step into a futuristic battleground with Laser Tag, a thrilling team-based game that blends strategy and adrenaline. Suit up with vests and laser guns and venture into a darkened arena filled with obstacles and hiding spots. Navigate the maze-like terrain, tag opponents with laser shots, and accumulate points for your team. Laser Tag promises hours of high-energy fun for groups of friends, family, or colleagues.
7. Saber Tag
Immerse yourself in the world of science fiction with Saber Tag, an activity that lets you engage in epic duels using illuminated sabers. Drawing inspiration from cinematic battles, participants engage in friendly clashes, showcasing their agility, precision, and strategy. Whether you're a Star Wars enthusiast or simply seeking a unique and exciting experience, Saber Tag offers an immersive adventure that's both physically engaging and visually captivating.
8. SaberFit
Combine fitness and fun with SaberFit, a high-energy workout that incorporates illuminated sabers into choreographed routines. Led by experienced instructors, SaberFit blends cardiovascular exercises, core strengthening, and saber techniques to create an engaging fitness session. Let your inner Jedi shine as you swing, twirl, and sweat your way through an energetic workout that promises to elevate your heart rate and leave you feeling invigorated.
9. Poolball
Experience a fusion of soccer and billiards with Poolball, a game that challenges your soccer skills and precision. Played on a larger-than-life pool table, participants use their feet to send soccer balls into pockets, mimicking the mechanics of billiards. Whether you're a soccer enthusiast or simply seeking a unique twist on traditional games, Poolball offers a fun and engaging experience that's perfect for social gatherings and team-building events.
10. Bullet Strike
Immerse yourself in the virtual world with Bullet Strike, an augmented reality game that combines real-world movement with digital combat. Using your smartphone as a portal, step into a battlefield filled with virtual enemies and challenges. Engage in exciting shootouts, strategically position yourself, and defeat opponents as you explore a blend of physical and digital environments.
11. Gel Candle Making Workshop
Unleash your creativity and craft exquisite gel candles in a hands-on workshop. Learn the art of candle making by choosing from an array of colors, scents, and decorative elements to create unique and personalized candles. Whether you're a novice or experienced crafter, this workshop allows you to experiment with different designs, resulting in stunning candles that can serve as beautiful decorations or heartfelt gifts for loved ones.
12. Balloon Sculpting Workshop
Discover the magic of transforming ordinary balloons into whimsical creations in a Balloon Sculpting Workshop. Led by skilled instructors, you'll learn the techniques to twist, shape, and sculpt balloons into animals, characters, and intricate designs. Whether you're a child or an adult, this workshop promises a creative and entertaining experience that lets you unleash your artistic side through a unique and vibrant medium.
13. Stitched Leather Workshop
Immerse yourself in the art of leathercraft with a Stitched Leather Workshop. Learn the fundamentals of working with leather, from cutting and stitching to assembling your own accessories. Under the guidance of experienced artisans, you'll create stylish and functional items like wallets, keychains, or belts. This hands-on workshop offers an opportunity to engage with a traditional craft, allowing you to design and craft personalized leather goods that showcase your skills and creativity.
14. Soy Candle Making Workshop
Experience the art of candle making in a Soy Candle Making Workshop. Craft eco-friendly soy candles by blending different scents, colors, and styles to create custom candles that reflect your preferences. With the guidance of skilled instructors, you'll learn about candle-making techniques, fragrances, and container choices, resulting in beautifully crafted candles that provide both aesthetic charm and delightful aromas.
15. Tote Bag Art Jamming
Unleash your inner artist in a Tote Bag Art Jamming session. Express yourself on canvas tote bags using a variety of painting techniques, colors, and designs. Whether you're an experienced painter or a complete beginner, this creative activity allows you to freely explore your artistic side, resulting in functional and unique pieces of wearable art.
16. Perfume Workshop
Embark on a sensory journey in a Perfume Workshop, where you'll craft your very own signature scent. Guided by experienced perfumers, you'll explore different fragrance notes and create a personalized perfume that reflects your personality and preferences. This hands-on experience not only provides insight into the art of perfumery but also leaves you with a unique and memorable olfactory creation.
17. Clay Making Workshop
Enter the world of sculpting with a Clay Making Workshop, where you'll create intricate pieces using clay as your medium. Under the guidance of skilled instructors, you'll learn sculpting techniques and explore your creativity by molding and shaping clay into objects of your choice. From pottery to miniature sculptures, this workshop offers a hands-on experience that lets you craft unique and artistic pieces.
18. Canvas Art Jamming
Release your inner artist in a Canvas Art Jamming session, where you'll paint on canvas to create your own masterpiece. Guided by experienced instructors or left to your own creative devices, this activity lets you experiment with colors, textures, and techniques to express your emotions and ideas on a blank canvas. Whether you're a novice or an experienced artist, Canvas Art Jamming provides a therapeutic and fulfilling experience that's both relaxing and inspiring.
19. Cooking Class
Embark on a culinary adventure in a Cooking Class where you'll learn to prepare exquisite dishes under the guidance of skilled chefs. Whether you're a novice or an experienced cook, these classes offer insights into culinary techniques, ingredient pairing, and presentation, allowing you to create restaurant-worthy meals in your own kitchen.
20. Terrarium Workshop
Craft your own self-contained ecosystem in a Terrarium Workshop. Learn about plant care, layering techniques, and design principles as you assemble a miniature garden in a glass container. This hands-on activity allows you to bring a piece of nature indoors while creating a visually appealing and low-maintenance terrarium that serves as both decoration and a testament to your gardening skills.
21. Non-Stitched Leather Workshop
Explore the world of leather crafting in a Non-Stitched Leather Workshop, where you'll create stylish accessories without the need for sewing. Under the guidance of skilled artisans, you'll learn techniques such as riveting, metalwork, and embossing to craft unique and functional leather goods. From personalized keychains to sleek wallets, this workshop provides an opportunity to engage with leather crafting, resulting in stylish pieces that showcase your creativity and craftsmanship.
22. Night Cycling Tour
Embark on a mesmerizing adventure with a Night Cycling Tour that takes you through the city's illuminated streets and iconic landmarks. Witness the transformation of Singapore's skyline as it comes alive with colorful lights, and enjoy a unique perspective of the city's bustling nightlife while cycling along its scenic routes.
23. Marina Bay Sands Skypark
Elevate your Singapore experience by visiting the Marina Bay Sands Skypark, an iconic observation deck perched atop the stunning Marina Bay Sands Hotel. Enjoy panoramic views of the city's skyline, the Singapore Strait, and Gardens by the Bay. It's a perfect spot to capture breathtaking sunset vistas and witness the city's lights illuminate the night.
24. Singapore Cable Car Sky Network
Indulge in a remarkable aerial experience with the Singapore Cable Car Sky Network. Glide above the city's landscape, connecting from Mount Faber to Sentosa Island, and enjoy stunning vistas of the city, harbor, and lush greenery below. It's a scenic journey that provides a fresh perspective of Singapore's beauty.
25. Gardens by the Bay
Immerse yourself in a breathtaking garden oasis at Gardens by the Bay. Explore the Flower Dome, a massive greenhouse filled with a diverse collection of flowers and plants from around the world. Marvel at the Cloud Forest, where you'll encounter a misty mountain environment complete with a towering indoor waterfall. These iconic conservatories offer a captivating blend of nature, horticulture, and architectural marvels, making for a serene and visually stunning experience.
26. Indoor Trampoline Park
Jump into a world of fun and adrenaline at an Indoor Trampoline Park. Bounce, flip, and soar on interconnected trampolines, challenge friends to dodgeball matches, and even try slam dunking basketballs while defying gravity. It's a high-energy activity that's perfect for both kids and adults.
27. Science Centre Observatory
Embark on an astronomical journey at the Science Centre Observatory. Discover the wonders of the universe through telescopes and guided observations of celestial bodies. Learn about constellations, planets, and cosmic phenomena from knowledgeable astronomers, making for an educational and awe-inspiring experience.
28. River Safari
Experience a unique aquatic adventure at the River Safari, where you'll explore the world's freshwater habitats and encounter fascinating creatures from various ecosystems. From giant pandas to aquatic animals like manatees and piranhas, this safari offers an immersive and educational experience for all ages.
29. Snow City
Escape the tropical heat and immerse yourself in a winter wonderland at Snow City. Have a snowball fight, build snowmen, and slide down icy slopes in this indoor snow playground. It's a fun-filled experience that lets you enjoy winter activities no matter the weather outside.
30. Flight Experience
Fulfill your dream of piloting a commercial airplane at Flight Experience Singapore. Sit in a realistic flight simulator and learn the basics of flying from experienced instructors. Take off, navigate the skies, and land your virtual aircraft, simulating the thrill of being a pilot.
31. The Fragment Room
Release pent-up stress in a unique and unconventional way at The Fragment Room. Put on safety gear, choose from a selection of items, and unleash your inner Hulk as you break objects in a controlled environment. It's a therapeutic and cathartic experience that allows you to vent while having a smashing good time.
32. Singapore Flyer
Elevate your sightseeing adventure on the Singapore Flyer, an enormous observation wheel that offers panoramic views of the city. Step into a glass capsule and enjoy a leisurely rotation as you soak in breathtaking vistas of landmarks like Marina Bay Sands, Gardens by the Bay, and the Singapore Strait.
33. MINT Museum of Toys
Travel back in time at the MINT Museum of Toys, a treasure trove of vintage and rare toys from around the world. Marvel at the extensive collection of toys, from classic action figures to tinplate vehicles, and relive the nostalgia of your childhood while appreciating the history of play.
34. Merlion Park Light and Sound Show
Experience the iconic Merlion statue like never before with the Merlion Park Light and Sound Show. As the sun sets, the statue comes alive with dazzling lights and synchronized music, creating a captivating visual spectacle that's a treat for the senses.
35. Singapore River Cruise Dining
Combine dining with sightseeing on a Singapore River Cruise Dining experience. Indulge in a delectable meal while cruising along the scenic river, passing by historic quays, iconic landmarks, and the city's dazzling skyline. It's a romantic and memorable way to enjoy Singapore's beauty.
36. Red Dot Design Museum
Explore the world of design at the Red Dot Design Museum, where you'll find a diverse collection of innovative and award-winning designs from across the globe. From product designs to visual communication, this museum showcases the creativity and ingenuity of designers in various fields.
37. Asian Civilisations Museum
Delve into the rich heritage of Asia at the Asian Civilisations Museum, home to a wide range of artifacts, artworks, and cultural treasures from different Asian cultures. Explore the exhibits that highlight the region's history, traditions, and artistic achievements.
38. Bollywood Veggies
Escape the urban hustle and embrace nature at Bollywood Veggies, an organic farm that offers guided tours and workshops. Wander through lush fields, learn about sustainable farming practices, and enjoy a farm-to-table dining experience at the on-site café.
39. Changi Jurassic Mile
Embark on a prehistoric adventure along the Changi Jurassic Mile, a cycling and walking path adorned with life-sized dinosaur sculptures. Learn about dinosaurs while enjoying a scenic route that winds through lush landscapes and coastal views.
40. East Coast Lagoon Food Village
Satisfy your taste buds with Singapore's renowned hawker food at East Coast Lagoon Food Village. Located by the beach, this culinary haven offers a wide array of local dishes, from flavorful satay to aromatic laksa, providing a delightful feast for food enthusiasts.
Activities in Singapore
In conclusion, whether you're a local looking for something unique to do on a weekend or a tourist wanting to experience the vibrant cultural and creative scene, Singapore offers an array of engaging activities.
From traditional crafting to contemporary art workshops, culinary classes to immersive sensory experiences, there is something for everyone. These activities not only provide a fun and enriching experience, but they also offer a chance to learn, create, and discover your hidden talents and passions.
Embark on these adventures in Singapore and make memories that will last a lifetime!
Frequently Asked Questions (FAQ)s
If you have any questions about Activities in Singapore, you can refer to the frequently asked questions (FAQ) about the best Activities in Singapore below:
What is Bubble Soccer and how does it work?
Bubble Soccer is a sport that involves players wearing inflatable bubbles while playing soccer. The bubbles add an element of fun and laughter as players bounce off each other, making for a unique and entertaining game.
How does Combat Archery Tag differ from regular archery?
Combat Archery Tag combines archery with elements of tag and dodgeball. Players use foam-tipped arrows to tag opponents, adding an active and engaging twist to the traditional sport of archery.
What can I expect from a Gel Candle Making Workshop?
In a Gel Candle Making Workshop, participants get the opportunity to create their own candles using clear gel wax. They can customize the candles with colors, scents, and decorations, resulting in beautiful and personalized candles.
Is the Saber Tag activity suitable for all age groups?
Yes, Saber Tag is designed to be enjoyed by a wide range of ages. It offers a safe and exciting way to engage in playful lightsaber battles, making it a hit among both kids and adults.
What is the focus of the Terrarium Workshop?
The Terrarium Workshop guides participants in creating self-contained ecosystems within glass containers. Participants will learn about plant care and arrangement, resulting in visually appealing and low-maintenance terrariums.
How does the Non-Stitched Leather Workshop differ from the Stitched Leather Workshop?
The Non-Stitched Leather Workshop teaches crafting leather accessories without sewing, using techniques like riveting and metalwork. In contrast, the Stitched Leather Workshop focuses on traditional sewing techniques to create leather items.
Are these activities suitable for people with varying levels of athleticism?
Yes, many of the activities cater to different levels of athleticism. Some are more physically demanding, while others emphasize creativity, making them accessible and enjoyable for everyone.
Can these activities be organized for team-building purposes?
Absolutely, these activities are excellent choices for team-building events. They encourage collaboration, communication, and friendly competition among participants, fostering a sense of unity among team members.
Are the workshops beginner-friendly?
Yes, the workshops are designed to be beginner-friendly. Instructors will guide participants through the process, ensuring that even those with no prior experience can have a rewarding and enjoyable time.
Can I participate in multiple activities in one day?
Certainly, many locations offer packages that allow participants to try out multiple activities in a single day. This allows you to create a diverse and exciting experience during your visit.