Best SaberFit Provider In Singapore
SaberFit Singapore
Experience a workout like no other with SaberFit, the Galaxy's most exciting fitness workout.




Enjoy the best SaberFit workout experience in Singapore with Team Building Singapore:
Suitable For
All Ages
8,000+ 5-Star Reviews
Aircon, Indoor & Outdoor Options
10+ Years of Experience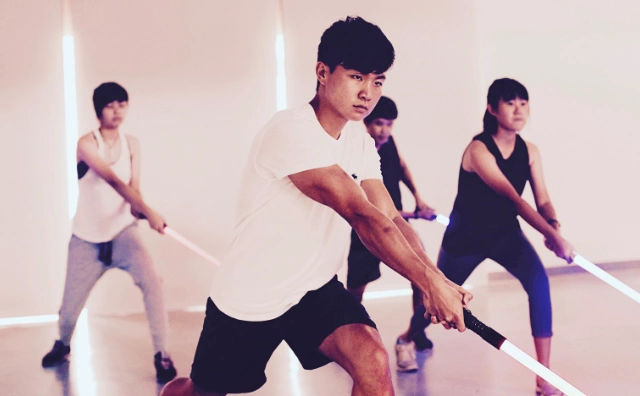 Received
8,000+
5-Star Reviews
Served
1 Million+
Happy Clients
Organized
50,000+
Successful Events
Awarded
200+
Media Features
Team Building Singapore is trusted by the leading organizations and customers










"So much fun! So much laughter!"
"The perfect blend of sweat, laughter, and collaboration!"
"It was good, excellent! 5 out of 5! We had a good time!"
Team Building Singapore
#1 SaberFit Provider In Singapore
SaberFit is a high-energy group fitness class that combines combat sabers, striking techniques, and fitness exercises for a fun and effective full-body workout.
With a glowing combat saber in hand, participants engage in cardio, calisthenic, and conditioning routines to burn calories, build stamina, and improve coordination.
Together with adrenaline-pumping music in the background, SaberFit creates a full-body toning experience you will love!
Suitable for all fitness levels, SaberFit offers a dynamic and enjoyable exercise experience where participants can tailor the intensity to their own pace.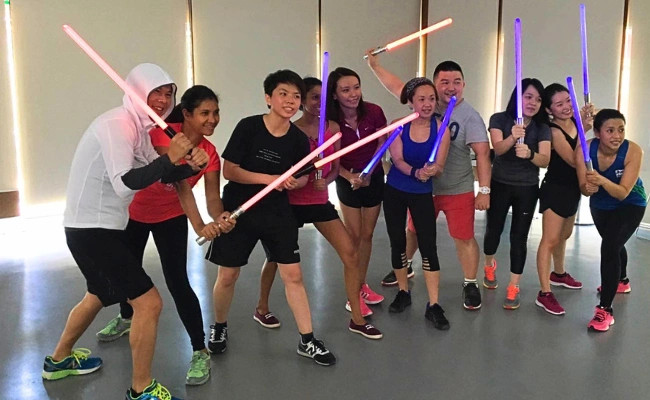 Packages and Pricing
Award-winning SaberFit experience. Starting from only $30/pax.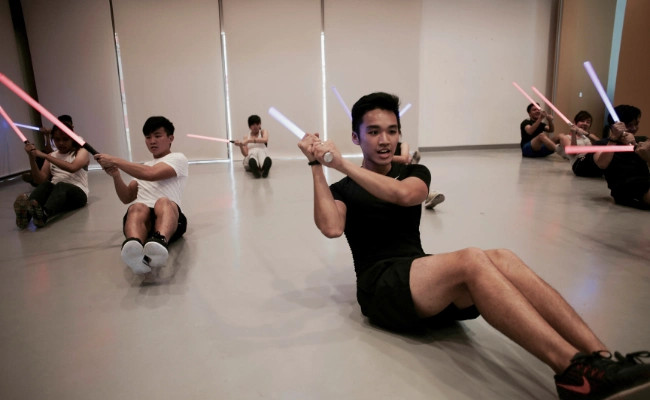 Standard SaberFit Package
Ignite your inner warrior and burn calories while having fun!
Key Highlights
SaberFit combines the fun and excitement of lightsaber combat with a dynamic workout, creating a unique and engaging fitness experience.
A full body workout that promotes calorie burning, builds stamina, and adds an element of fun to exercising, with specially designed routines to enhance coordination, balance, and body-weight conditioning.
Caters to individuals of all fitness levels, allowing participants to progress at their own pace

Indoor and Outdoor locations available

Perfect for team building, birthday parties, gatherings
Package Includes
Activity Facilitator(s)
Sabers
Basic Photography

(Mobile Phone)

Add-Ons Available

Catering, Corporate Gifts, Sound System, Bus Transport
Recommended Locations
FunEmpire HQ
The Cage @ Kallang
CharisTurf @ Eunos
FutsalArena @ Yishun
Your Own Venue (mobile set-up available)
Locations Available
Multiple locations across Singapore. Conveniently near MRT Stations.
Why Choose FunEmpire
Best-rated SaberFit company. Award-winning. Highly experienced.
Client Testimonials
Loved by over 1 million happy clients and participants

Suitable Groups
Our SaberFit workout Tag experience is highly rated by businesses, schools and consumers.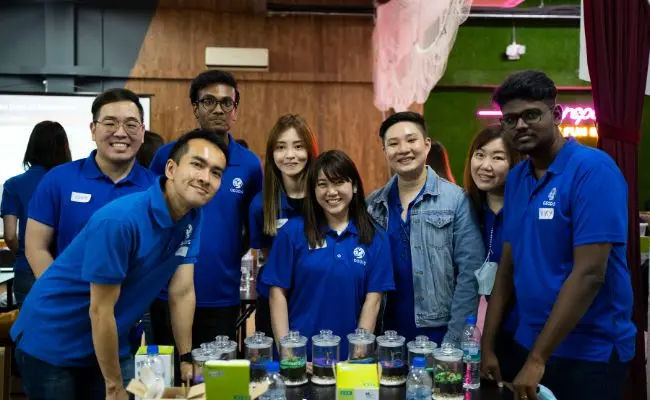 Corporates
Trusted By Both Small & Big Businesses
Promote strategic thinking and leadership
Enhance communication, teamwork, and camaraderie
One-stop event solutions for games, activities, catering, and gifts
Bond through play, promoting concentration, focus, and creativity

Accept

multiple payment modes,

including bank transfer, PayPal, PayNow, and credit card.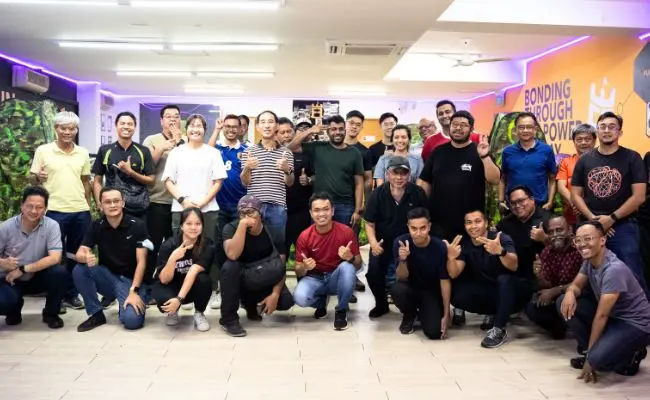 Government
Affordable Prices For Large Groups
Stress-free event planning with one-stop solutions for games, activities, catering, and corporate gifts
Host multiple sessions for an unlimited number of participants
Build team spirit and camaraderie through fun and play, promoting leadership, communication, and teamwork
Accept multiple payment modes, including GeBiz, e-invoicing, bank transfer, PayPal, PayNow, cheques, and credit card.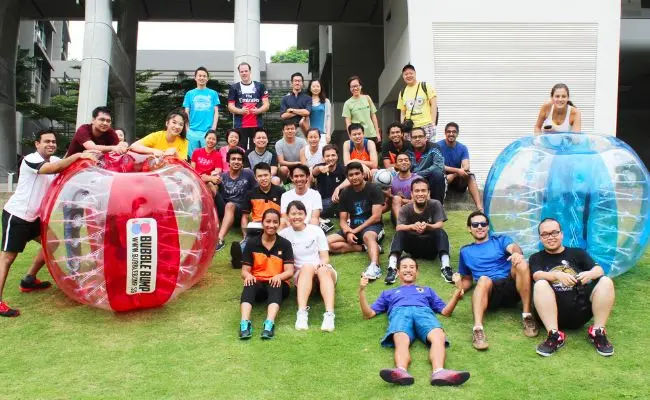 Schools
The # 1 Choice For Schools' Events
Exhilarating SaberFit experience suitable for both kids and adults
Learning and bonding through fun and play, promoting leadership, communication, teamwork, and school values
MOE certified instructors
Accept multiple payment modes, including bank transfer, PayPal, PayNow, cheques, and credit card.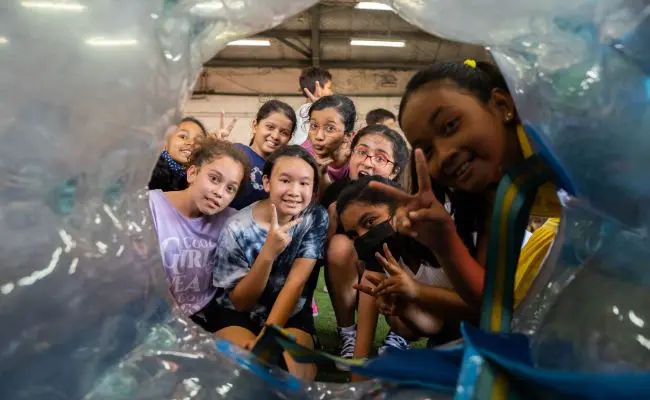 Friends & Family
Impress Your Friends & Family
Enjoy hassle-free event planning for both kids and adults with our one-stop solutions that include games, activities, catering, and gifts.
Bond and have fun with your friends and family
Accept multiple payment modes, including bank transfer, PayPal, PayNow, cheques, and credit card.
Book Your Event With Us Now
Get Your Free Team Building Quote
We're always ready to help you! Our experienced event consultants will get back to you within 24 hours (or even faster!).
We reply to every email too! If you did not receive a response from us, please check your spam filter or junk folder in your email.
hello@funempire.com

60 Tannery Lane, Singapore 347803

+65 6016 7147

+65 9792 9179
Frequently Asked Questions
What is SaberFit, and how is it different from other fitness programs?
Saber fit is an innovative fitness program that provides a great way to get in shape and improve your swordsmanship at the same time. It is an intensive workout that will help you build muscle and stamina, as well as provide a full body toning experience in one workout.
Saber fit is based on the principles of martial arts and swordfighting for a proper sweat inducing mix. It adds a fun element to exercising as it incorporates saber striking techniques with traditional exercises and saber spinning tricks. You will do a lot of squats, lunges, and other exercises that work your leg muscles. This will help you develop speed, strength, and agility. The cardiovascular exercises will help you improve your endurance, so you can keep fighting for longer. And the swordfighting drills will help you hone your skills with a saber.
If you are are looking for an exciting, challenging workout that will improve your swordsmanship, then saber fit is perfect for you! Star Wars fans to fitness enthusiasts are all welcome to join our SaberFit session.
Book with Team Building Singapore now to experience our SaberFit now!
Is SaberFit safe?
Yes it is! SaberFit is a fun and safe full body workout. Team Building Singapore's SaberFit instructors are professionally and well-trained, American Council on Exercise (ACE) and Standard First Aid certified.
Exercise enthusiasts and fitness beginners alike are welcome to join this workout that will combine saber striking techniques with traditional exercises. Our certified ACE personal trainer is also able to adjust the fitness level for the SaberFit class to accommodate to all participants.
Fun Fact: SaberFit's oldest participant was 80 years old!
Are public SaberFit classes available?
As of the moment, unfortunately, there are no public classes. For more information on private classes or enquiries on our SaberFit classes, kindly contact us at hello@funempire.com, call us at +65 6016 7147 or fill in our contact form and we will provide you with more details!
What are the benefits of participating in SaberFit?
Saberfit helps improve cardiovascular fitness, strength, flexibility, and coordination and inspire healthy living while providing a unique and enjoyable workout experience. Fitness and sports enthusiasts will benefit from SaberFit just as much as a complete newbie to exercising.
Do I need to bring my own lightsaber for SaberFit sessions?
No, you don't need to bring your own lightsaber. Team Building Singapore provides lightsabers for participants to use during the Saberfit classes.
Is SaberFit a good choice for corporate team building events?
Absolutely! Saberfit can be an excellent team building activity for corporate groups, promoting team bonding and camaraderie through interactive workouts. Through shared experiences and challenges, Saberfit enhances team bonding, boosts morale, and encourages problem-solving skills. It is inclusive for all fitness levels, provides stress relief, and creates a positive and energetic team environment, leading to increased productivity and collaboration in the workplace. Overall, Saberfit is a unique and effective way to strengthen team dynamics and foster a positive team culture.
Are add-ons available?
Yes, we do provide add-on services Team Building Singapore's SaberFit class! From catering services to first aid services, we got you covered. Please don't hesitate to approach our friendly event consultants!