Group Activities Singapore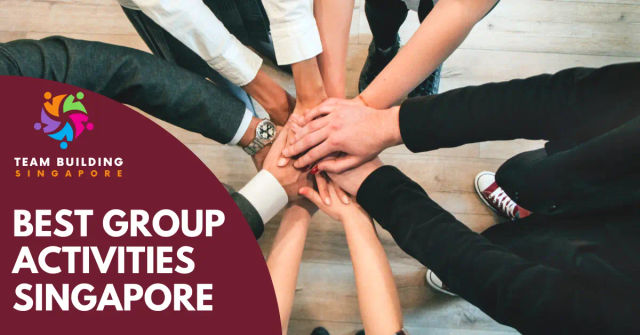 Singapore, known for its dynamic cultural blend and breathtaking landscapes, offers an array of exciting group activities that cater to diverse interests and preferences. Group activities not only foster teamwork and bonding but also create unforgettable experiences that strengthen friendships and create lasting memories.
In this article, we will explore the 40 best group activities in Singapore, ensuring there's something for everyone to enjoy.
Benefits of Having Group Activities in Singapore
Enhanced teamwork and communication skills.
Strengthened bonds and relationships among participants.
Improved problem-solving and decision-making abilities.
Increased social interaction and networking opportunities.
Enhanced creativity and innovative thinking within the group.
Promoted a sense of belonging and community.
Reduced stress and improved overall well-being.
Shared memorable experiences and moments.
Fostering a positive and collaborative work environment.
Opportunities to explore and experience Singapore's cultural diversity.
Best Group Activities Singapore
Adventure Activities
1. Poolball™
Experience a unique combination of pool and soccer with Poolball™ in Singapore. Participants use their feet to kick oversized balls into pockets on a giant billiard table. This fun-filled and challenging group activity tests coordination and teamwork, ensuring a memorable time for everyone involved.
2. SaberFit
Embrace your inner Jedi with SaberFit, a high-energy fitness class in Singapore that incorporates lightsaber combat techniques with cardio and strength exercises. Unleash your creativity and get fit together with your group in this epic Star Wars-inspired workout. Whether you're a Star Wars fan or simply looking for a unique and engaging group activity, SaberFit is a fantastic choice for building bonds and having fun.
3. Saber Tag®
Step into the adrenaline-pumping world of Saber Tag®, a thrilling group activity in Singapore where teams duel with foam-padded lightsabers in a safe and exhilarating battle. Perfect your lightsaber skills, strategize with your group, and immerse yourselves in an epic galactic showdown. This Star Wars-inspired experience promises an unforgettable adventure for fans of all ages.
4. Laser Tag
Embark on an action-packed adventure with Laser Tag in Singapore, where you and your group engage in a futuristic battle using laser tag gear. Work together to outmaneuver opponents, strategize, and achieve victory in this exhilarating game. Suitable for team-building events or casual outings, Laser Tag promises exciting moments and memorable bonding experiences.
5. Bubble Soccer
Experience soccer like never before with Bubble Soccer in Singapore. Don inflatable bubbles and play a hilarious and bouncy game of soccer with your group. Laugh, compete, and create unforgettable memories as you tumble and roll on the field in this unique and entertaining activity.
6. Giant Board Games
Bring classic board games to life with Giant Board Games in Singapore. Engage in friendly competition and strategic thinking as you and your group play supersized versions of Jenga, Chess, and Snakes & Ladders. Perfect for gatherings and team-building events, Giant Board Games offer a nostalgic and interactive experience.
7. Bullet Strike (Nerf Gun)
Gear up for an action-packed combat game with Bullet Strike (Nerf Gun) in Singapore. Armed with Nerf guns, your group navigates through obstacles, coordinates attacks, and enjoys an adrenaline-pumping adventure suitable for all ages. Unleash your inner warriors and engage in friendly battles that foster teamwork and excitement.
8. Ninja Tag
Put your group's agility and stealth to the test with Ninja Tag in Singapore. Jump, roll, and tag opponents with soft foam weapons while dodging their attacks. It's a heart-pumping adventure that combines strategy and physical fitness, providing a unique and exhilarating experience for your group.
9. Bullet Ball
Experience the thrill of Bullet Ball in Singapore, a hybrid sport that combines elements of soccer and handball. Work as a team to score points, defend your goal, and emerge as champions on the battlefield. Gather your group for this fast-paced and action-packed game that promises excitement and friendly competition.
10. Archery Tag
Channel your inner archer with Archery Tag in Singapore. Armed with foam-tipped arrows and bows, your group will engage in friendly combat while testing accuracy and teamwork. Whether you're a beginner or a seasoned archer, Archery Tag promises an exhilarating and safe experience for all skill levels.
Creative Workshops
11. Balloon Sculpting
Bring a burst of joy and laughter to your group with Balloon Sculpting in Singapore. Learn the art of balloon twisting and create colorful and whimsical sculptures together. This interactive and entertaining activity is perfect for parties, team-building events, and family gatherings.
12. Clay Making Workshop
Unleash your creativity with a Clay Making Workshop in Singapore. Get your hands dirty as you and your group mold and shape clay into unique art pieces. This hands-on experience fosters teamwork and encourages artistic expression, making it an ideal group activity for those looking to explore their creative side.
13. Art Jamming
Express your creativity freely with an Art Jamming session in Singapore. Gather your group, grab your paintbrushes, and let your imagination flow onto canvases. This relaxed and social activity encourages artistic exploration and fosters a supportive and fun atmosphere.
14. Cooking Class
Indulge in a culinary adventure with a Cooking Class in Singapore. Collaborate with your group to prepare delectable dishes under the guidance of skilled chefs. From mastering local delicacies to exploring international cuisines, this interactive experience guarantees a flavorful and enjoyable time for all.
15. Terrarium Workshop
Connect with nature and build your own miniature garden with a Terrarium Workshop in Singapore. Work as a team to assemble glass containers with sand, soil, and plants, creating a serene and enchanting terrarium. This activity allows your group to bond while embracing the beauty of nature.
16. Perfume Workshop
Engage your senses in a Perfume Workshop in Singapore, where your group will learn the art of creating signature scents. Blend aromatic notes and design your own fragrance, leaving with a personalized perfume that captures the essence of your group's camaraderie.
17. Candle Making Workshop
Unwind and ignite your creativity with a Candle Making Workshop in Singapore. Blend scents, colors, and shapes to create custom candles that reflect your group's unique style. This sensory experience brings your group together and provides a memorable takeaway to cherish.
18. Leather Workshop
Discover the art of leather crafting with a Leather Workshop in Singapore. Work together to create personalized leather goods, such as wallets, keychains, or bracelets. This crafty group activity combines precision and creativity, resulting in meaningful and stylish keepsakes.
Quest Activities
19. Amazing Race
Embark on an exciting and dynamic scavenger hunt with the Amazing Race in Singapore. Work in teams to solve clues, complete challenges, and navigate the city's landmarks. This thrilling group activity combines adventure, teamwork, and problem-solving skills.
20. Escape Room
Test your group's wit and puzzle-solving abilities with an Escape Room challenge in Singapore. Work together to decipher clues, solve mysteries, and escape from themed rooms within a set time. This immersive and suspenseful activity fosters collaboration and quick thinking.
Leisure
21. Neon Bowling
Experience a classic pastime with a modern twist – Neon Bowling in Singapore. Enjoy glow-in-the-dark bowling alleys with neon lights, funky music, and vibrant visuals. Compete with your group and celebrate strikes and spares in style.
22. Yacht Rental
Set sail on a luxurious yacht rental experience in Singapore. Cruise along the picturesque coastline, indulge in delectable food and beverages, and revel in the company of your group against the backdrop of breathtaking views.
Virtual Games
23. Virtual Travel Experience
Satiate your wanderlust with Virtual Travel Experience in Singapore. Take your group on a virtual tour of iconic destinations around the world, offering an enriching and interactive travel experience from the comfort of your location.
24. Virtual Escape Room
Put your group's problem-solving skills to the test with Virtual Escape Room in Singapore. Work together to decipher clues, uncover hidden secrets, and escape from a themed room – all within the virtual landscape.
25. Virtual Ben's Big Heist
Step into a virtual world and take part in a thrilling heist with Virtual Ben's Big Heist in Singapore. Team up with your group to solve puzzles, crack safes, and escape with the loot in this immersive virtual reality adventure.
26. Virtual Amazing Race
Engage in an exciting race around the virtual world with Virtual Amazing Race in Singapore. Collaborate with your group to complete challenges and checkpoints in various locations, combining adventure and camaraderie in the virtual realm.
27. Virtual Food Quest
Satisfy your culinary cravings with Virtual Food Quest in Singapore. Embark on a virtual journey to discover and savor delectable cuisines from around the world, making it a delightful group adventure.
28. Virtual Time Travel
Embark on a time-traveling journey with Virtual Time Travel in Singapore. Explore historical eras and solve challenges across different time periods, making history come alive for your group.
29. Virtual Nightfall
Embark on a spine-chilling adventure with Virtual Nightfall in Singapore. As the darkness falls, take your group on a virtual journey through haunted mansions and eerie landscapes, experiencing a thrilling and immersive horror escapade.
30. Virtual Squid Escape Game
Dive into the intriguing underwater world with Virtual Squid Escape Game in Singapore. As a group, solve mysteries and puzzles in an immersive virtual reality escape game set amidst the deep sea.
Virtual Workshops
31. Virtual Candle Making Workshop
Unwind and ignite your creativity with a Virtual Candle Making Workshop in Singapore. Blend scents and colors virtually to create custom candles, resulting in a sensory experience for your group.
32. Virtual Clay Making Workshop
Channel your artistic talents into a Virtual Clay Making Workshop in Singapore. Collaborate with your group virtually to shape and create intricate clay sculptures and masterpieces.
33. Virtual Leather Making Workshop
Unleash your creative side with a Virtual Leather Making Workshop in Singapore. Get hands-on virtually, designing and crafting personalized leather goods with your group members.
34. Virtual Art Jamming
Indulge in a virtual artistic experience with Virtual Art Jamming in Singapore. Get inspired together as you and your group paint freely on digital canvases, fostering creativity and bonding.
35. Virtual Terrarium Workshop
Discover the wonders of nature with a Virtual Terrarium Workshop in Singapore. As a group, assemble and design your own miniature gardens with sand, soil, and plants, creating a calming and enchanting terrarium.
Other Activities
36. Giant Whack A Mole
Get ready for a carnival-style experience with Giant Whack A Mole in Singapore. Gather your group to whack pesky moles that pop out of life-sized holes, aiming for the highest score in this delightful and entertaining game.
37. Hybrid Amazing Race
Combine the thrill of the Amazing Race with virtual challenges in the Hybrid Amazing Race in Singapore. Engage your group in a mix of outdoor and virtual adventures, providing a unique and exciting experience.
38. Virtual Reality
Immerse yourselves in a virtual wonderland with Virtual Reality experiences in Singapore. Choose from a variety of interactive and thrilling virtual reality games, adventures, and simulations for a memorable group outing.
39. Go-Kart
Rev up the excitement with Go-Kart racing in Singapore. Enjoy friendly competition with your group as you zoom around the track, experiencing the thrill of speed and camaraderie.
40. Axe Throwing
Unleash your inner lumberjack with Axe Throwing in Singapore. Engage in this exciting and unique group activity, where you learn to throw axes at targets, testing your aim and precision in a safe and controlled environment.
Group Activities Singapore
In conclusion, Singapore offers a diverse range of group activities to cater to different interests and preferences. Whether it's engaging in high-energy physical endeavors like Neon Bowling and Go-Kart racing, delving into immersive virtual adventures, or showcasing creativity through various virtual workshops, there are plenty of options to ensure a memorable group outing.
These group activities not only provide great entertainment but also strengthen camaraderie and foster team building. So go ahead, pick your favorite group activity and experience the vibrant spirit of Singapore at its best!
Frequently Asked Questions (FAQs)
If you have any questions about group activities in Singapore, you can refer to the frequently asked questions (FAQs) about the Best Group Activities in Singapore below: