Adventure Activities Singapore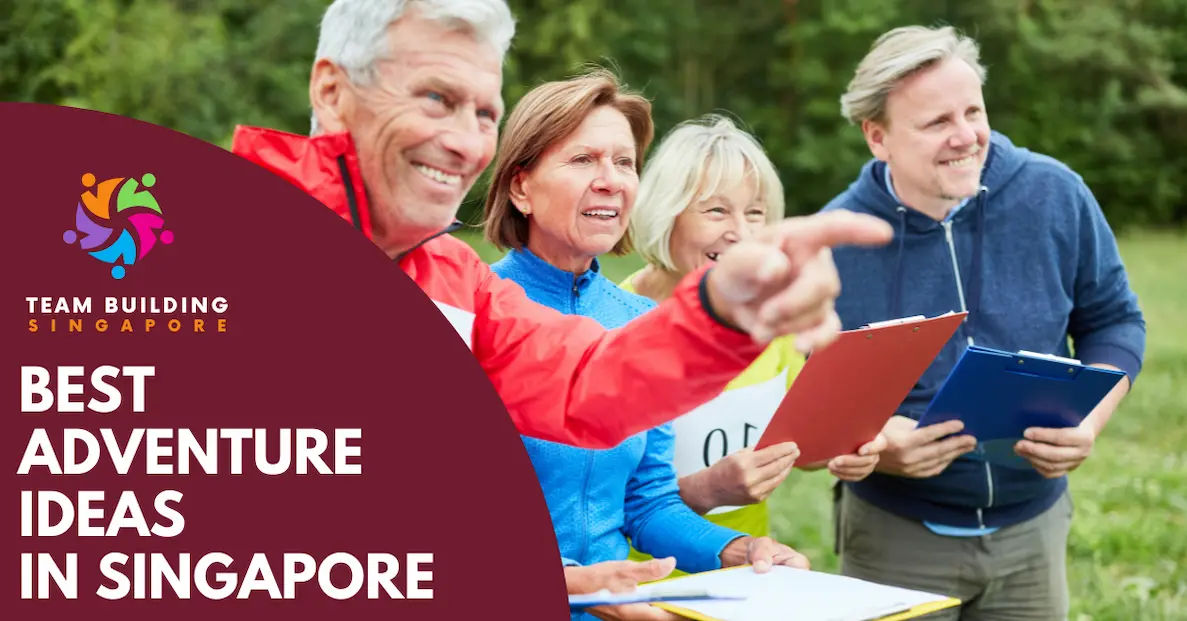 Singapore, known for its modern skyline and vibrant city life, offers a plethora of thrilling adventure activities that cater to both locals and tourists seeking for some exciting adventure.
The best Adventure Activities in Singapore are Bubble Soccer, Saber Tag, Amazing Race, Giant Whack-A-Mole, Poolball, Neon Laser Tag, and Bullet Ball.
When planning adventure activities in Singapore, it is important to consider key factors such as safety, budget, customer service, and accessibility.
FunEmpire, the premier team building activities provider in Singapore, has a remarkable history of organizing over 50,000 successful events and earning more than 8,000 5-star reviews.
In this article, we'll explore the best adventure activities in Singapore that are sure to get your heart racing and leave you with lasting memories of your time in the Lion City.
Quick Summary
Best Adventure Activities in Singapore are Bubble Soccer, Saber Tag, Amazing Race, Giant Whack-A-Mole, Poolball, Neon Laser Tag, and Bullet Ball.
When organizing adventure activities in Singapore, take into account crucial elements like safety, budget, customer service, and accessibility.
FunEmpire is the leading provider of team building activities in Singapore, boasting an impressive track record of organizing over 50,000 successful events and receiving more than 8,000 5-star reviews.
Key Consideration Factors
Before embarking on any adventure activity, consider the following factors to ensure a safe and enjoyable experience:
Safety measures and equipment provided: Prioritize activities that have stringent safety protocols and provide participants with high-quality safety equipment.
Age and fitness requirements: Check the age and fitness criteria for each activity to ensure it is suitable for you and your group's capabilities.
Group size and team-building options: If you're planning a group event or team-building activity, explore options that cater to larger groups and offer team-oriented challenges.
Reputable venues and operators: Choose adventure activities from reputable venues and operators with a proven track record of providing excellent service.
Special promotions or packages: Keep an eye out for any special deals or packages that adventure activity providers may offer for group bookings or special occasions.
Benefits of Adventure Activities
Adventure activities come with a host of mental and physical benefits. Examples include:
Improved social skills: Participating in adventure activities can help you become more confident, develop better communication skills, and work together better as part of a team.
Heightened concentration levels: Adventure activities require participants to stay focused and be aware of their surroundings at all times. This helps to improve concentration and mental alertness.
Increased physical fitness: Adventure activities provide a great way to get active and stay fit while having fun!
Stress relief: Engaging in thrilling activities can divert your mind from everyday worries, providing a healthy outlet for stress.
Boosted self-confidence: Overcoming challenges in adventure activities can enhance your self-esteem and courage.
Enhanced problem-solving skills: Many adventure activities require strategic thinking and decision-making, which can improve problem-solving abilities.
Promotion of a healthy lifestyle: Adventure activities promote an active lifestyle that may influence daily habits, contributing to overall health and well-being.
Stronger relationships: Shared experiences and teamwork in adventure activities can strengthen bonds among friends, families, or colleagues.
Learning new skills: Each adventure activity requires unique skills and techniques; learning these can be exciting and fulfilling.
Connection with nature: Outdoor adventure activities provide an opportunity to disconnect from the digital world and reconnect with the natural environment.
Best Adventure Activities Singapore
1. Bubble Soccer
Experience the hilarity and thrill of Bubble Soccer as you step into giant inflatable bubbles and dive into a whole new level of soccer fun. Bump, roll, and bounce your way through the game, adding an exciting twist to the traditional sport.
Feel the rush of adrenaline as you navigate the field, strategically maneuvering and outmaneuvering your opponents inside these safe and durable bubbles.
With safety as a top priority, reputable venues in Singapore go the extra mile to provide high-quality bubbles and reliable protective gear, ensuring a fun and safe experience for everyone.
Gather your friends, bring your families, or organize team-building events for a memorable and laughter-filled outing. Bubble Soccer is a unique activity that guarantees smiles, laughter, and unforgettable moments that will be talked about for years to come.
2. SaberFit
Channel your inner Jedi in SaberFit, a thrilling fitness activity inspired by lightsaber combat. Immerse yourself in the world of Star Wars as you swing foam lightsabers to energetic music, feeling the force flowing through your body. With SaberFit, you'll engage in various fitness routines that not only challenge your physical abilities but also make you feel like a true warrior.
Suitable for all fitness levels, SaberFit classes in Singapore offer a unique and immersive experience that blends fun with exercise. Whether you're a die-hard Star Wars fan or simply looking for a fun and effective workout, SaberFit is the perfect way to unleash your inner Jedi and get fit in a galaxy far, far away. May the force be with you on your fitness journey!
3. Amazing Race
Inspired by the immensely popular TV show, the Amazing Race in Singapore offers an extraordinary and unforgettable adventure that pushes the limits of both physical and mental abilities.
Get ready to embark on an exhilarating journey filled with heart-pounding challenges and mind-boggling puzzles as you compete against other teams, all while racing against the relentless ticking of the clock.
This one-of-a-kind experience is not just about the thrill of the race, but also about fostering strong bonds and teamwork. Ideal for team-building activities or group events, the Amazing Race provides a platform for effective communication, problem-solving, and fostering camaraderie among participants. So gather your friends, colleagues, or teammates and prepare for an action-packed day of fun, excitement, and unforgettable memories!
4. Laser Tag
Get ready for heart-pounding battles in Singapore's state-of-the-art laser tag centers. Equipped with cutting-edge laser guns and advanced sensor technology, participants immerse themselves in exhilarating, fast-paced combat within futuristic arenas.
This thrilling experience is suitable for all ages, making laser tag a top choice for families, friends, and corporate groups who are seeking an action-packed adventure filled with adrenaline-fueled excitement.
5. Neon Combat Archery Tag
Immerse yourself in the thrilling and exhilarating world of Neon Combat Archery Tag, where the ancient sport of archery meets the high-intensity excitement of dodgeball. Step into a neon-lit arena, armed with state-of-the-art bows that illuminate the darkness and foam-tipped arrows that soar through the air with precision
Engage in epic battles that require not only accuracy and speed but also strategic thinking and teamwork. Dive, dodge, and take aim, using the cover of the arena to outwit and outmaneuver your opponents. Feel your heart race as the adrenaline surges through your veins, knowing that every shot counts and every move can make the difference between victory and defeat.
Experience the ultimate action-packed adventure that combines skill, strategy, and pure fun. Are you ready to embrace the challenge and become the ultimate Neon Combat Archery Tag champion?
6. Giant Whack-A-Mole
Plan a memorable day with your loved ones and create lasting memories with Giant Whack-A-Mole! This larger-than-life version of the classic arcade game guarantees endless laughter and excitement.
Imagine the thrill as participants take turns being the mole, dodging foam mallets, and creating a riot of laughter. Unleash your competitive spirit and indulge in this unique activity that promises hilarious fun and amusement.
Don't miss out on experiencing this one-of-a-kind attraction at various venues in Singapore. Get ready for an unforgettable day of laughter-filled entertainment!
7. Bullet Strike
Prepare yourself for the ultimate action-packed experience with Bullet Strike, the exhilarating fusion of paintball and laser tag. Immerse yourself in immersive combat simulations and thrilling scenarios, all within a controlled and safe environment. Engage in heart-pounding battles and strategic gameplay, where every decision counts.
Whether you're a seasoned adrenaline junkie or a novice seeking an adrenaline rush, this adventure is tailored to satisfy your cravings for intense and unforgettable excitement. Get ready for an unforgettable adventure that will keep you on the edge of your seat!
8. Saber Tag
Unleash your inner Jedi in Saber Tag, an immersive and exhilarating action-packed adventure that allows participants to engage in friendly combat with foam sabers. Step into the world of Star Wars and experience the thrill of dueling like a true Jedi or Sith, honing your skills and channeling the Force.
Whether you're a die-hard Star Wars enthusiast or simply seeking a fun and competitive challenge, Saber Tag is the ultimate activity that will transport you to a galaxy far, far away. May the Force be with you!
9. Poolball
Poolball is an exciting fusion sport that combines the thrill of soccer and the strategy of pool on a gigantic pool table. Imagine using your feet to skillfully kick soccer balls into pockets, adding a whole new level of enjoyment and challenge to the traditional game of pool.
Whether you're a soccer enthusiast or a pool aficionado, Poolball promises a unique and unforgettable experience that is perfect for groups of friends and families. Get ready to create lasting memories filled with laughter and friendly competition as you embark on this one-of-a-kind adventure!
10. Bullet Ball
Conclude your exhilarating adventure journey with Bullet Ball, a dynamic and heart-pounding combination of soccer and dodgeball. Engage in thrilling and action-packed gameplay as you immerse yourself in the fast-paced chaos of kicking soccer balls at opponents while skillfully dodging incoming shots.
It's a truly adrenaline-fueled game that promises loads of fun and excitement for everyone involved, leaving you with unforgettable memories of an extraordinary experience. Get ready for an epic adventure unlike any other!
Tips To Make The Most Out Of Your Adventure Activities
When it comes to adventure activities, preparation is key. Here are some of our top tips for getting the most out of your experience:
Wear comfortable clothing: Dress appropriately and wear comfortable clothes that you don't mind getting dirty or wet. Bring a lightweight jacket in case the weather turns colder.
Wear the right shoes: Make sure to wear a sturdy pair of shoes that offers good grip and support.
Bring water and snacks: Stay hydrated and energized by bringing along some light snacks.
Choose activities that are appropriate for your fitness level: Adventure activities can be physically demanding, so make sure to choose ones that match your abilities. Don't overexert yourself.
Have fun: Most importantly, make sure to have fun and make the most out of your adventure!
Adventure Activities Singapore
In conclusion, Singapore's adventure scene offers an incredible array of activities that cater to all levels of adrenaline seekers. From Bubble Soccer's bouncy laughs to the strategic battles of Neon Combat Archery Tag, each adventure promises excitement and unforgettable memories.
However, before embarking on any adventure, consider key factors such as safety measures, fitness requirements, and reputable providers to ensure a safe and enjoyable experience.
So, gather your friends, family, or colleagues, and venture into the world of adventure activities in Singapore. Unleash your inner adventurer and make the most of the Lion City's thrilling offerings for an adrenaline-packed journey like no other!
Frequently Asked Questions (FAQs)
If you have any questions about Adventure Activities in Singapore, you can refer to the frequently asked questions (FAQs) about the best Adventure Activities in Singapore below:
What are some exciting adventurous activities that thrill seekers can enjoy on Sentosa Island?
Sentosa Island is a hub for adventure and excitement. From the adrenaline-filled Mega Adventure park with its zip-lines and huge swing to the water sports at Siloso Beach and Ola Beach Club, there's never a dull moment for adrenaline seekers on Sentosa Island.
Where can I go scuba diving in Singapore?
Singapore's Southern Islands offer fantastic opportunities for scuba diving. The clear waters and rich marine life make for an exciting underwater adventure. Always ensure you're aware of local regulations and safety guidelines before diving.
What can adventure enthusiasts expect at Kent Ridge Park?
Kent Ridge Park offers a tropical jungle garden experience, with walking trails through lush greenery and stunning views. This park also features historical sites and a canopy walk, providing a balance of adventure and tranquility.
Can you tell me more about the Mega Adventure?
Mega Adventure is an outdoor adventure park located on Sentosa Island. It offers thrilling activities like a zip-line ride that takes you over the jungle canopy and Siloso Beach, a huge swing, and a climbing wall. It's perfect for those seeking an adrenaline rush.
What water sports activities are available at Siloso Beach and the Singapore Wake Park?
Siloso Beach and the Singapore Wake Park offer a range of water sports activities. At Siloso Beach, you can try out kayaking, paddleboarding, and even cable skiing. Singapore Wake Park, on the other hand, features a cable ski park where you can try wakeboarding, kneeboarding, or waterskiing.
What does the Giant Swing at Marina Bay Sands offer?
The Giant Swing at Marina Bay Sands, also known as the AJ Hackett Sentosa Huge Swing, is one of the most thrilling experiences in Singapore. It allows you to experience the thrill of free-falling while being securely strapped in. They even offer group bungee jumping for those seeking a shared adrenaline rush.
What are the attractions for adventure seekers at the Adventure Cove Waterpark?
Adventure Cove Waterpark offers thrilling water slides, a wave pool, and a unique opportunity to snorkel with 20,000 tropical fish. It's a perfect destination for those looking for an adventurous water-based activity in Singapore.
Where can cyclists have an adventurous ride in Singapore?
The Marina Bay Loop is a popular route for cyclists in Singapore. This loop takes you around the iconic Marina Bay Sands, offering stunning views of the city skyline. It's a great way to combine adventure and sightseeing.
Are there adventure activities suitable for groups in Singapore?
Yes, there are several group adventure activities in Singapore. Group bungee jumping at the huge Swing, team challenges at the Mega Adventure, or group water sports at Ola Beach Club are all excellent options. Group activities provide a fun way to build teamwork and create unforgettable memories.
What are some adventurous activities available on Singapore's Southern Islands?
Southern Islands in Singapore offer a variety of adventurous activities. Apart from scuba diving, you can explore hiking trails, enjoy beach activities, or take a kayak out to explore the surrounding waters. These islands are a great way to experience a different side of Singapore's natural beauty.