Amazing Race Games Singapore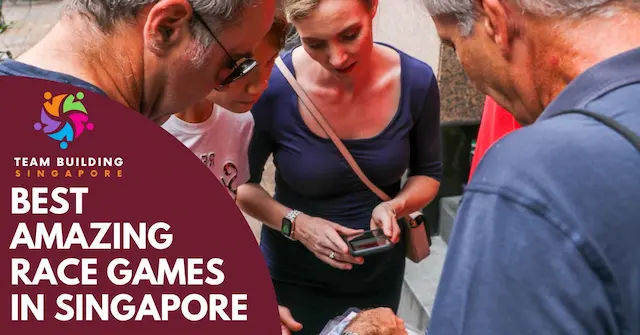 Amazing Race Games have become increasingly popular in Singapore as engaging and exhilarating team-building activities and recreational events. These games offer participants an immersive experience, combining elements of adventure, problem-solving, and friendly competition.
Whether it's corporate teams looking to enhance their collaboration skills or groups of friends seeking an exciting day out, Amazing Race Games have something to offer for everyone. In this article, we will explore the top Amazing Race Games in Singapore for the year 2023, highlighting their unique features and the reasons behind their popularity.
The Thrill of Amazing Race Games
Participating in an Amazing Race Game is an adrenaline-pumping experience like no other. These games challenge participants to work together as a team, navigate through clues and challenges, and race against the clock to reach the finish line. The thrill of unraveling clues, exploring new locations, and completing exciting tasks fosters a strong sense of camaraderie and achievement among participants.
Amazing Race Games are not just about winning; they focus on developing essential soft skills, including effective communication, strategic thinking, and quick decision-making. As teams overcome obstacles and accomplish goals, they build lasting bonds and memories that go beyond the game itself.
Why Amazing Race Games Are Popular in Singapore
Amazing Race Games have gained popularity in Singapore due to their ability to cater to diverse groups and occasions. As a multicultural and vibrant city, Singapore embraces the spirit of teamwork and adventure, making these games a natural fit for various social and professional gatherings. The challenges and puzzles incorporated into the games are often inspired by local culture and landmarks, providing participants with an enriching and immersive experience.
Key Consideration Factors for Selecting an Amazing Race Game
When choosing an Amazing Race Game to participate in, consider the following factors:
Organizer's Reputation: Opt for events organized by reputable companies with a track record of successful and well-reviewed games.
Safety Measures: Ensure that the event prioritizes participant safety and follows necessary safety protocols.
Theme and Difficulty Level: Choose a game that aligns with the preferences and capabilities of your team or group. Some games may be beginner-friendly, while others offer more challenges for experienced adventurers.
Location and Accessibility: Check the game's location and accessibility to ensure it is convenient for all participants.
Team Size: Confirm the required team size for the game and ensure your group meets the criteria.
Game Duration: Take note of the game's duration to plan your schedule accordingly.
Inclusivity: Ensure that the game is inclusive of diverse participants, including individuals with physical limitations or special needs.
Best Amazing Race Games Singapore
Physical Amazing Race
1. Physical Amazing Race by Team Building Activities Singapore
Embark on a thrilling physical Amazing Race adventure with Team Building Activities Singapore. This action-packed game will challenge your team's physical abilities, problem-solving skills, and teamwork as you navigate through exciting challenges and clue stations across Singapore's iconic landmarks. Expect a day filled with laughter, excitement, and bonding, making it an ideal choice for corporate team-building events and group outings.
2. Amazing Race by FunEmpire
FunEmpire's Amazing Race is a highly sought-after team-building activity that promises an unforgettable experience. Race against the clock as you and your team decode clues, conquer obstacles, and complete tasks scattered throughout the city. With a strong focus on promoting teamwork and communication, this game is perfect for corporate groups and friends looking to strengthen their connections and create lasting memories.
3. In-Person Amazing Race by Team Building Games Singapore
Team Building Games Singapore's In-Person Amazing Race brings you an immersive and interactive experience designed to foster collaboration and creativity. Engage in an exhilarating journey as you unravel puzzles, participate in strategic challenges, and uncover hidden gems within Singapore's diverse neighborhoods. This game guarantees an extraordinary adventure that will leave your team energized and motivated.
Virtual Amazing Race
4. Virtual Amazing Race by FunEmpire
Take your team on a virtual adventure with FunEmpire's Virtual Amazing Race. Through cutting-edge technology, this game offers an engaging and interactive experience, perfect for remote teams or those looking for virtual team-building options. Your team will travel virtually to different destinations, solve mind-bending puzzles, and work together to emerge victorious in this thrilling race.
5. Return Of The Queen by Virtual Amazing Race Singapore
Virtual Amazing Race Singapore presents "Return Of The Queen," an exciting virtual race that challenges your team's wit, coordination, and quick decision-making. Travel through virtual worlds, complete creative tasks, and unlock clues to rescue the queen. This game promises an adrenaline-pumping experience and guarantees an unforgettable time for teams seeking virtual team-building solutions.
Hybrid Amazing Race
6. Hybrid Amazing Race by Virtual Team Building Singapore
Virtual Team Building Singapore's Hybrid Amazing Race is a unique blend of physical and virtual challenges, designed to cater to teams with diverse preferences. Teams will experience the best of both worlds as they tackle real-life obstacles in Singapore while incorporating virtual elements for an added twist. It's an excellent choice for teams looking for an all-inclusive and immersive experience.
7. Merlion's Feast by FunEmpire
Prepare for a gastronomic adventure with FunEmpire's Merlion's Feast. This hybrid Amazing Race game combines the excitement of a scavenger hunt with a delightful food trail. Teams will explore hidden culinary gems in Singapore, completing challenges and indulging in local delicacies along the way. Merlion's Feast is an extraordinary team-building experience that combines culture, camaraderie, and culinary delights.
8. Chinatown Amazing Race by Team Building Singapore
Team Building Singapore's Chinatown Amazing Race offers a cultural and historical journey through the vibrant streets of Chinatown. Engage in team-building challenges, learn about the rich heritage of this iconic district, and immerse yourself in the captivating traditions of Singapore's Chinese community. This hybrid game promises an enriching and enjoyable experience for participants of all backgrounds.
How to Prepare for an Amazing Race Game
Here are some essential tips to prepare for an Amazing Race Game:
Know the Details: Familiarize yourself with the event's date, time, location, and any specific instructions provided by the organizers.
Dress Comfortably: Wear appropriate clothing and footwear suitable for physical activity and the weather conditions on the day of the game.
Stay Hydrated: Bring a water bottle to stay hydrated throughout the game, especially for outdoor events.
Pack Essentials: Depending on the game's nature, consider bringing items like sunscreen, mosquito repellent, a small first-aid kit, and any personal medications.
Form a Strategy: Discuss and plan a basic strategy with your team, including assigning roles and responsibilities for different challenges.
Mental Preparedness: Approach the game with a positive and open mindset, ready to face challenges and work collaboratively with your teammates.
Arrive Early: Reach the event location a little early to complete registration and get familiar with the surroundings.
Follow Instructions: Listen carefully to the game's rules and instructions provided by the organizers to ensure a smooth and enjoyable experience.
Embrace the Experience: Remember that Amazing Race Games are about having fun, making memories, and enjoying the journey, not just the destination.
Celebrate Teamwork: Regardless of the game's outcome, celebrate the efforts and teamwork put in by your group and cherish the shared experiences.
Amazing Race Games Singapore
Singapore offers a plethora of Amazing Race games, each providing a unique blend of excitement, learning, and team-building. Whether it's exploring the city's diverse neighborhoods, embarking on a virtual quest, or sampling local delicacies in a culinary hunt, there's something for every team. Remember to stay prepared, keep an open mind, and above all, enjoy the experience.
Amazing Race Games in Singapore are more than just a competition; they're an opportunity to forge strong bonds, create lasting memories, and discover what it truly means to be a team. So gear up, embrace the adventure, and let the race begin!
Frequently Asked Questions (FAQ)
If you have any questions about Amazing Race Games in Singapore, you can refer to the frequently asked questions (FAQ) about the best Amazing Race Games in Singapore below:
What are Amazing Race Games?
Amazing Race Games are adventurous team-building activities that involve participants racing against time to complete a series of challenges, puzzles, and tasks at various locations. The games are designed to promote teamwork, communication, and problem-solving skills among participants.
Are Amazing Race Games suitable for all age groups?
Yes, most Amazing Race Games are designed to accommodate participants of varying ages and fitness levels. However, some games may have specific age restrictions, so it's essential to check with the organizers for age-appropriate events.
How long do Amazing Race Games typically last?
The duration of Amazing Race Games can vary depending on the complexity and number of challenges. They usually last between 2 to 4 hours, but some events may span a whole day, especially for longer races or multi-location games.
Do we need to form teams beforehand, or can individuals join?
Dress comfortably and wear suitable footwear for physical activities. Depending on the game's location and weather, it's advisable to wear light and breathable clothing for outdoor events.
What should I wear for an Amazing Race Game?
Dress comfortably and wear suitable footwear for physical activities. Depending on the game's location and weather, it's advisable to wear light and breathable clothing for outdoor events.
Can companies customize Amazing Race Games for team-building purposes?
Yes, many event organizers offer customizable Amazing Race Games to cater to specific team-building objectives or corporate themes. Companies can work with organizers to tailor the challenges and content accordingly.
Are virtual Amazing Race Games as engaging as physical ones?
Virtual Amazing Race Games have become increasingly popular and are designed to provide an engaging and interactive experience through online platforms. While different from physical games, they offer their unique set of challenges and excitement.
Can individuals with physical limitations participate in Amazing Race Games?
Many organizers strive to make their games inclusive and accessible to all participants. However, some challenges in physical games may be physically demanding, so it's essential to check with the organizers about accommodations for individuals with specific needs.
Are Amazing Race Games safe?
Reputable event organizers prioritize participant safety and take necessary precautions to ensure a secure and enjoyable experience. Before participating, inquire about safety measures and emergency protocols.
How can I book a slot for an Amazing Race Game in Singapore?
To book a slot for an Amazing Race Game, visit the website or contact the event organizers directly. Many organizers offer online booking options or provide contact details for inquiries and reservations.