Corporate Team Building Activities Singapore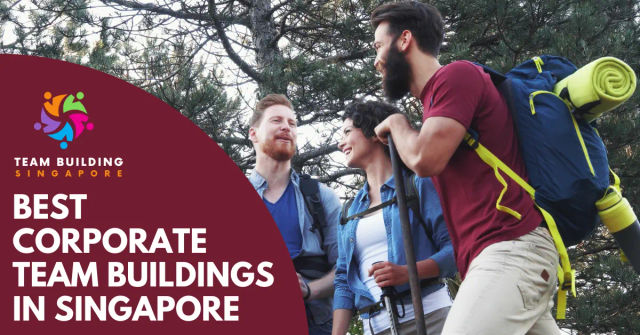 In the bustling city-state of Singapore, avenues for corporate team building activities are plentiful and diverse. Whether aiming to boost employee morale, enhance team communication, or simply break the monotony of daily work, Singapore offers a myriad of experiences that cater to these objectives.
From adrenaline-fueled adventure games to more serene bonding activities, we have curated a list of the 20 best corporate team building activities in Singapore. Let's explore this dynamic and enriching landscape together.
Benefits Of Team Building Activities
1. Improves communication
To begin, team building exercises aid in the improvement of communication. Everyone must work together as a team and communicate as such to resolve issues in order for everyone to succeed. Divide your group into equal teams and have them compete against each other in games. It's the same goal as yours: to win. It forces everyone to interact and think of strategies in order for it to become a reality. That's when you notice your coworkers speaking to you in a less formal tone, which breaks the seriousness of the workplace.
2. Being able to ease conflicts
Let's face it: you can't possibly satisfy everyone at your workplace. Whenever there are differences in personality and viewpoints, conflicts are inevitable. This might result in negative outcomes such as not being on speaking terms or even prejudice against a coworker. However, there is a solution to this! Encourage your team to take part in team building activities once a month or even quarterly. This is so that everyone may engage with one another and develop rapport and friendship.
Furthermore, make sure the games you choose encourage employees to get familiar with one another on a personal level. Begin by playing an icebreaker game where everyone may unwind and become comfortable with their group mates. Keep in mind that conducting them at the workplace is bad for your employees since it places them in an environment where most conflicts originate!
3. Motivates you to do better
The culture of a sports team should be adopted by every business. Working as a unit to achieve a common aim and celebrating after winning any major competition is what it's all about. When you win against your coworkers in a friendly game, this also applies to any team-building activity. Celebrations are a great way to show your team how much you appreciate their hard work and dedication. They will be more driven to succeed in their careers and achieve even greater milestones as a result! Always go out of your way to acknowledge the triumph, no matter how big or little the success is!
4. Teamwork makes the dream work
It's nearly impossible to escape from doing tasks at work. Projects require the participation of a number of people. A successful team is one that collaborates rather than competes individually. When you're just getting to know your teammates, it might be difficult to collaborate as a group. Team building activities can help you better understand one another, build a stronger relationship, and identify each other's strengths and limitations. As a result, people won't dread doing projects since they know their input would be valuable.
5. Build on that trust
It's natural to build a barrier as a defense mechanism, especially when meeting new individuals. At their first few encounters, no one can immediately trust someone. It takes time to develop trust. With team building exercises in place, it does exactly that: increasing employee and peer trust. In addition, they aid in the decentralization of the company hierarchy and bridge the gap between bosses and employees. Team building games lower barriers to communication by placing the superior authority on a level playing field with their staff. In other words, be a friend to your workers!
Best Corporate Team Building Activities in Singapore
1) Virtual Art Jamming
Painting sessions might be a lot of fun, especially if they are relaxing, interesting, and beautiful. Create a masterpiece that you can proudly display in your own house or at the workplace by using your imagination. Acrylic paints, canvas or tote bags, paper and erasers are all supplied. Don't hesitate to use the Canvas or Tote Bag session if you have it!
At the end of each event, our experienced facilitators will go over the foundations of color mixing and provide advice during your virtual meeting. There will be a debriefing and storytelling session at the end of each event as requested. Perhaps you'd want to give this activity or any of our team-building activities in Singapore a shot!
2) Laser Tag
Laser tag is a team-building activity that offers exciting activities for both children and adults to participate in. This game may be played outside or inside, making laser tag an easy method to add to your team building event!
There are a few of goals to choose from, such as Capture the Flag, Mission Impossible, and Domination. The many game tasks will enhance team bonding and collaboration. It's also great for bachelor parties, birthdays, and other parties.
3) Virtual Leather Making Workshop
You may do our well-known leather crafting class at home. We'll send you a leather-making house kit before the start of your virtual team building session. You'll be able to ask knowledgeable assistance during your online meeting!
We'll look at some unusual possibilities on a number of leathers, as well as how to maintain and improve your own goods! You'll be able to make not one but two items! (for example, Key FOB and Coin Pouch) For such a low price, you may have it all.
4) Virtual Game Show
Virtual Game Shows are a fantastic way to inject some fun and lighthearted competition into your corporate team building activities in Singapore. This activity transports you and your team to an online world packed with trivia questions, puzzles, and challenges. It's designed to test your team's general knowledge, quick thinking, and cooperation skills. The game show can be customized to include topics relevant to your company or industry, making it both an educational and enjoyable team bonding activity.
5) Virtual Time Travel
The world's first and only Virtual Time Travel experience is now live! This experience is for you if you've ever wondered whether time travel is possible. To transcend time with your pals, sync your watches and solve issues from various eras and time zones. Compete against the timer to finish your task on schedule!
The goal of this game is to put your team's problem-solving abilities to the test. One of the most creative and amusing group building games ever created! To begin, you only need two people, and there is no limit to the number of individuals who can join! Travel through time to be a part of today's top teams!
6) Virtual Terrarium Workshop
Are you in need of a fun activity to do with your friends or coworkers at home? The Fun Empire has transformed the popular and award-winning workshop into a digital experience. Our Terrarium Home Kits are delivered straight to each player's house, ensuring that they are first!
Learn how to create your own tiny garden with our highly trained instructors, from start to finish. All you need is a little space and some imagination. The final touch adds elegance!
7) Virtual Clay Making Workshop
This is another fun team game to add to the list. Learn how to create your own clay figure or charm. It's also a wonderful method to show gratitude for family members! We only use high-quality air dry clay that is lightweight and adaptable, as well as non-toxic and kid-friendly.
You'll go over the fundamentals of color mixing, basic shapes, and essential skills for molding and handling clay in this live virtual clay workshop. Let your imagination run free as you create whatever you like; there are no restrictions!
8) Virtual Nightfall
Who is the smarter among your coworkers? This is a good game to play with your teammates to see who has the greater brain. It necessitates communication, body-language reading, and persuasion. Each member of the team was assigned a role, such as murderer, detective, or superhero. Which side will win? In this mental game, you'll learn about each other's strengths and flaws, which will undoubtedly make for a fun team building activity!
9) Archery Tag
Archery Tag is a combination of dodgeball and archery activities that is fun for people of all ages. Teams are put in a fast-paced competitive environment where they must shoot one another while avoiding being shot themselves. The game is extremely safe since players use foam-tipped arrows and face masks to enhance protection.
The numerous objectives, such as The Revival and The Last King, are fantastic team-building exercises since they demand exceptional collaboration, communication, and resourcefulness. Have you ever wanted to act like Katniss Everdeen from The Hunger Games? If that's the case, this is the ideal game for your next team bonding session!
10) Virtual Escape Room
This activity was created to allow players to tackle challenges from the comfort of their own homes. From two to hundreds of people, this virtual game can handle it all. Take advantage of this opportunity to put your analytical and interpersonal skills to the test! For your next team get-together, this is a fantastic corporate team building exercise.
11) SaberFit®
SaberFit is the world's first group fitness workout, and it's a toning experience you'll love. It may now also be experienced online and virtually from the comfort of your own house! This fat-burning workout incorporates saber techniques for a comprehensive fat-loss program! It's a fantastic team exercise for you and your coworkers to do together! While working out, encourage one another!
12) Virtual Travel Experience
Do you have no idea what sort of virtual hobby to join? The Fun Empire has a variety of options for you! Take you on a journey across Singapore's many eras of history by participating in the Virtual Amazing Race, Treasure Hunt, and Virtual Escape Room Experiences.
Participants will collaborate together in an online team to solve interesting and engaging riddles while also learning more about the nation in an innovative and immersive virtual environment. Complete all of the missions to see how the exciting narrative concludes! This is the ideal team-building game if you're stumped for an Singaporean team-building activity to do with your coworkers! Challenge your international teammates to play the Virtual Travel Experience right now, with no limit on the number of players, and have fun together!
13) Virtual Amazing Race
Have you ever considered traveling across the globe and competing? Look no farther! Compete with your friends and coworkers to see who can be the first to finish without revealing any of the game's secrets! We don't want to ruin it for you, so we'll keep all of this information under wraps.
Our instructors have been trained by the top experts in the business for a safe and exciting experience. Our masters will work with certified trainers to ensure that your event is more memorable. There is no restriction on the number of people who can compete, making our amazing marathon an appealing alternative for remote workers from across the world!
14) Virtual Party Mania
Play a variety of amusing and entertaining party games over video conferencing to get your guests giggling! The activities are intended to foster team bonding and goodwill through laughter and enjoyment. This is a facilitated event organized by qualified facilitators. To add to the intrigue, the winner of the virtual party will get something! This game is a great team-building exercise in Singapore. Let the games and giggling begin!
15) Bubble Soccer
In Singapore, one of the most fun and entertaining team building activities is Bubble Soccer. Bounce around energetically with your coworkers and friends without hurting anyone. Collaborate and plan with your team members to enhance your chances of success. Get into a state of relaxation while you take advantage of a successful cohesion and team bonding session.
16) Bullet Ball
Bullet Ball is an exhilarating fusion of soccer and dodgeball, played on an inflatable court featuring multiple goals. Players strategically employ their hands to launch balls into the opposing team's goal while simultaneously defending their own. This high-energy game demands teamwork, agility, and lightning-fast reflexes, rendering it a delightful and dynamic activity for fostering team camaraderie.
17) Poolball
Poolball is an exciting fusion of pool and football that promises loads of fun and laughter. This unique game provides a refreshing twist on the traditional game of pool, with players using their feet to kick soccer balls into oversized pool table pockets. It's a fantastic corporate team building activity in Singapore that promotes teamwork, strategic thinking, and precision, making it a must-try at your next team bonding event.
18) Tote Bag Art Jamming
Unleash your team's creativity with Tote Bag Art Jamming, a unique corporate team building activity in Singapore. This event encourages participants to express their artistic sides by creating their own designs on tote bags. It's a fantastic way to stimulate imagination, foster team bonding, and you get a personalized tote bag as a souvenir at the end!
19) Combat Archery Tag
Combat Archery Tag merges the thrill of paintball, the strategy of dodgeball, and the fun of archery into one exhilarating activity. Participants form teams and try to hit opponents with foam-tipped arrows, promoting team coordination, communication, and collaboration. Whether you're an archery novice or a seasoned bowman, this corporate team building activity in Singapore will guarantee a memorable and exciting experience for everyone.
20) Canvas Art Jamming
Experience the joy of painting with Canvas Art Jamming, a popular corporate team building activity in Singapore. This engaging event encourages team members to explore their artistic abilities by creating their own canvas artwork. It's an excellent opportunity for fostering creativity, mutual appreciation, and team bonding while creating lasting mementos of the shared experience.
Corporate Events Singapore
In conclusion, Singapore is teeming with innovative and engaging corporate team building activities that cater to a variety of interests and skill levels. Whether you're seeking adventure, creativity, competition, or simply a good laugh, there's something for every team. These activities are not only fun, but they also foster team bonding, improve communication, and promote a positive work culture.
Embarking on these unique experiences together strengthens team cohesion and makes for an unforgettable shared experience. So go ahead, explore these activities, and take your team's synergy to new heights.
Frequently Asked Questions (FAQs)
If you have any questions about corporate events in Singapore, you can refer to the frequently asked questions (FAQ) about the Best Corporate Events in Singapore below: