Craft Workshop Singapore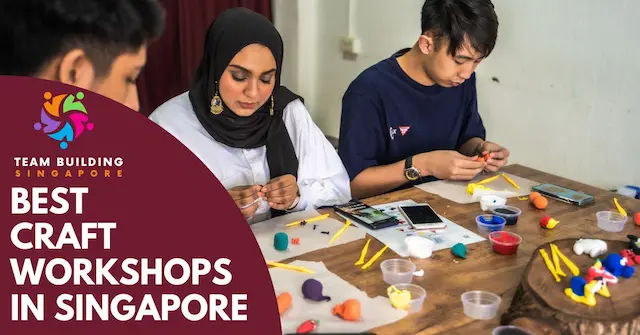 Craft workshops have experienced a significant surge in popularity in Singapore, becoming a sought-after creative outlet for individuals of all ages.
The Best Craft Workshops in Singapore include Art Jamming, Candle Making, Terrarium Making, Leather Making, and Balloon Sculpting.
When you decide to book a craft workshop in Singapore, it's important to take into account key factors such as the workshop type, the maximum number of participants, and whether an instructor will be provided.
FunEmpire is the leading provider of craft workshops in Singapore, with an impressive track record of organizing over 50,000 successful events and garnering more than 8,000 5-star reviews.
We have gathered a collection of the finest craft workshops in Singapore for you to discover!
Quick Summary
Best Craft Workshops in Singapore include Art Jamming, Candle Making, Terrarium Making, Leather Making, and Balloon Sculpting.
When booking a craft workshop in Singapore, consider important factors such as the type of workshop, how many participants can attend, and whether an instructor is provided.
FunEmpire is the premier craft workshop provider in Singapore, boasting over 8,000 5-star reviews and a track record of organizing 50,000+ successful events.
Understanding the Craft Workshop Trend
Craft workshops have become more than just a leisure activity; they provide a sanctuary for individuals looking to escape the hustle and bustle of daily life. The therapeutic benefits of engaging in crafting activities are widely recognized, as they offer stress relief and relaxation. Moreover, craft workshops serve as a platform for skill development and knowledge sharing, allowing participants to learn new techniques and refine their craftsmanship. The growing trend of attending craft workshops stems from the desire to unplug from digital distractions and rediscover the joy of creating with one's hands.
Importance of Expertise in Craft Workshops
At the core of every remarkable craft workshop lies the expertise of its instructors. Skilled and knowledgeable instructors play a pivotal role in guiding participants through various crafting processes. Their ability to convey intricate techniques and provide personalized feedback greatly enhances the learning experience. Moreover, expert instructors often infuse their workshops with insights, history, and cultural significance related to the crafts, making the sessions more enriching and meaningful.
The Key Elements of a Quality Craft Workshop
Craft workshops that stand out from the rest possess several key elements that contribute to their excellence. These elements include:
Expert Instructors: Certified professionals with extensive experience in the craft, capable of teaching participants of all skill levels.
Unique Craft Projects: Offering a diverse range of crafts, from traditional arts like pottery and calligraphy to modern crafts like resin art and hand-lettering.
Positive Reviews and Testimonials: Consistently garnering praise from satisfied participants who have benefited from their workshops.
Inclusivity and Accessibility: Creating an inclusive environment that accommodates beginners and experienced crafters alike.
Best Craft Workshop Singapore
Creative Craft Workshops
1. Leather Workshop
Unleash your creativity and learn the art of crafting premium leather goods in this immersive workshop. Led by skilled artisans, you'll master various leatherworking techniques, from cutting and stitching to tooling and finishing. Walk away with personalized leather products, such as wallets, key holders, or stylish accessories, showcasing your newfound craftsmanship.
2. Tote Bag Art Jamming Workshop
Combine practicality and creativity in this fun-filled art jamming session focused on tote bag design. Express yourself on a blank canvas tote bag using various art mediums, from fabric paints to markers. Whether you're a novice or an experienced artist, this workshop encourages self-expression and results in a unique, wearable masterpiece.
3. Gel Candle Making Workshop
Explore the mesmerizing world of gel candle making and craft your own captivating creations. Learn the art of layering colored gels, embedding decorative elements, and infusing delightful scents into your candles. The result is not just a visually appealing candle but also a delightful sensory experience that makes for perfect personalized gifts.
4. Balloon Sculpting
Step into the world of whimsy and entertainment with balloon sculpting. Under the guidance of skilled balloon artists, you'll transform simple balloons into intricate sculptures, animals, and characters. Perfect for parties or children's events, this workshop leaves you with a delightful skill to bring smiles to people's faces.
5. Cooking Class
Embark on a gastronomic journey and sharpen your culinary skills in a cooking class. From local delicacies to international cuisines, experienced chefs will guide you through preparing delectable dishes. Enjoy the camaraderie of fellow food enthusiasts as you savor the fruits of your labor.
6. Terrarium Workshop
Bring the beauty of nature into your home with a terrarium workshop. Discover the art of creating miniature, self-sustaining ecosystems using plants and decorative elements in glass containers. Not only does this workshop offer a relaxing and mindful experience, but it also adds a touch of greenery to your living space.
7. Clay Making Workshop
Get your hands dirty in a clay making workshop and explore the tactile art of sculpting. Learn various techniques to mold and shape clay into artistic masterpieces, whether it's pottery, figurines, or functional art. This workshop celebrates the meditative qualities of working with clay, resulting in unique, handcrafted pieces.
8. Canvas Art Jamming Workshop
Unleash your inner artist in a canvas art jamming workshop. Embrace freedom of expression as you paint on blank canvases using acrylics, creating original artwork with no restrictions or judgments. Whether you're a seasoned painter or a first-timer, this workshop offers a therapeutic escape and the joy of creation.
9. Neon Art Jamming Workshop
Immerse yourself in a neon art jamming experience that blends creativity with technology. Discover the mesmerizing world of neon light art and create eye-catching designs using neon wire. Perfect for decorating living spaces or adding a touch of vibrancy to events.
10. Perfume Making Workshop
Unravel the secrets of perfumery and craft your signature scent in a perfume making workshop. Guided by fragrance experts, you'll learn about fragrance notes, blending techniques, and create a bespoke perfume that reflects your personality and style.
Virtual Craft Workshops
11. Virtual Candle Making Workshop
Explore the art of candle making from the comfort of your home with a virtual workshop. Join online sessions where instructors guide you through the process of making scented candles, teaching you tips and tricks for a delightful result.
12. Virtual Clay Making Workshop
Discover the versatility of clay and engage in a virtual clay making workshop. Participate in live online sessions where instructors demonstrate clay sculpting techniques and guide you through creating pottery or clay figurines, even from a distance.
13. Virtual Terrarium
Bring nature indoors with a virtual terrarium workshop that allows you to assemble your own miniature garden remotely. Learn about plant care, design, and arrangement through virtual demonstrations and create a green oasis in your living space.
14. Virtual Leather Workshop
Dive into the world of leathercraft virtually and acquire new skills in making leather goods. Join interactive online classes where expert artisans teach you the intricacies of leatherwork, enabling you to create personalized leather products without leaving your home.
15. Virtual Art Jamming
Explore your artistic side through virtual art jamming sessions. Connect with artists and enthusiasts from around the world in real-time, and create collaborative artworks or individual masterpieces using various digital art tools and platforms.
How to Choose the Right Craft Workshop for You
Choosing the perfect craft workshop can be an exciting yet challenging decision. Here are some factors to consider when making your choice:
Interest and Craft Specialty: Opt for a workshop that aligns with your interests and desired craft to ensure an enjoyable experience.
Skill Level: Verify if the workshop caters to your skill level, whether you're a beginner or a seasoned crafter looking to refine your expertise.
Instructor's Approach: Research the instructor's teaching style and approach to determine if it suits your learning preferences.
Reviews and Recommendations: Read reviews and testimonials from previous participants to gauge the workshop's quality and value.
Craft Workshop Singapore
Whether you're looking to venture into a new hobby, unlock your creative potentials, or simply spend quality time with friends, craft workshops offer a unique blend of education and entertainment. They serve as platforms that not only teach you diverse skills but also provide opportunities to express your creativity, relieve stress, and create something with your own hands.
So, dive into the world of arts and crafts and find the workshop that resonates with you the most. Remember, crafting is a journey of exploration and imagination where the destination is as gratifying as the journey itself. Happy crafting!
Frequently Asked Questions (FAQs)
If you have any questions about Craft Workshops In Singapore, you can refer to the frequently asked questions (FAQs) about the Best Craft Workshops In Singapore below:
What are some of the best creative workshops in Singapore?
Singapore offers a plethora of creative workshops, including paper making workshops, painting workshops, and pottery workshops. These fun craft workshops are perfect for getting your creative juices flowing.
What can I expect from a paper making workshop in Singapore?
Paper making workshops teach you the ancient art of creating paper from pulp. You will learn how to prepare the pulp, form the sheets, and dry them to create your own unique pieces of paper. It's a hands-on workshop that allows you to tap into your creativity.
Can you recommend any photography workshops for beginners?
Yes, there are several photography workshops in Singapore suitable for beginners. These workshops cover basic camera settings, composition, and lighting, providing a solid foundation for budding photographers.
How can I get my creative juices flowing at a terrazzo style tray workshop?
A terrazzo style tray workshop encourages creativity by allowing you to design and create your own terrazzo tray. You'll mix and match colors and materials, resulting in a one-of-a-kind piece that reflects your personal style.
What is a craft atelier?
A craft atelier is a workshop or studio where artisans create their work. In the context of craft workshops in Singapore, it refers to spaces where various craft workshops like pottery, tapestry weaving, and more are held.
Can you tell me more about pottery workshops in Singapore?
Pottery workshops in Singapore offer a hands-on experience in shaping clay into various forms. You'll learn techniques such as coiling, slab work, and wheel throwing, and even glazing and firing your creations.
What can I learn in a tapestry weaving workshop?
In a tapestry weaving workshop, you'll learn the basics of weaving, including how to set up a loom, create different patterns and textures, and complete a woven piece. It's a relaxing and rewarding craft that lets your creative juices flow.
How can an art workshop in Singapore help me explore my creativity?
Art workshops in Singapore, whether they focus on painting, sculpture, or mixed media, provide a supportive and stimulating environment for you to explore various art forms. They encourage experimentation and self-expression, helping you unleash your creativity.
Are painting workshops suitable for beginners?
Absolutely! Painting workshops often cater to all skill levels. Beginners will be guided through basic techniques and concepts, while more advanced participants can deepen their skills and explore new techniques.
How can craft workshops get my creative juices flowing?
Craft workshops stimulate your creativity by providing you with new tools, techniques, and ideas. Whether it's molding clay in a pottery workshop or capturing images in a photography workshop, you'll be actively creating, which naturally gets your creative juices flowing.