Creative Workshop Singapore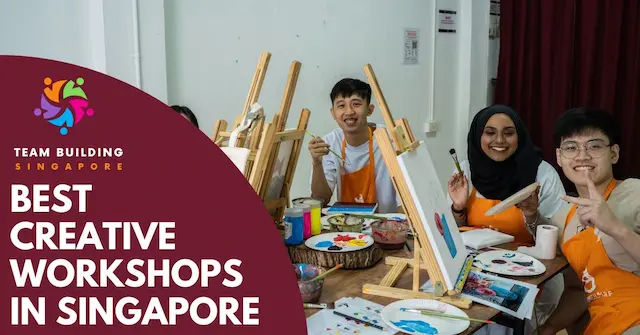 Are you looking to unlock your creativity, learn new skills, or simply indulge in unique experiences? Creative workshops in Singapore offer the perfect platform to do just that! As the demand for creative expression and personal growth continues to soar, creative workshops have become increasingly popular in the Lion City.
In this article, we'll delve into the exciting world of creative workshops and present a handpicked selection of the best creative workshops to attend in Singapore in 2023.
Understanding the Creative Workshop Scene in Singapore
Singapore's creative workshop scene has witnessed a significant boom in recent years. With the fast-paced lifestyle and bustling city life, individuals are seeking creative outlets to relax and engage with their passions. From arts and crafts to culinary delights, and from photography to pottery, creative workshops cater to diverse interests. These workshops not only allow participants to learn new skills but also provide a rejuvenating break from routine, promoting a healthy work-life balance.
The Benefits of Participating in Creative Workshops
Participating in creative workshops offers an array of benefits that extend beyond the skills acquired. Some key advantages include:
Skill Enhancement: Creative workshops provide hands-on training and expert guidance, enabling participants to develop new talents and refine existing ones.
Networking Opportunities: Workshops often bring together like-minded individuals, fostering a sense of community and potential collaborations.
Stress Relief: Engaging in creative activities can be therapeutic and serve as a stress-relieving outlet for individuals dealing with everyday pressures.
Boosting Confidence: As participants master new skills, their confidence grows, empowering them in other aspects of life.
Criteria for Selecting the Best Creative Workshops
To curate the list of the 12 best creative workshops in Singapore, we employed the following selection criteria:
Expertise of Instructors: Workshops led by experienced and qualified instructors were given preference, ensuring high-quality teaching.
Workshop Content: The workshops chosen offered engaging and well-structured content to maximize participants' learning experience.
Participant Reviews: Positive feedback and testimonials from past attendees indicated the workshop's impact and overall satisfaction.
Workshop Uniqueness: We considered workshops that offered something distinctive, be it a specialized technique or a unique creative approach.
Best Creative Workshops Singapore
1. Balloon Sculpting Workshop
Learn the art of balloon sculpting and create delightful balloon figures under the guidance of expert instructors. Perfect for kids and adults alike, this workshop will have you twisting and shaping balloons into adorable animals, flowers, and more. Discover the joy of bringing smiles to faces with your whimsical balloon creations.
2. Tote Bag Art Jamming
Unleash your artistic flair on a blank tote bag during this art jamming session. Express your creativity using a variety of paint colors and techniques, resulting in a unique and personalized tote bag to carry your essentials. Whether you're a seasoned artist or a first-time painter, this workshop promises a fun and relaxing experience.
3. Clay Making Workshop
Experience the tactile joy of working with clay as you mold and shape your own ceramic masterpiece. From pottery to clay figurines, this workshop caters to all levels of pottery enthusiasts. Discover the therapeutic benefits of clay making and take home your handcrafted creation as a cherished memento.
4. Soy Candle Making Workshop
Explore the world of aromatherapy and craftsmanship in this soy candle making workshop. Learn how to blend scents and create custom soy candles using natural ingredients. The workshop offers insights into the art of candle making, and you'll leave with a set of fragrant candles to elevate your living space.
5. Canvas Art Jamming
Unwind and let your creativity flow during a canvas art jamming session. Armed with acrylic paints and brushes, you'll have the freedom to paint anything that inspires you. Whether you're a seasoned artist or a novice, this workshop fosters a relaxed environment for artistic expression and self-discovery.
6. Cooking Class
Enhance your culinary skills in a hands-on cooking class led by professional chefs. From local delicacies to international cuisines, you'll get to master new recipes and cooking techniques. Join this workshop for a delightful gastronomic experience and impress your loved ones with your newfound culinary expertise.
7. Stitched Leather Workshop
Craft your own leather accessories, from keychains to cardholders, in this stitched leather workshop. Learn about leatherworking techniques and work with premium materials to create durable and stylish items. Perfect for those with a keen eye for craftsmanship and a passion for unique accessories.
8. Gel Candle Making Workshop
Indulge in the art of gel candle making, where you'll create mesmerizing candles with embedded objects and intricate designs. Discover the versatility of gel wax and how it enhances the visual appeal of your candles. Walk away from this workshop with a set of beautifully crafted gel candles to adorn your home.
9. Neon Art Jamming
Immerse yourself in the vibrant world of neon lights as you design your own neon art masterpiece. Let your creativity run wild with glowing colors and electrifying designs. This workshop offers a contemporary twist to traditional art, making it a perfect choice for those seeking an illuminating creative experience.
10. Terrarium Workshop
Get in touch with nature and learn the art of crafting miniature gardens in glass terrariums. Discover the secrets of plant care and terrarium design as you create your green oasis. Ideal for plant enthusiasts and nature lovers who want to add a touch of green to their urban spaces.
11. Perfume Workshop
Embark on a sensory journey in a perfume workshop, where you'll explore different fragrance notes and create your personalized perfume blend. Unravel the secrets of perfumery and leave with a signature scent that reflects your unique personality and style.
12. Non-Stitched Leather Workshop
Delve into the world of leather crafting without the need for stitching. This workshop introduces you to techniques like leather embossing, painting, and burnishing. Create stunning leather items with a distinct artistic flair, making them a standout addition to your collection.
Creative Workshop Singapore
With a plethora of creative workshops offered in Singapore, there's truly something for everyone. From delightful balloon sculpting to personalized perfume crafting, these workshops not only provide an opportunity to learn new skills but also serve as an expressive and therapeutic outlet. Whether you're looking to step out of your comfort zone, explore your artistic side, or find a unique pastime, these workshops are a testament to Singapore's vibrant and diverse creative scene. So, go ahead and sign up for a session – your creative journey starts here!
Frequently Asked Questions (FAQ)
If you have any questions about creative workshops in Singapore, you can refer to the frequently asked questions (FAQ) about the best Creative Workshops In Singapore below:
Are these creative workshops suitable for kids as well?
Yes, many of the workshops listed are suitable for both adults and kids. Some workshops may have age restrictions, so it's essential to check the workshop details or contact the organizers to confirm if they cater to kids.
Can I attend these workshops if I have no prior experience in the respective fields?
Absolutely! Most of the listed workshops are designed for participants of all skill levels, including beginners. The instructors will provide step-by-step guidance to ensure everyone can enjoy and learn during the workshop.
How long do these creative workshops typically last?
The duration of workshops may vary depending on the complexity of the activity and the specific workshop you choose. On average, workshops can range from a few hours to a full day.
Do I need to bring any materials or equipment to the workshops?
Most workshops provide all the necessary materials and equipment. However, it's always a good idea to check the workshop details or reach out to the organizers to confirm if there's anything specific you need to bring.
Can I book these workshops for private events or team-building activities?
Yes, many workshop organizers offer private sessions for events and team-building activities. You can inquire with the workshop providers about group bookings and tailor-made experiences.
Is there an age limit for attending the cooking class?
The age limit for cooking classes may vary depending on the type of class and the culinary school's policies. Some cooking classes may be suitable for kids, while others may be designed for adults only.
Will I receive a certificate upon completing these workshops?
Workshop certifications vary depending on the specific workshop and its provider. While some workshops may offer certificates of completion, others may not. Be sure to inquire about certifications when enrolling in the workshop if it is a crucial factor for you.
Are there any COVID-19 safety measures in place during the workshops?
Yes, many workshop organizers have implemented COVID-19 safety measures to ensure participants' well-being. These measures may include reduced class sizes, mandatory mask-wearing, and enhanced cleaning protocols. It's advisable to check with the workshop organizers about their safety measures before attending.
Can I sign up for multiple workshops at once?
Absolutely! You can sign up for multiple workshops to explore different creative activities and expand your skills. Some organizers may even offer package deals for attending multiple workshops.
Are these workshops open to tourists visiting Singapore?
Yes, many of these workshops are open to tourists looking to experience the creative side of Singapore during their visit. Check the workshop availability and book in advance to secure your spot.