Date Ideas Singapore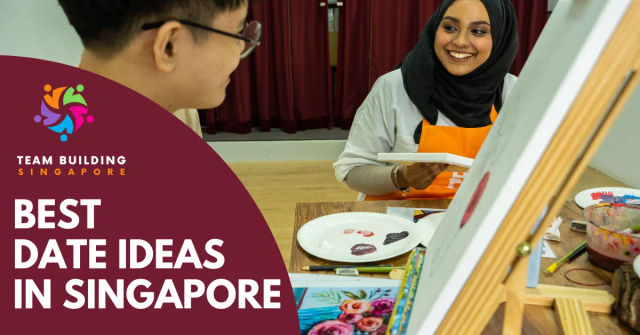 Dating in Singapore offers a multitude of opportunities to create unforgettable memories with your partner. This vibrant city is renowned for its stunning landscapes, diverse culture, and a plethora of exciting activities. When it comes to planning the perfect date, thinking outside the box can make all the difference.
From romantic escapades to thrilling adventures, the possibilities are endless. In this article, we'll explore the best date ideas in Singapore that are sure to ignite the sparks of romance and create lasting connections.
Best Date Ideas Singapore
1) Creative Art Jamming Home Kit
Unleash your artistic flair from the comfort of your home with a Creative Art Jamming Home Kit. This innovative kit includes all the materials you need to create your masterpiece, allowing you and your partner to bond over a shared artistic experience without leaving your space.
2) Canvas Art Jamming
Indulge your creative side with Canvas Art Jamming, a hands-on activity that lets you and your partner paint your way to a shared masterpiece. Express your emotions on canvas and revel in the joy of creating something beautiful together.
3) Neon Art Jamming
Step into a world of vibrant colors with Neon Art Jamming. Experience the magic of neon paints as you and your partner bring your imagination to life on canvas, producing stunning artworks that glow with brilliance.
4) Virtual Art Jamming
Break down distance barriers with Virtual Art Jamming. Connect with your partner virtually and enjoy the creative process together as you follow guided instructions to produce unique artworks, sharing laughter and artistic achievements in real time.
5) Tote Bag Art Jamming
Fashion meets creativity in Tote Bag Art Jamming. Customize your own tote bags with intricate designs and patterns, turning functional accessories into wearable works of art.
6) Cooking Class
Ignite your culinary passions with a Cooking Class. Embark on a gastronomic adventure as you and your partner learn to whip up delectable dishes under the guidance of expert chefs, enhancing your bond through the magic of food.
7) Singapore Botanic Gardens
Immerse yourselves in the lush serenity of the Singapore Botanic Gardens. Explore tropical wonders hand-in-hand, discovering an array of vibrant flora and fauna while enjoying peaceful moments amidst nature.
8) Night Safari
Embark on a captivating nocturnal journey at the Night Safari. Witness the world of nocturnal creatures come to life in their natural habitats, creating an enchanting experience that will leave you and your partner in awe.
9) Gardens by the Bay
Experience a futuristic garden wonderland at Gardens by the Bay. Wander through stunning flower domes and towering supertrees, creating picture-perfect memories against the backdrop of breathtaking city views.
10) Go Kayaking
Paddle through pristine waters and soak in the beauty of Singapore's coastline with a kayaking adventure. Explore hidden coves, navigate mangroves, and share moments of tranquility as you navigate the waters together.
11) Romantic Dinner Cruise
Set sail on a romantic dinner cruise, where you and your partner can enjoy a delectable meal while surrounded by the glittering lights of Singapore's skyline. Revel in the luxury of the moment and the beauty of the city's landmarks.
12) Sentosa Island
Escape to Sentosa Island, a haven of entertainment and relaxation. From idyllic beaches to thrilling attractions, indulge in a day of fun and leisure that promises unforgettable experiences together.
13) Picnic at Marina Barrage
Elevate a simple picnic to a whole new level with a Picnic at Marina Barrage. Spread out on the lush green lawns and soak in the panoramic views of the cityscape, creating cherished memories in a picturesque setting.
14) Cocktail Tasting at a Rooftop Bar
Indulge in luxury with Cocktail Tasting at a Rooftop Bar. Savor handcrafted cocktails against the backdrop of a stunning cityscape, as you and your partner enjoy intimate conversations amidst the sky-high ambiance.
15) Bike Tour of Pulau Ubin
Embark on a cycling adventure on Pulau Ubin, an island that takes you back in time. Explore rustic trails, encounter local wildlife, and share the thrill of discovery as you navigate the island's unique landscapes together.
Date Ideas Singapore
In conclusion, Singapore offers a treasure trove of exciting date ideas that range from creative art jamming to romantic dinner cruises, from exhilarating bike tours to tranquil picnics. No matter what you and your partner enjoy, Singapore has the perfect date idea to suit your tastes.
These unforgettable experiences are not just about spending time together, but also about creating lasting memories that you will cherish for years to come. So, go ahead and plan your next date in Singapore, a city where love and adventure awaits around every corner.
Frequently Asked Questions (FAQs)
If you have any questions about the best date ideas in Singapore, you can refer to the frequently asked questions (FAQs) about the best date ideas in Singapore below:
How do Creative Art Jamming Home Kits work?
Creative Art Jamming Home Kits provide all the necessary art supplies for you to create your artwork at home. These kits often include canvases, paints, brushes, and instructions to guide your creative process.
What is Canvas Art Jamming?
Canvas Art Jamming is a hands-on art activity where you and your partner paint on canvases to create unique artworks. It's a fun and interactive way to express yourselves and bond over a shared creative experience.
What is Neon Art Jamming?
Neon Art Jamming involves using vibrant neon paints to create stunning artworks that glow under black light. It's a unique and visually captivating form of artistic expression that adds an exciting twist to traditional painting.
How does Virtual Art Jamming work?
Virtual Art Jamming allows you and your partner to participate in an art session together, even if you're in different locations. Through video conferencing, you'll receive guidance from an instructor and create art simultaneously.
What can I expect from a Tote Bag Art Jamming session?
Tote Bag Art Jamming lets you design and personalize your own tote bags. You'll use various art techniques to transform plain tote bags into stylish accessories that reflect your creativity.
What types of cooking classes are available?
Cooking classes range from traditional local cuisine to international dishes. Whether you're interested in mastering a specific cuisine or learning basic cooking skills, there are classes suited to various preferences.
Are there any admission fees for the Singapore Botanic Gardens?
The Singapore Botanic Gardens offers free admission for most areas, making it a wonderful destination for a leisurely stroll amidst nature's beauty. However, certain attractions within the Gardens may have separate admission fees.
What is the Night Safari experience like?
The Night Safari offers a unique opportunity to observe nocturnal animals in their natural habitats. You'll take a tram ride through different zones, encountering a variety of animals and enjoying a captivating multimedia show.
What are the highlights of Gardens by the Bay?
Gardens by the Bay features iconic Supertrees, Flower Dome, and Cloud Forest attractions. These attractions showcase innovative architecture, stunning floral displays, and captivating indoor environments.
Do I need prior kayaking experience for the Go Kayaking activity?
No prior kayaking experience is usually required for guided kayaking tours. Instructors provide basic instructions, making it suitable for beginners. However, if you're experienced, you can opt for more advanced routes.