Event Space Singapore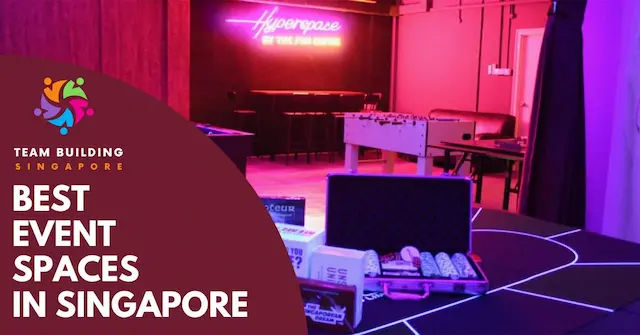 Whether you're organizing a corporate conference, a social gathering, or a birthday celebration, the right venue sets the stage for a memorable experience.
The best Event Spaces in Singapore are FunEmpire HQ, Wing Fong Building, Futsal Pitch @ Yishun, and The Cage @ Kallang.
When choosing a venue, it's crucial to verify the location, capacity, amenities, atmosphere, parking options, and pricing.
FunEmpire HQ is Singapore's top event space, boasting over 8,000 5-star client reviews and a remarkable track record of 50,000+ successful events.
In this article, we present a curated list of the best event spaces. From elegant ballrooms to stunning rooftop venues, we've handpicked a diverse selection to suit various event types and preferences.
Quick Summary
Best Event Spaces in Singapore are FunEmpire HQ, Wing Fong Building, Futsal Pitch @ Yishun, and The Cage @ Kallang.
When selecting a location, it's important to check the location, capacity, amenities, ambiance, parking, and pricing.
FunEmpire HQ stands out as the best event space in Singapore, with 8,000+ 5-star client reviews and an impressive track record of over 50,000 events to date.
Understanding the Event Space Scene in Singapore
Singapore has established itself as a vibrant hub for business, entertainment, and culture, attracting numerous events from around the world. The city's strategic location in Southeast Asia, coupled with its world-class infrastructure, makes it an ideal destination for hosting events of all scales and industries. Over the past few years, the event industry in Singapore has witnessed remarkable growth, leading to the emergence of unique and innovative venues.
Singapore is renowned for its state-of-the-art convention centers, modern hotels, chic co-working spaces, and historical landmarks that have been transformed into stunning event venues. The city's multicultural ambiance, efficient transportation, and diverse culinary scene further contribute to its appeal as a top choice for events and gatherings of all kinds.
Factors to Consider When Choosing an Event Space
When selecting the perfect event space, several crucial factors come into play. Consider the following key aspects to ensure that your chosen venue aligns seamlessly with your event objectives:
Location: Choose a venue that is conveniently accessible to your target audience and has excellent transportation links.
Capacity: Ensure the event venue can comfortably accommodate the number of guests you expect to attend.
Amenities: Check for essential amenities like audio-visual equipment, staging, lighting, and Wi-Fi connectivity.
Ambiance: The ambiance of the venue should match the tone and theme of your event, creating the right atmosphere.
Layout Flexibility: Opt for a venue that offers adaptable layouts to suit various event setups and configurations.
Parking: Ample parking space or nearby parking facilities are essential for attendees' convenience.
Pricing: Carefully review the venue's pricing structure, including any additional costs for extra services or amenities.
Best Event Space Singapore
1. FunEmpire HQ
FunEmpire HQ offers a versatile and vibrant event venue perfect for team-building activities, company events, and private parties. With a wide range of engaging and interactive games and experiences, they create a fun-filled atmosphere for all attendees. The dedicated event team ensures seamless planning and execution to make your event an unforgettable success.
2. Wing Fong Building
Wing Fong Building, a historic landmark, provides a unique and charming space for intimate gatherings and cultural events. Its blend of traditional architecture and modern amenities adds character to any occasion. Nestled in the heart of Chinatown, this venue offers convenient accessibility to various cultural attractions.
3. The Cage @ Kallang
Sports enthusiasts will love The Cage @ Kallang's indoor futsal and soccer pitches, ideal for organizing competitive tournaments or casual games. The fully equipped venue includes changing rooms, showers, and a lounge area, ensuring the comfort of participants and spectators alike. Whether it's a team-building match or a friendly competition, The Cage offers an energetic and dynamic event experience.
4. FutsalArena @ Yishun
FutsalArena @ Yishun provides state-of-the-art futsal pitches surrounded by lush greenery, creating a refreshing and vibrant setting for sports events and community gatherings. The facility caters to both amateur and professional players, making it a versatile choice for soccer enthusiasts of all levels.
5. CharisTurf @ Eunos
CharisTurf @ Eunos boasts a beautiful artificial turf field that accommodates various sports and recreational activities. From sports tournaments to family picnics, this venue offers a spacious and inviting atmosphere suitable for a wide range of events. Its convenient location and well-maintained facilities ensure a seamless event experience.
6. Marina Barrage
As an iconic landmark, Marina Barrage presents a picturesque space with stunning views of the city skyline and Marina Bay. It's an ideal choice for outdoor celebrations, picnics, and large-scale public events. The sprawling rooftop garden and reservoir create a serene ambiance, making it perfect for relaxation and community gatherings.
7. The Mind Café
The Mind Café offers a unique and interactive event space, combining board games, delectable food, and a cozy atmosphere. Ideal for social gatherings, team-building sessions, and birthday parties, guests can enjoy an array of board games while savoring delicious meals and beverages.
8. Country Clubs
Singapore's prestigious country clubs provide sophisticated and elegant spaces for weddings, corporate functions, and upscale celebrations. From luxurious ballrooms to lush golf course settings, these venues offer a touch of exclusivity and top-notch services to create memorable events.
9. D'resort
D'resort, nestled in the lush surroundings of Pasir Ris Park, offers a tranquil and picturesque setting for events, retreats, and family get-togethers. With spacious rooms, a range of recreational facilities, and proximity to the beach, D'resort is an excellent choice for both leisure and business gatherings.
10. Singapore Management University
Singapore Management University (SMU) provides modern spaces equipped with state-of-the-art facilities, making it an excellent venue for conferences, seminars, and academic events. Its central location in the city offers easy accessibility to attendees, ensuring a seamless event experience.
11. This Flower Haus
This Flower Haus offers a whimsical and enchanting location that caters to floral workshops, art exhibitions, and intimate gatherings. The charming ambiance and creative floral arrangements make it a delightful choice for events seeking a touch of natural beauty and artistry.
12. Il Cielo
Il Cielo, located atop Hilton Singapore, provides an exquisite rooftop setting for elegant dining events and private parties. With its Italian-inspired menu and panoramic views of the city, this venue promises a memorable gastronomic experience in a sophisticated atmosphere.
13. Ginett Restaurant & Wine Bar
Ginett Restaurant & Wine Bar is a chic and contemporary place that offers a fusion of delectable French cuisine and an extensive selection of wines. Ideal for corporate luncheons, wine tastings, and cocktail parties, this venue delivers a touch of Parisian charm in the heart of Singapore.
14. Sands Expo & Convention Centre
As part of the iconic Marina Bay Sands, Sands Expo & Convention Centre offers world-class place for exhibitions, trade shows, and large-scale conferences. With state-of-the-art facilities and customizable setups, it accommodates events of all sizes, setting the stage for global gatherings.
15. Zouk
Zouk, renowned as one of Asia's best nightlife spots, transforms into a dynamic place for concerts, parties, and entertainment extravaganzas. With its cutting-edge sound and lighting systems, Zouk promises an immersive experience for music enthusiasts and event-goers alike.
16. Dairy Farm Nature Park
For nature-inspired events and outdoor adventures, Dairy Farm Nature Park offers lush greenery and picturesque hiking trails. Perfect for team-building activities, family picnics, and nature enthusiasts, this park provides a refreshing escape from the city's hustle and bustle.
17. Sentosa Pavilion
Sentosa Pavilion provides a charming and breezy beachside event space, perfect for beach weddings, sunset soirees, and tropical-themed celebrations. With panoramic sea views and a relaxed ambiance, this venue creates a laid-back and idyllic setting for special occasions.
18. Sky Garden
Sky Garden, located at iFly Singapore, offers a unique event space overlooking the lush greenery of Sentosa Island. Ideal for corporate team-building activities and private events, it combines adrenaline-pumping indoor skydiving experiences with a serene garden setting.
19. Gardens by The Bay
Gardens by The Bay presents an awe-inspiring place surrounded by iconic Supertrees and floral landscapes. Ideal for garden weddings, outdoor concerts, and cultural festivals, this venue immerses guests in a world of natural wonders and horticultural artistry.
20. SAFRA
SAFRA, Singapore's premier leisure club, offers modern event venues with a range of recreational facilities. Ideal for family gatherings, sports events, birthday party, and community celebrations, SAFRA venues provide a vibrant and inclusive environment for all ages.
21. Hort Park
Hort Park, a gardener's paradise, provides a serene and verdant place for horticultural enthusiasts and nature lovers. With themed indoor garden space and lush landscapes, it serves as an ideal location for garden-themed weddings and outdoor workshops.
22. Goodman Arts Centre
Goodman Arts Centre offers a creative and inspiring venue for art exhibitions, workshops, and performances. The artsy ambiance and open spaces foster artistic expression and cultural experiences, making it an excellent choice for art-related events.
23. SuperPark
SuperPark, an indoor activity park, offers a dynamic place for team-building activities, children's parties, and sports events. With a wide array of games and activities, it promises an action-packed and entertaining experience for attendees of all ages.
24. Holey Moley
Holey Moley, a quirky mini-golf bar, provides a lively and entertaining venue for unique parties and social gatherings. With creatively themed mini-golf courses and a vibrant bar, it offers a perfect blend of fun and relaxation.
25. Suntec Singapore Convention
Suntec Singapore Convention Centre is a premier event space with state-of-the-art facilities and versatile meeting rooms. As a renowned conference venue, it hosts international summits, trade shows, and exhibitions, offering a conducive environment for networking and knowledge exchange.
26. SEA Aquarium
The SEA Aquarium at Resorts World Sentosa transforms into an enchanting underwater event space for marine-themed parties and corporate events. With its breathtaking aquatic exhibits and immersive environments, it promises an unforgettable experience for guests.
27. Native
Native, a stylish cocktail bar, offers a chic and intimate event space for sophisticated cocktail parties and mixology workshops. With a focus on regional ingredients and craft spirits, it delivers a uniquely Singaporean touch to your event's libations.
28. Prive
Prive, situated along the Singapore River, provides an elegant waterfront event space for al fresco dining and evening celebrations. With its scenic views and delectable menu, it offers a relaxed and sophisticated ambiance for social gatherings.
29. Manekineko Karaoke
Manekineko Karaoke offers a lively and entertaining event space for karaoke enthusiasts and partygoers. With private themed rooms and private events room, top-notch audio systems, and a vast song selection, it ensures a memorable and music-filled experience for all guests.
30. The Vagabond Club
The Vagabond Club, an art-inspired boutique hotel, offers a captivating event space featuring unique art installations and stylish decor. Ideal for art exhibitions, fashion events, and exclusive soirées, it sets the stage for an extraordinary and artistic event.
How to Book and Plan Your Event Space
Booking the perfect event space involves careful planning and effective communication. Here are some steps to guide you through the process:
Research and Shortlist: Begin by researching potential venues that match your event requirements. Shortlist a few based on your preferred location and capacity.
Venue Visit: Schedule visits to the shortlisted venues to assess their ambiance, facilities, and layout. Take note of any unique features that stand out.
Review Contracts: Obtain detailed contracts from the selected venues, including the event space rental fees, payment terms, and any additional services provided.
Negotiation: If needed, negotiate with the venue management to secure the best deal that fits your budget and requirements.
Understanding Policies: Familiarize yourself with the venue's cancellation policies, refund conditions, and other important terms.
Permits and Licenses: If required, check with the venue about any necessary permits or licenses for your event.
Communication with Venue Management: Maintain open communication with the venue management team throughout the planning process to ensure a seamless event experience.
Event Space Singapore
Singapore offers a wide array of exceptional event spaces fit for any occasion. From lush gardens to artsy venues and underwater wonders, the city-state caters to diverse tastes and preferences. The unique characteristics and versatility of these venues ensure that your event, be it corporate, personal, or cultural, stands out among the rest. Don't forget the crucial planning steps to ensure a smooth and successful event. With the right venue in Singapore, your occasion will be as memorable as the city itself.
Frequently Asked Questions (FAQ)
If you have any questions about event spaces in Singapore, you can refer to the frequently asked questions (FAQ) about the Best Event Spaces in Singapore below:
How can I arrange an event venue rental in Singapore?
Arranging an event venue rental in Singapore is simple. Begin by researching venues that match your requirements, such as size, location, and amenities. Contact the venue to inquire about availability and pricing, and proceed with booking once you've found the perfect fit.
Can you recommend some of the best party venues in Singapore?
Certainly! Singapore offers a plethora of fantastic party venues. From trendy rooftop bars with stunning views of the South China Sea to chic event spaces in the heart of the city, there are numerous options available to create an unforgettable party experience.
Where can I find event space rentals for my upcoming corporate event?
When searching for private event space rentals for corporate events in Singapore, consider factors like capacity, technology infrastructure, and proximity to business hubs. Look for venues that cater specifically to company events, offering state-of-the-art facilities and versatile spaces to meet your needs.
What should I consider when selecting the perfect venue space for my event in Singapore?
Choosing the perfect venue space in Singapore involves several considerations. Evaluate factors like capacity, location, amenities, parking availability, and the overall ambiance that aligns with your event's theme and objectives. It's important to ensure that the venue can accommodate all your requirements.
Can you suggest a venue in Singapore that offers an intimate setting for private events?
Absolutely! Singapore has a range of venues that provide intimate settings for private events. Look for venues with private dining rooms or cozy event spaces that offer exclusivity and a warm ambiance, creating the perfect atmosphere for your special occasion.
Are there any function rooms available for space rental in Singapore?
Yes, there are several function rooms available for space rental in Singapore. Function rooms offer versatile spaces that can be customized to suit different types of events, whether it's a corporate meeting, seminar, or social gathering. Look for venues with function rooms that provide the amenities and services you require.
Can you recommend venues in Singapore that offer catering services for events?
Certainly! Many venues in Singapore offer in-house catering services for events. These venues have professional culinary teams who can create delectable menus to suit various preferences and dietary requirements. Inquire with the venue about their catering options when booking your event space.
Where can I find the best event locations in Singapore?
Singapore boasts a variety of excellent event locations. From iconic landmarks to scenic waterfront venues, the city offers an array of options. Consider the theme and nature of your event, as well as the accessibility and ambiance, when selecting the best event location in Singapore.
Can you suggest some private events rooms in Singapore for birthday celebrations?
Certainly! Singapore has several private events rooms that are perfect for birthday celebrations. These rooms offer exclusivity and privacy for an intimate gathering. Look for venues that offer customizable packages and amenities tailored to birthday celebrations.
How can I ensure a seamless experience with event space rentals in Singapore for my upcoming event?
To ensure a seamless experience with event rentals in Singapore, it's important to plan ahead and communicate your needs clearly with the venue. Discuss details like event duration, setup requirements, catering services, and any additional services required. Booking well in advance can also help secure your preferred space and avoid any last-minute issues.