Family Day Singapore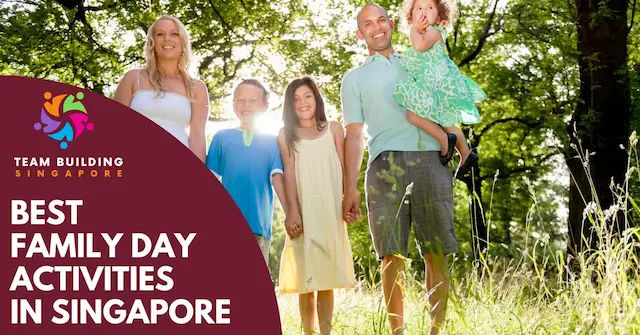 In the hustle and bustle of modern life, family time often takes a backseat. That's where the concept of a family day comes in – a dedicated day to bond, create memories, and strengthen relationships. Singapore, known for its family-friendly atmosphere, offers a plethora of activities tailored to families of all sizes. Whether you're a local resident or a visitor, these best family day activities in Singapore for 2023 are sure to provide an unforgettable experience.
Key Consideration Factors
When planning your family day in Singapore, keep these important factors in mind to ensure a memorable experience:
Age Appropriateness: Choose activities that cater to the ages and interests of all family members.
Accessibility: Consider the ease of transportation and facilities for children, seniors, and people with disabilities.
Interests: Opt for activities aligned with your family's preferences, whether it's nature, culture, adventure, or relaxation.
Budget: Plan a budget that covers activity costs, meals, transportation, and any additional expenses.
Weather: Check the weather forecast and have a backup plan in case of rain or extreme heat.
Benefits of Family Day Activities
Engaging in family day activities offers more than just entertainment – it strengthens bonds and creates lasting memories:
Quality Time: Spending dedicated time together fosters open communication and nurtures relationships.
Shared Experiences: Engaging in activities together creates shared stories and experiences that strengthen family ties.
Bonding: Collaborative activities promote teamwork, understanding, and unity among family members.
Stress Relief: Family days provide an opportunity to escape from daily routines and unwind together.
Best Activities For Family Day Singapore
1. Terrarium Workshop
Embark on a creative journey with your family as you craft your own mini ecosystem in a terrarium workshop. Learn the art of arranging plants and decorative elements within glass containers, creating a captivating piece of nature that requires minimal maintenance. This hands-on activity encourages teamwork and creativity while allowing each family member to express their unique artistic flair.
2. Art Jamming Workshop
Unleash your family's inner artists in an art jamming workshop. Set up your canvas, pick your colors, and let your creativity flow as you create a masterpiece together. With guidance from art instructors and a relaxed atmosphere, this activity fosters bonding as you share techniques, laughs, and the joy of self-expression.
3. Combat Archery Tag
Combine archery, dodgeball, and tag in an exhilarating combat archery tag session. Equip yourselves with foam-tipped arrows and face off against each other in a friendly battle. This action-packed activity not only provides a unique adrenaline rush but also encourages strategic thinking, coordination, and good-spirited competition.
4. Escape Room
Step into the world of mysteries and puzzles with an escape room adventure. Work together as a family to decipher clues, solve riddles, and unlock hidden doors within a themed environment. This immersive experience challenges your problem-solving skills, strengthens communication, and promises an unforgettable bonding experience.
5. Poolball
Blend soccer with billiards in a game of poolball. Kick oversized soccer balls across the pool table, strategize shots, and score goals against your opponents. The combination of sports creates a hilarious and active atmosphere, ensuring laughter and friendly competition among family members.
6. Bubble Soccer
Strap into inflatable bubbles and hit the soccer field in a game of bubble soccer. Bounce, roll, and collide with opponents while trying to score goals. This light-hearted and physically engaging activity not only promotes teamwork but also promises endless laughter as you navigate the challenges of playing soccer inside a protective bubble.
7. Leather Workshop
Get hands-on with craftsmanship in a leather workshop. Learn the art of leather crafting, from designing and cutting to stitching and finishing. Guided by experienced artisans, you'll each create personalized leather goods, such as wallets or keychains. This activity fosters patience, precision, and a sense of achievement as you craft functional and beautiful items.
8. Laser Tag
Immerse yourselves in a futuristic battle with laser tag. Armed with high-tech laser guns, navigate through themed arenas, and engage in strategic shootouts with your family members. Laser tag promotes teamwork, coordination, and friendly competition in an exhilarating environment that appeals to all ages.
Tips for a Successful Family Day Out
Ensure your family day in Singapore goes off without a hitch with these practical tips:
Plan Ahead: Research and plan activities that cater to everyone's interests, and make necessary reservations.
Pack Essentials: Bring items like sunscreen, hats, snacks, water, and any necessary medications.
Manage Expectations: Prepare your family for the day's itinerary and be flexible if plans change.
Capture Moments: Take photos and videos to relive the memories later.
Stay Patient: Keep in mind that not everything may go as planned, and patience is key to a harmonious outing.
Family Day Singapore
Taking the time to plan your Family Day in Singapore can lead to a rewarding experience filled with laughter, bonding, and unforgettable memories. It's more than just about entertainment – it's about fostering connection, strengthening relationships, and creating shared stories that will last a lifetime.
Whether you're crafting a terrarium, escaping a themed room, or engaging in a fierce but fun game of laser tag, these activities ensure a delightful day for all family members. So get ready to embark on a journey of discovery and fun with your loved ones in the vibrant city of Singapore!
Frequently Asked Questions (FAQ)
If you have any questions about Family Day activities in Singapore, you can refer to the frequently asked questions (FAQ) about Family Day in Singapore below:
Can my family participate in these activities regardless of age?
Yes, most of these activities are designed to be inclusive of all ages, ensuring everyone can have a great time together.
How do I choose the best activity for my family?
Consider your family's interests, age ranges, and activity preferences. Opt for activities that align with your group's dynamics.
Are these activities suitable for large family groups?
Absolutely! Many of these activities can accommodate large family gatherings, making them perfect for bonding with extended relatives.
Do we need prior experience for activities like combat archery tag and laser tag?
No prior experience is necessary. These activities are designed to be beginner-friendly, and instructors will guide you through the rules and techniques.
Can we book these activities in advance?
Yes, it's advisable to book in advance, especially during peak times, to secure your preferred time slots and ensure availability.
What's the average duration of these workshops and activities?
Activity durations vary, but most workshops last around 1-2 hours, while experiences like combat archery tag and laser tag usually run for about 1 hour.
Is there a dress code for these activities?
Comfortable and casual clothing is recommended, especially for active experiences. Closed-toe shoes are often necessary for safety.
Can we bring food or refreshments to these activities?
It's best to check with the specific activity provider, as policies may vary. Some workshops might allow light snacks, while others may have designated areas for meals.
Are these activities suitable for team-building events or larger gatherings?
Absolutely! Many of these activities are popular choices for team-building events, company outings, and larger group celebrations.
Are there any age restrictions for participation in these activities?
Age restrictions vary for each activity. Some might have minimum age requirements for safety reasons, while others cater to a wide range of ages. It's best to check with the activity provider beforehand.