Fun Things To Do In Singapore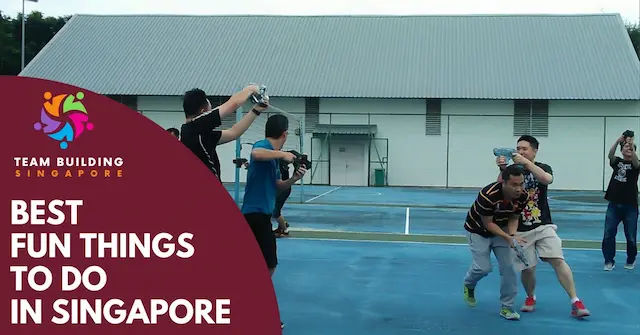 Welcome to the captivating city-state of Singapore, where tradition and modernity coexist to create a tapestry of incredible experiences. In this guide, we'll unveil the most captivating activities that await you in Singapore in 2023. From cultural escapades to thrilling adventures and culinary delights, Singapore offers an unparalleled array of choices to make your visit truly unforgettable.
Key Consideration Factors
When planning your Singapore adventure, keep these key factors in mind:
Budget: Determine your budget for activities, meals, and accommodations.
Interests: Consider your preferences—whether you're into culture, nature, or entertainment.
Time: Allocate sufficient time for each activity to fully enjoy the experience.
Weather: Singapore has a tropical climate, so plan your activities accordingly, especially those outdoors.
Accessibility: Check if the activities are easily accessible by public transportation or if you need to arrange for private transport.
Opening hours: Ensure to check the operating hours of the attractions you're interested in.
Benefits of Exploring Singapore
Embarking on these activities offers a host of benefits:
Memorable Experiences: Create lasting memories through diverse and immersive experiences.
Insightful Exploration: Gain insights into Singapore's rich culture, history, and natural beauty.
Personal Growth: Step out of your comfort zone and open yourself to new perspectives.
Health Benefits: Outdoor activities such as hiking around the Southern Ridges or biking at East Coast Park promote physical health and well-being.
Embark on an exciting exploration: immerse yourself in the vibrant local culture, visit iconic landmarks, and experience thrilling activities.
Bonding Opportunities: Whether you're traveling solo, with friends, or family, you'll find activities that cater to all, strengthening bonds as you make shared memories.
Best Fun Things To Do In Singapore
Creative Activities
1. Clay Making Workshop
Unleash your artistic talents at the Clay Making Workshop, where you'll learn to mold and shape clay into intricate masterpieces. From delicate figurines to functional pottery, this hands-on experience allows you to explore the tactile world of sculpting.
2. Soy Candle Making Workshop
Craft your own scented sanctuary with the Soy Candle Making Workshop. Discover the art of blending fragrances and pouring soy wax to create personalized candles that infuse your space with soothing aromas.
3. Terrarium Workshop
Step into the miniature world of terrariums. Learn the art of crafting tiny ecosystems within glass containers, combining plants, stones, and whimsical decorations to create captivating landscapes.
4. Canvas Art Jamming
Release your inner artist on canvas as you join the Canvas Art Jamming session. Unwind and let your creativity flow while painting vibrant scenes, abstract expressions, or even your own reinterpretations of famous artworks.
5. Tote Bag Art Jamming
Turn a simple tote bag into a unique piece of wearable art. Get hands-on with fabric paints, stencils, and your imagination to design a functional masterpiece that reflects your style.
6. Perfume Workshop
Delve into the world of fragrances and create your signature scent at the Perfume Workshop. Learn about various notes and essences, then blend them to craft a personalized fragrance that leaves a lasting impression.
7. Gel Candle Making Workshop
Elevate your candle-making skills with the Gel Candle Making Workshop. Explore the fascinating world of transparent gel candles, experimenting with colors, embeds, and fragrances to produce stunning, multi-layered creations.
8. Non-Stitched Leather Workshop
Discover the art of working with leather without the need for sewing. Craft elegant accessories like cardholders, wallets, or keychains in the Non-Stitched Leather Workshop, where you'll learn techniques like leather cutting, folding, and fastening.
9. Stitched Leather Workshop
Take your leather craftsmanship to the next level with the Stitched Leather Workshop. Learn traditional stitching methods to create bespoke leather items, from wallets to belts, that showcase precision and durability.
10. Cooking Class
Immerse yourself in Singapore's culinary heritage with a hands-on Cooking Class. Master the secrets behind local dishes, guided by expert chefs who will teach you the art of creating mouthwatering flavors.
Adventure Activities
1. SaberFit
Embrace your inner Jedi in a SaberFit session, a unique fusion of fitness and lightsaber combat training. Engage in energetic workouts while learning choreographed sequences that make you feel like you're in a galaxy far, far away.
2. Laser Tag
Dive into the heart-pounding excitement of Laser Tag, a futuristic team-based game where you'll use infrared-emitting phasers to tag opponents and achieve objectives in an immersive, sci-fi-inspired environment.
3. Bubble Soccer
Combine soccer with hilarious hilarity as you play Bubble Soccer, wearing inflated bubbles that allow you to bounce, roll, and collide with opponents in a safe yet uproarious version of the sport.
4. Ninja Tag
Test your agility and reflexes in Ninja Tag, a dynamic obstacle course that challenges your speed and stealth as you navigate through a series of challenges and avoid being tagged.
5. Combat Archery Tag
Experience the thrill of archery combined with the excitement of dodgeball in Combat Archery Tag. Use foam-tipped arrows to eliminate opponents, strategize with your team, and emerge victorious in this fast-paced game.
6. Poolball
Pool takes a gigantic twist as you play Poolball, using your feet to kick soccer balls into pockets on a life-sized pool table. It's a blend of precision and soccer skills that guarantees endless entertainment.
7. Saber Tag
Feel the adrenaline rush as you engage in Saber Tag, a captivating combination of swordplay and tag. Wield glowing sabers as you compete against friends or foes in a thrilling game of skill and strategy.
8. Giant Whack-A-Mole
Step into the shoes of the arcade classic as you become the "mole" in the Giant Whack-A-Mole game. Test your reflexes and coordination as you pop up and down, avoiding being whacked by opponents.
9. Bullet Strike (Nerf Gun)
Experience the exhilaration of tactical battles with Nerf guns in Bullet Strike. Engage in team-based skirmishes, strategize your moves, and immerse yourself in adrenaline-pumping battles.
10. Bullet Ball
Combine dodgeball and Nerf battles in the high-energy game of Bullet Ball. Use foam balls and Nerf blasters to eliminate opponents, making every moment an exciting, action-packed adventure.
Tips for a Memorable Experience
Plan Ahead: Research opening hours, ticket prices, and any special events.
Timing Matters: Some attractions are best experienced during certain times of the day.
Stay Hydrated: Singapore's climate can be humid, so stay hydrated throughout the day.
Respect Local Customs: Singapore is a multicultural city with diverse customs. Ensure to respect the local customs to enrich your experience and interact appropriately with the locals.
Pack Essentials: Carry essentials such as sunblock, comfortable shoes, and hats for outdoor expeditions. Having an umbrella or raincoat will also be useful due to sudden rain showers.
Try Local Cuisine: Don't miss out on trying local Singaporean dishes such as Hainanese chicken rice, laksa, or chilli crab for an authentic cultural experience.
Fun Things To Do In Singapore
Singapore is truly a dynamic city that caters to a wide array of interests, ensuring a memorable experience for every visitor. With its rich fusion of cultural, culinary, and adventurous offerings, the Lion City is more than just a stopover destination. It's a place where traditional and modern coexist, where creativity thrives, and where every turn is a discovery waiting to happen.
Whether you're an art enthusiast, a food connoisseur, an adrenaline junkie, or a leisurely traveler, you're sure to find something to pique your interest and leave you with unforgettable memories. Go ahead, immerse yourself in the unique blend of experiences Singapore has to offer, and make every moment count!
Frequently Asked Questions (FAQ)
If you have any questions about Fun Things to do in Singapore, you can refer to the frequently asked questions (FAQ) about the best Fun Things to do in Singapore below:
Are these creative workshops suitable for beginners?
Absolutely! These workshops cater to all skill levels, providing step-by-step guidance to help beginners create impressive works of art.
What age groups are suitable for adventure activities like Laser Tag?
Adventure activities vary in age suitability. Laser Tag, for instance, is often suitable for participants aged 7 and above, ensuring fun for both kids and adults.
How long does a typical creative workshop last?
The duration of creative workshops can vary. On average, most workshops last around 1 to 2 hours, allowing you ample time to craft and create.
Is prior experience required for adventure activities like SaberFit?
No prior experience is necessary for most adventure activities. Instructors provide guidance and safety instructions to ensure everyone can participate.
Can I participate in adventure activities if I'm not physically fit?
Adventure activities offer varying levels of intensity. Many activities are designed to be inclusive, but it's a good idea to check with the organizers if you have any concerns.
Are these activities family-friendly?
Yes, most activities are suitable for families. Creative workshops and adventure games can be enjoyed by kids and adults, making them great for family outings.
Do I need to bring any materials for the creative workshops?
Materials are usually provided by the workshop organizers. However, it's advisable to check the workshop details in advance to confirm if there are any requirements.
Are there any discounts for group bookings?
Many organizers offer group rates or discounts for larger bookings. Be sure to inquire about group pricing when making reservations.
Can I book these activities in advance?
Yes, it's recommended to book in advance, especially during peak seasons. Booking ahead secures your spot and ensures a seamless experience.
Are there any safety measures in place for adventure activities?
Yes, safety is a priority. Adventure activity organizers provide equipment and safety briefings to ensure participants have a secure and enjoyable experience.