Heritage Trail Singapore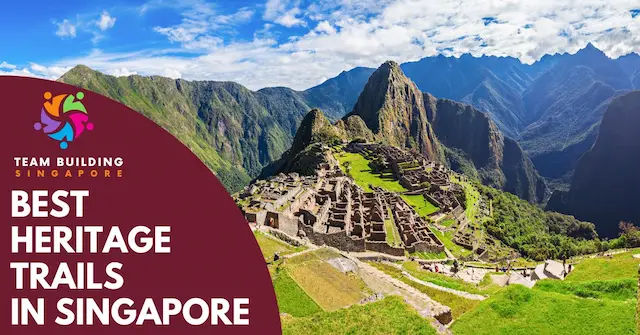 Singapore's cultural heritage is a tapestry woven with the threads of its diverse history, reflecting the experiences of its people over the centuries. Heritage trails provide a unique opportunity to walk through time, experiencing the stories of the past through historical sites, architecture, and cultural landmarks. In this article, we present the best heritage trails in Singapore for 2023, inviting you to explore the rich tapestry of this vibrant city-state.
Understanding Singapore's Rich Heritage
Singapore's heritage is a captivating fusion of various cultures, including Chinese, Malay, Indian, and Western influences. This blend is beautifully showcased through the city's heritage trails, which take you on a journey through different eras. From colonial architecture to traditional shophouses, each heritage trail narrates a distinct chapter in Singapore's history.
Importance of Exploring Heritage Trails
Exploring heritage trails is not just a leisure activity; it's an enriching experience that bridges the gap between the past and the present. These trails serve as a portal to understanding the roots of the Singaporean identity and the struggles and triumphs that have shaped it. For tourists, heritage trails offer an authentic glimpse into Singapore beyond its modern skyline.
Key Consideration Factors for Choosing a Heritage Trail
When choosing a heritage trail in Singapore, several key factors should be considered to ensure an enjoyable and enriching experience:
Historical Significance: The importance of the trail in the context of Singapore's history. Some trails may focus on specific periods or events, such as the colonial era or World War II.
Cultural Relevance: The extent to which the trail showcases the diverse cultures that have influenced Singapore's identity. This could include architecture, food, traditional crafts, and other cultural elements.
Accessibility: The ease of access to the trail and its various landmarks. Consider public transportation options and the physical demands of the trail.
Duration: The length of time required to complete the trail. Some trails may be explored within a few hours, while others might take a full day.
Guided or Self-Guided: Whether the trail has the option of a guided tour, which can provide additional insights and context, or if it can be explored independently.
These factors will help you select the most suitable heritage trail, enriching your understanding and appreciation of Singapore's multifaceted history.
Best Heritage Trail Singapore
1. Tiong Bahru Heritage Trail
Explore the captivating Tiong Bahru neighborhood through its heritage trail. Immerse yourself in the charm of Art Deco architecture and quaint shophouses as you uncover the stories of this historical enclave. Discover local markets, traditional bakeries, and hidden gems that reflect the area's rich cultural tapestry.
2. Jurong Heritage Trail
Embark on a journey through Jurong's transformation from industrial powerhouse to a modern residential hub. This trail offers a unique blend of old and new, with insights into the industrial history alongside contemporary urban developments. Uncover the narratives behind landmarks that have shaped Jurong's identity.
3. Queenstown Heritage Trail
Queenstown, Singapore's first satellite town, carries a rich legacy. Follow this trail to traverse iconic landmarks and gain insights into the evolution of housing and community planning in the city-state. Explore serene parks, traditional markets, and historical sites that showcase Queenstown's significant contributions to Singapore's development.
4. Pasir Ris Heritage Trail
Delve into the history of Pasir Ris, a coastal town known for its natural beauty and cultural heritage. This trail takes you through lush parks, coastal vistas, and traditional kampongs. Learn about the town's early days as a fishing village and witness its transformation into a modern residential destination.
5. Little India Heritage Trail
Immerse yourself in the vibrant culture of Little India, where the scent of spices fills the air and colorful shops line the streets. This trail leads you through bustling markets, ornate temples, and historic landmarks that reflect the deep-rooted Indian influence on Singapore's history and identity.
6. Geylang Serai Foot Trail
Step into the heart of Singapore's Malay heritage with the Geylang Serai Foot Trail. Explore the sights, sounds, and flavors of this vibrant neighborhood, home to the annual Hari Raya Bazaar. Immerse yourself in the cultural richness of Geylang Serai's traditional markets, mosques, and unique architecture.
7. Jalan Besar Heritage Trail
Discover the hidden stories of Jalan Besar, a neighborhood with a diverse history shaped by its industries and communities. Wander through charming streets, observe architectural contrasts, and learn about the area's evolution from a swampy landscape to a vibrant urban enclave.
8. Toa Payoh Trail
Toa Payoh's heritage trail takes you through Singapore's first satellite town, showcasing the innovative housing and town planning concepts that were pioneering at the time. Explore well-designed precincts, serene parks, and community hubs that reflect the town's commitment to enhancing residents' quality of life.
9. Ang Mo Kio Heritage Trails
Ang Mo Kio's heritage trails offer a journey through one of Singapore's most populous residential areas. Discover the town's transformation from a rural landscape to a bustling urban center. Explore its parks, markets, and landmarks that resonate with the experiences of diverse communities.
10. Amara Heritage Trail, Sentosa
Escape to Sentosa's Amara Sanctuary Resort and indulge in the Amara Heritage Trail. Immerse yourself in the resort's colonial history, uncovering the tales of World War II and its transformation into a luxurious haven. Explore lush landscapes and hidden corners that hold echoes of the past.
11. Orchard Heritage Trail
Explore the iconic Orchard Road and its evolution from a nutmeg plantation to Singapore's premier shopping street. Uncover its architectural history, cultural landmarks, and the role Orchard Road has played in shaping the city's modern identity as a vibrant commercial and entertainment hub.
12. Singapore River Walk
Traverse the banks of the historic Singapore River, where the city's early developments took root. Follow the trail from Clarke Quay to Marina Bay, passing colonial-era buildings, traditional warehouses, and modern architectural wonders. Immerse yourself in the tales of trade, commerce, and urban renewal.
13. Sepoy Lines Trail
Journey through Dempsey Hill's Sepoy Lines Trail and explore its lush surroundings. Discover the historical significance of the area, which was once a military cantonment during colonial times. Uncover traces of the past amidst the verdant foliage and learn about its transformation into a contemporary lifestyle destination.
14. World War II Trail
Embark on a solemn journey through Singapore's World War II Trail, which pays tribute to the events that unfolded during the war. Explore significant sites, memorials, and historical landmarks that commemorate the sacrifices made and the resilience displayed by the nation and its people.
15. Public Art Walking Trail
Experience Singapore's vibrant art scene through the Public Art Walking Trail in the Civic District. Discover captivating sculptures, installations, and murals that adorn the city's streets and public spaces. Immerse yourself in the fusion of art and urban environment, reflecting Singapore's cultural diversity.
16. Bedok Heritage Trail
Uncover the hidden gems of Bedok through its heritage trail, which traces the town's evolution from a rural landscape to a modern suburban hub. Explore its quaint shophouses, bustling markets, and landmarks that provide insights into Bedok's history and its role in Singapore's development.
How to Make the Most of Your Heritage Trail Experience
Plan Ahead: Research the trail's highlights and historical context.
Comfortable Attire: Wear comfortable shoes and clothing suitable for walking.
Guided Tours: Consider joining guided tours for in-depth insights.
Respect Cultural Sites: Follow guidelines and respect cultural sensitivities.
Capture Memories: Take photos and document your journey for lasting memories.
Heritage Trail Singapore
Heritage trails provide a unique lens through which to view Singapore's rich history and diverse culture. Each trail tells a different story, reflecting the city-state's complexity and dynamism. By exploring them, you not only gain a deeper understanding of Singapore's past but also witness its transformation and progress.
These experiences offer an enlightening perspective, revealing how Singapore has shaped its present and future through carefully preserving its past. With the right preparation and an open mind, your journey on Singapore's heritage trails promises a captivating adventure of discovery and learning.
Frequently Asked Questions (FAQ)
If you have any questions about Heritage Trails in Singapore, you can refer to the frequently asked questions (FAQ) about the best Heritage Trails in Singapore below:
Are these heritage trails suitable for families with children?
Yes, many of the heritage trails are family-friendly and offer educational experiences suitable for all ages. Keep in mind the walking distances and plan accordingly.
How long does it take to complete a heritage trail?
The duration varies based on the trail's length and the time you spend exploring each site. Most trails can be completed within a few hours to half a day.
Are guided tours available for these heritage trails?
Yes, many of the heritage trails offer guided tours led by knowledgeable experts. Guided tours provide deeper insights into the historical and cultural significance of the sites.
Do I need to pay for guided tours or entrance to these heritage trails?
While some guided tours may have a fee, many heritage trails are open to the public free of charge. Check with the respective trail organizers for specific details.
Are the heritage trails accessible for people with mobility challenges?
Accessibility varies for each trail. Some may have wheelchair-friendly paths, while others might be more challenging. It's advisable to check the trail's accessibility details before visiting.
Can I explore multiple heritage trails in a single day?
It's possible to visit multiple trails in a day, depending on their proximity. However, consider the time needed to fully appreciate each trail and plan your itinerary accordingly.
What is the best time to visit these heritage trails?
The best time to visit can vary based on weather and personal preferences. Early mornings or late afternoons are often recommended for pleasant weather and fewer crowds.
Can I bring pets along on these heritage trails?
Pets might not be allowed on some heritage trails due to preservation efforts and respect for cultural sites. Check the trail regulations before bringing your pets.
Can I take photographs during the heritage trail exploration?
In general, photography is allowed on the trails. However, be respectful of cultural sites and people you encounter. Some sites might have specific guidelines regarding photography.
Are there any local eateries along the heritage trails for refreshments?
Yes, many heritage trails are located near or pass by local eateries where you can enjoy refreshments. It's a great opportunity to savor local flavors during your exploration.