Kids Activities Singapore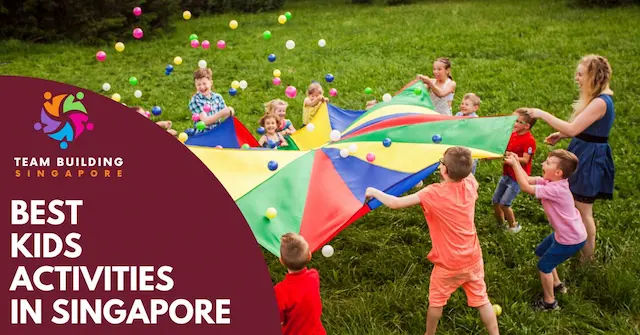 Singapore, renowned for its vibrant culture and state-of-the-art facilities, offers a plethora of activities that are perfect for kids of all ages. From educational museums that make learning fun, to nature parks that awaken curiosity, and interactive playspaces that feed the imagination – the Lion City ensures that the young ones are always engaged, entertained, and enlightened. Explore our curated list of the top kids activities in Singapore that guarantee a memorable time for your family.
Key Consideration Factors
When choosing kids' activities in Singapore, consider these factors to make the most informed decisions:
Educational Value: Prioritize activities that offer learning opportunities and stimulate curiosity.
Safety Measures: Ensure activities have appropriate safety measures in place for kids of different age groups.
Age Appropriateness: Check whether the activity is suitable for your child's age and developmental stage.
Accessibility: Consider the location and accessibility of the activity venue for your convenience.
Benefits of Engaging Kids in Activities
Engaging kids in activities goes beyond mere entertainment. Here are some benefits:
Cognitive Development: Activities stimulate problem-solving skills, critical thinking, and creativity.
Social Skills: Interacting with peers and participating in group activities enhances social development.
Physical Fitness: Active play contributes to children's physical health and motor skills.
Emotional Well-being: Participating in activities they enjoy can boost children's confidence and self-esteem, contributing to their emotional well-being.
Independence: Activities, especially those that involve problem-solving or decision-making, help children develop independence and responsibility.
Cultural Awareness: Exposure to activities that represent different cultures can broaden children's understanding and acceptance of diversity.
Best Kids Activities Singapore
Creative Activities
1. Terrarium Workshop
Engage your child's imagination with a Terrarium Workshop, where they'll learn the art of creating their own miniature ecosystems. This hands-on experience involves arranging tiny plants, rocks, and decorative elements inside glass containers, teaching kids about plant care and ecosystem balance.
2. Art Jamming
Unleash your child's inner artist with an Art Jamming session. In a relaxed studio environment, kids can freely express their creativity on canvases using various paints and techniques. It's a fantastic way to encourage self-expression, boost confidence, and foster a love for art.
3. Clay Making Workshop
Let your child's creativity take shape with a Clay Making Workshop. Kids can mold and shape clay into their desired forms, fostering fine motor skills and imaginative thinking. Whether it's sculpting animals, characters, or objects, this activity allows children to explore different textures and shapes.
4. Candle Making Workshop
Ignite your child's curiosity with a Candle Making Workshop. Here, they'll learn the art of crafting candles, selecting colors, scents, and molds to create their custom candles. It's not only a fun and artistic experience but also an opportunity to teach kids about basic chemistry and the science behind candle-making.
5. Cooking Class
Nurture your child's culinary interests with a Cooking Class tailored for young chefs. From simple recipes to more complex dishes, kids can learn about ingredients, cooking techniques, and kitchen safety while creating delicious meals. This activity fosters independence, teaches life skills, and offers a sense of accomplishment.
Adventure Activities
1. Poolball
Combine soccer and billiards in a game of Poolball. Played on a large inflatable table with oversized soccer balls and pockets, this activity challenges kids' strategic thinking and coordination as they aim to sink soccer balls into pockets using their feet.
2. Laser Tag
Step into the world of futuristic combat with Laser Tag. Equipped with laser guns and sensors, kids engage in team-based battles, honing their communication skills and strategic thinking while having active fun in a controlled environment.
3. Bullet Strike (Nerf Gun)
Experience action-packed battles with Bullet Strike, a Nerf Gun game that promotes teamwork and friendly competition. Kids strategize, aim, and dodge foam darts while navigating themed arenas, offering adrenaline-pumping excitement.
4. Bubble Soccer
Roll, bounce, and bump in Bubble Soccer, a hilarious and energetic sport. Kids wear inflatable bubbles that cover their upper bodies, adding a unique twist to the classic game. It's a great way to promote physical activity and laughter.
5. Giant Whack-A-Mole
Bring the classic arcade game to life with Giant Whack-A-Mole. In this outdoor activity, kids take on the roles of both moles and players, adding an active and interactive dimension to the game as they pop up and down.
Tips for Maximizing Kids' Activity Experiences
Make the most of your kids' activity outings with these practical tips:
Plan Ahead: Research activity details, timings, and any pre-booking requirements.
Check Schedules: Verify opening hours and any special shows or sessions in advance.
Pack Essentials: Bring essentials like water, snacks, sunscreen, and extra clothing.
Encourage Participation: Participate with your child to enhance their experience and create lasting memories.
Kids Activities Singapore
With a myriad of kids activities available in Singapore, there's no limit to the fun, learning, and adventure that awaits. From creative endeavors such as terrarium workshops and art jamming to adrenaline-pumping pursuits like laser tag and bubble soccer, there's something to captivate every child's interest.
It's about fostering a well-rounded development, sparking curiosity, and creating memorable experiences. So get out there, explore these activities, and let your little ones unleash their potentials in the most engaging ways. The opportunities for discovery are endless, and the benefits are invaluable.
Frequently Asked Questions (FAQ)
If you have any questions about kids activities in Singapore, you can refer to the frequently asked questions (FAQ) about the best Kids Activities in Singapore below:
Are these creative workshops suitable for all ages?
Creative workshops are typically designed with different age groups in mind. Many offer sessions for kids as young as 3 or 4 years old up to teenagers, ensuring everyone can participate and enjoy the experience.
How long does an Art Jamming session usually last?
Art Jamming sessions usually last around 2 to 3 hours, giving kids ample time to immerse themselves in their artistic creations and experiment with various techniques.
Can kids take their clay creations home after the workshop?
Absolutely! Kids can proudly take their clay creations home after the workshop. It's a wonderful way for them to showcase their artistic talents to family and friends.
Is prior cooking experience required for the cooking class?
No prior experience is required for cooking classes designed for kids. These classes are designed to introduce children to basic cooking skills in a fun and interactive manner.
Are adventure activities like Laser Tag safe for children?
Yes, adventure activities like Laser Tag prioritize safety. The equipment used, such as laser guns and protective gear, are designed for safe and enjoyable play. Trained staff usually supervise the games as well.
Can parents join their kids in Bubble Soccer games?
In many cases, parents can join their kids in Bubble Soccer games, creating a fun bonding experience. Check with the activity provider if they offer family sessions or allow parents to participate.
Are these activities suitable for kids' birthday parties?
Absolutely! Many of these activities make excellent choices for kids' birthday parties, offering a unique and memorable way to celebrate with friends.
What is the recommended attire for adventure activities?
For adventure activities like Bubble Soccer and Laser Tag, comfortable clothing and sneakers are recommended. Avoid clothing with sharp accessories that could puncture the inflatable equipment.
Do these activities require advance booking?
While some venues allow walk-ins, it's advisable to make advance bookings, especially during peak times or if you're planning a group outing or event. This ensures availability and a smoother experience.
Can parents participate in creative workshops with their kids?
Many creative workshops encourage parent-child participation, fostering a collaborative and enjoyable experience. It's a wonderful way to spend quality time together while exploring artistic pursuits.