Offsite Retreat Singapore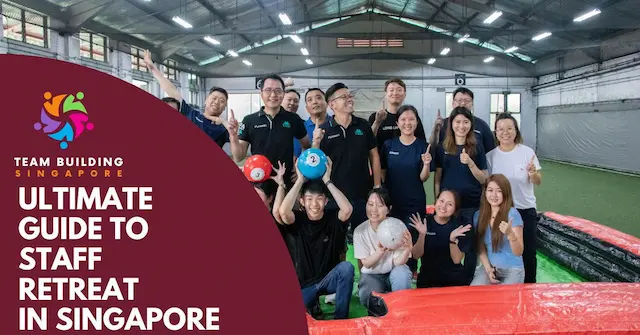 In today's fast-paced corporate world, offsite retreats have become essential for fostering team collaboration, creativity, and overall employee well-being. When considering an offsite retreat, Singapore stands out as an idyllic destination that offers a perfect blend of business-friendly infrastructure and vibrant cultural experiences. This comprehensive guide aims to assist you in planning the ultimate offsite retreat in Singapore for the year 2023. Whether you are a small team seeking team-building activities or a large organization aiming for strategic planning sessions, this guide has got you covered.
Benefits of Offsite Retreats
Offsite retreats provide numerous advantages that can significantly impact your team's performance and satisfaction. Some key benefits include:
Strengthened Team Bonding: Taking employees out of their usual work environment encourages interactions and creates stronger bonds among team members.
Enhanced Creativity and Problem-Solving: Novel environments stimulate creativity and encourage new perspectives, leading to better problem-solving skills.
Increased Employee Morale: Treating your team to an offsite retreat shows appreciation and boosts overall morale and job satisfaction.
Improved Team Collaboration: Working together on team-building activities fosters trust and collaboration, translating into more efficient work relationships back in the office.
Singapore as the Perfect Offsite Retreat Destination
Singapore, known as the "Garden City," boasts a wide range of attractions and activities suitable for offsite retreats. Some reasons why Singapore is an ideal destination include:
Vibrant Culture: Immerse your team in the rich cultural tapestry of Singapore, exploring its diverse cuisine, art, and heritage.
Modern Infrastructure: Singapore offers state-of-the-art facilities, meeting venues, and accommodations to cater to various corporate needs.
Safe and Welcoming Environment: Known for its safety and cleanliness, Singapore ensures a worry-free experience for all participants.
Key Considerations for Planning an Offsite Retreat in Singapore
Before diving into the planning process, consider the following factors:
Budget: Determine your budget early on to guide decisions on venues, activities, and accommodations.
Dates: Choose suitable dates that align with your team's availability and consider Singapore's weather patterns throughout the year.
Group Size: Knowing the number of participants will help you select appropriate venues and plan logistics effectively.
Objectives: Clarify the objectives of the retreat to tailor activities and workshops that align with your team's goals and needs.
Best Offsite Retreat Venues in Singapore
Indoor Team Building Venues Singapore
1. FunEmpire HQ
FunEmpire HQ is a premier indoor team building venue that provides an extensive range of fun and engaging activities for teams of all sizes. From virtual reality games to escape room challenges, FunEmpire HQ guarantees an unforgettable team bonding experience. Their experienced facilitators ensure seamless coordination, making it an ideal choice for corporate offsite retreats.
2. CharisTurf @ Eunos
CharisTurf @ Eunos offers a fantastic indoor team building experience with its state-of-the-art artificial turf and versatile event spaces. The venue is well-equipped to host various team activities, from sports competitions to creative workshops. Its central location in Eunos ensures easy accessibility for all participants.
3. The Cage @ Kallang
The Cage @ Kallang is a popular indoor team building facility known for its futsal courts and fun-filled games. With a focus on fostering teamwork and camaraderie, this venue offers various team-building packages tailored to different group dynamics. The central location and well-maintained facilities make it a preferred choice for teams seeking an exciting retreat in Singapore.
4. Wing Fong Building
Wing Fong Building provides a versatile space for indoor team building activities and workshops. The venue's open layout and customizable setups allow for creative brainstorming sessions and team challenges. With its modern amenities and professional ambiance, Wing Fong Building is an excellent option for teams aiming to strengthen their bonds and problem-solving skills.
5. FutsalArena @ Yishun
FutsalArena @ Yishun offers an inviting indoor venue for futsal and other team-building sports. It boasts well-maintained courts and ample space to host both small and large groups. Whether engaging in friendly matches or organized tournaments, teams will find FutsalArena @ Yishun an ideal location to promote teamwork and friendly competition.
Outdoor Team Building Venues Singapore
1. West Coast Park
West Coast Park, set amidst lush greenery and scenic views, provides an inspiring outdoor setting for team-building activities. The park offers ample space for outdoor games, picnics, and collaborative challenges. With its serene ambiance and various recreational facilities, West Coast Park encourages relaxation and team bonding in a natural environment.
2. Pasir Ris Park
Pasir Ris Park's tranquil surroundings and coastal charm make it a favorite outdoor team building destination. Teams can indulge in beach games, cycling adventures, and nature walks, fostering camaraderie and creativity. The park's blend of relaxation and outdoor excitement creates an ideal retreat spot for teams looking to unwind and recharge.
3. Sentosa
Sentosa, a renowned island resort, offers a wide array of outdoor team building activities amid a tropical paradise. From beach volleyball to adventure-based challenges, teams can explore a range of experiences that encourage teamwork and friendly competition. Sentosa's picturesque landscapes and world-class attractions ensure an unforgettable retreat experience.
4. East Coast Park
East Coast Park's sprawling coastline and recreational facilities cater to diverse team-building interests. The park is perfect for beach sports, team games, and barbecue bonding sessions. Its laid-back atmosphere and stunning sea views provide a refreshing escape from the hustle and bustle of the city.
5. Labrador Park
Nestled along the waterfront, Labrador Park offers a unique outdoor venue for team-building exercises with a historical touch. Teams can engage in guided heritage trails, coastal clean-ups, and problem-solving challenges. Labrador Park's historical significance and serene surroundings create a memorable and meaningful retreat experience.
Best Team-Building Activities and Workshops
Creative Workshops
1. Balloon Sculpting
Balloon Sculpting is a fun and interactive creative workshop that allows participants to unleash their artistic talents while shaping colorful balloons into various shapes and figures. This activity encourages teamwork, as participants work together to design and create impressive balloon sculptures. It is a perfect icebreaker activity that sparks laughter and camaraderie among team members.
2. Art Jamming
Art Jamming is an artistic and therapeutic team-building activity where participants can express themselves through painting. With a wide array of colors and canvas at their disposal, team members can unleash their creativity in a relaxing and enjoyable environment. Art Jamming fosters open communication, as participants exchange ideas and inspiration while creating their masterpieces.
3. Candle Making Workshop
Candle Making Workshop offers a unique experience for teams to learn the art of candle-making. Participants can choose from a variety of scents and colors to craft their custom candles. This activity not only promotes creativity but also instills a sense of accomplishment as team members take home their personalized candles as souvenirs.
4. Terrarium Workshop
Terrarium Workshop is a hands-on activity that introduces participants to the world of miniature gardening. Team members can create their mini ecosystems using various plants, pebbles, and decorative elements. This activity promotes collaboration and problem-solving as teams design and construct visually appealing terrariums together.
5. Leather Workshop
Leather Workshop is an engaging and tactile experience that teaches teams the art of crafting leather goods. Participants can choose to make items like wallets, key holders, or even personalized leather accessories. This activity encourages attention to detail and precision while fostering a sense of pride in the craftsmanship of the final products.
6. Cooking Class
Cooking Class is a delectable team-building activity that brings participants together to learn the art of cooking various dishes. Under the guidance of professional chefs, teams can prepare and savor delicious meals. This culinary experience encourages cooperation, as participants divide tasks and work as a cohesive unit in the kitchen.
7. Clay Making Workshop
Clay Making Workshop allows participants to explore their artistic talents through sculpting with clay. Teams can create sculptures, pottery, or decorative items using their imagination and creativity. This activity promotes patience and communication, as team members collaborate to bring their clay creations to life.
8. Neon Art Jamming
Neon Art Jamming is an electrifying twist on traditional art jamming, where teams use neon paints to create glowing masterpieces. This activity adds an element of excitement and novelty, encouraging team members to think outside the box and embrace their creative instincts under blacklight.
9. Tote Bag Art Jamming
Tote Bag Art Jamming offers a practical and artistic team-building experience. Teams can design and paint their custom tote bags, reflecting their unique styles and personalities. This eco-friendly activity promotes sustainability while inspiring teamwork and self-expression.
10. Perfume Workshop
Perfume Workshop allows teams to embark on a scent-sational journey of creating personalized fragrances. Participants can blend different scents to craft their signature perfumes. This activity enhances team members' sensory awareness while fostering a sense of accomplishment as they leave with their unique fragrance creations.
Adventure Activities
1. Bubble Soccer
Bubble Soccer is a hilarious and action-packed team-building activity where participants wear inflatable bubbles and engage in soccer matches. This bouncy experience encourages friendly competition, laughter, and teamwork as teams strategize and score goals while bumping and rolling on the field.
2. Giant Whack A Mole
Giant Whack A Mole is a larger-than-life version of the classic arcade game, where participants use soft mallets to "whack" inflatable moles as they pop in and out of their holes. This high-energy activity fosters a spirit of friendly competition and quick reflexes among teams as they aim to achieve the highest score.
3. Combat Archery Tag
Combat Archery Tag is an adrenaline-pumping team-building activity that combines elements of archery, dodgeball, and paintball. Teams engage in friendly combat using foam-tipped arrows and bows, promoting strategic thinking, communication, and teamwork while having a blast.
4. Giant Board Games
Giant Board Games offer a super-sized twist on classic board games like Jenga, Chess, and Snakes and Ladders. Participants work together to strategize and make their moves on life-sized game boards, encouraging collaboration and friendly competition.
5. Neon Archery Tag
Neon Archery Tag adds an electrifying glow to traditional archery tag, as teams engage in friendly archery battles under blacklight. This thrilling activity enhances communication, coordination, and precision as teams aim to eliminate opponents by tagging them with glowing arrows.
6. Saber Tag®
Saber Tag® is a futuristic team-building activity inspired by sci-fi battles. Participants wield foam sabers and engage in friendly duels, promoting agility, reflexes, and teamwork as they engage in light-hearted combat.
7. Poolball™
Poolball™ combines soccer and pool in a giant billiards-style game played on an oversized pool table. Teams must strategize and work together to pocket the soccer balls, enhancing communication and camaraderie.
8. Laser Tag
Laser Tag provides an exhilarating experience as teams compete in high-tech laser battles. With electronic vests and laser guns, participants engage in thrilling missions that promote teamwork, communication, and tactical skills.
9. Neon Laser Tag
Neon Laser Tag takes the laser battle to a whole new level, adding a neon glow to the arena. Teams navigate through a futuristic neon landscape, forming strategies and alliances to emerge victorious in this intense laser tag adventure.
10. SaberFit
SaberFit combines fitness and saber combat training in a Star Wars-inspired workout. Participants engage in light saber drills and exercises, promoting team bonding, fitness, and fun.
11. Bullet Strike (Nerf Gun)
Bullet Strike offers an action-packed team-building experience with Nerf Gun battles. Teams strategize and compete in various missions, fostering communication, coordination, and teamwork.
12. Bullet Ball
Bullet Ball is a fast-paced team-building activity that combines soccer and bubble suits. Participants navigate the field while inside inflatable bubbles, adding a hilarious twist to the classic sport.
13. Ninja Tag
Ninja Tag is an exciting blend of tag and obstacle course challenges. Teams engage in a thrilling race to complete the obstacle course while avoiding being tagged by their opponents.
Quest Activities
1. Amazing Race
Amazing Race is an exhilarating quest-style team-building activity inspired by the TV show. Teams embark on a series of challenges and clues, exploring different locations and showcasing problem-solving and teamwork skills.
2. Escape Room
Escape Room presents teams with immersive scenarios where participants must solve puzzles and riddles to escape within a set time. This mentally stimulating activity fosters critical thinking, collaboration, and communication as teams work together to break free.
Leisure
1. Yacht Rental
Yacht Rental offers a luxurious and leisurely team-building experience. Teams can relax and bond aboard a private yacht, enjoying stunning views and recreational activities while sailing on the tranquil waters.
2. Neon Bowling
Neon Bowling is a striking and vibrant twist on the classic bowling experience. Teams can enjoy friendly competition while bowling under neon lights, adding a fun and funky ambiance to this leisurely activity.
Accommodation and Transportation Options
Selecting the right accommodation and transportation arrangements is crucial for a seamless retreat experience.
Accommodations: Choose from a range of hotels, resorts, and serviced apartments that suit your budget and preferences.
Transportation: Make transportation arrangements based on your group size, whether it's private transfers or utilizing Singapore's efficient public transport system.
Offsite Retreat Planning Timeline
To ensure a successful retreat, follow this step-by-step timeline:
Preparation Phase:

Determine objectives and budget.
Choose potential dates and secure approvals.
Create a planning committee or designate a responsible team.

Research and Booking:

Research venues, accommodations, and activities.
Collect quotes and negotiate prices.
Confirm bookings early to secure availability.

Logistics and Itinerary:

Plan transportation and transfers.
Develop a detailed itinerary, including team-building activities and workshops.
Consider downtime and relaxation periods.

Communication and Preparation:

Communicate essential details to all participants well in advance.
Share the itinerary and any required materials or preparations.

Execution and Evaluation:

Ensure everything is in place for a smooth retreat experience.
Encourage open communication and feedback throughout the retreat.
Evaluate the success of the retreat and learn from the experience for future events.
Offsite Retreat Singapore
Planning an Offsite Retreat in Singapore is an exciting endeavor, promising a myriad of thrilling activities, luxurious accommodations, and unforgettable experiences. Whether it's engaging in neon archery tag, sailing the serene waters aboard a private yacht, or solving clues in an escape room, there's something for every team and every taste.
As you navigate the planning process, remember to incorporate a mix of both engaging team-building activities and leisure pursuits to foster a more dynamic and enjoyable retreat. Ultimately, an offsite retreat is an investment in your team's camaraderie, collaboration, and morale, translating into enhanced productivity and team spirit in the long run.
Step into this journey with a clear plan, a sense of adventure, and the anticipation of creating lasting memories with your team in the vibrant city of Singapore.
Frequently Asked Questions (FAQ)
If you have any questions about off-site retreats in Singapore, you can refer to the frequently asked questions (FAQ) about the best Off-Site Retreats in Singapore below:
What is the purpose of an offsite retreat?
The purpose of an offsite retreat is to bring teams together outside their usual work environment, fostering team bonding, creativity, problem-solving skills, and overall employee morale. It provides an opportunity for team members to connect on a personal level and collaborate effectively in a different setting.
Why should we choose Singapore for our offsite retreat?
Singapore offers an ideal offsite retreat destination due to its vibrant culture, diverse attractions, and business-friendly infrastructure. The city provides a safe and welcoming environment, with world-class facilities and numerous team-building venues and activities to choose from.
What are the benefits of engaging in team-building activities?
Team-building activities promote team cohesion, communication, and collaboration. They boost employee morale, increase creativity, and enhance problem-solving skills. Engaging in team-building activities also helps strengthen work relationships and fosters a positive and motivated work environment.
How do I plan an offsite retreat in Singapore?
To plan an offsite retreat in Singapore, consider key factors such as budget, dates, group size, and retreat objectives. Research and choose suitable venues and team-building activities. Develop a detailed itinerary and communicate all essential details to participants in advance.
What are some popular team-building activities in Singapore?
Singapore offers a range of team-building activities, including art jamming, laser tag, escape rooms, cooking classes, and outdoor adventure challenges like bubble soccer and archery tag.
How do team-building activities benefit organizations?
Team-building activities enhance team dynamics, communication, and problem-solving skills. They improve employee engagement and job satisfaction, leading to increased productivity and a positive work culture. Team-building activities also promote innovation and creativity within the organization.
Can we customize team-building activities to suit our team's preferences?
Yes, many team-building providers in Singapore offer customizable activities to cater to different team sizes, objectives, and preferences. You can work with them to tailor activities that align with your team's specific goals and interests.
What is the best time to plan an offsite retreat in Singapore?
Singapore enjoys a relatively consistent climate throughout the year. However, the best time for an offsite retreat depends on your team's preferences and the activities planned. Consider factors like weather, peak seasons, and your team's availability when choosing the dates.
How do I ensure the safety of participants during the offsite retreat?
Prioritize safety by choosing reputable venues and activity providers with proper safety protocols. Communicate safety guidelines to all participants and ensure access to first-aid facilities, if needed. Conduct risk assessments for adventure activities and select venues with good safety records.
Can we combine team-building activities with business workshops during the retreat?
Yes, many offsite retreat venues in Singapore offer facilities that cater to both team-building activities and business workshops. Combining these activities allows for a balanced approach, blending personal development, and skill-building with team bonding and recreation.