Rainy Day Activities Singapore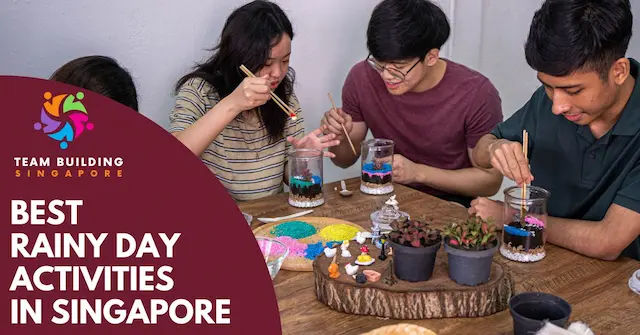 When rainy weather dampens outdoor plans, Singapore offers a vibrant array of indoor activities to keep both locals and visitors entertained. From immersive cultural experiences to interactive museums, there's something for everyone to enjoy when the skies open up. This guide presents the best rainy day activities in Singapore, ensuring that even on gloomy days, the fun never stops.
Understanding Rainy Seasons in Singapore
Singapore experiences a tropical rainforest climate, characterized by two distinct monsoon seasons: the northeast monsoon from November to March and the southwest monsoon from June to September. These periods bring heavier rainfall, making it essential to have a selection of indoor activities at the ready. This article will help you navigate the city's indoor offerings during these seasons.
The Importance of Indoor Activities
When the rain starts pouring, indoor activities take on a vital role in maintaining a vibrant social life and boosting spirits. Studies have shown that engaging in enjoyable indoor pastimes can have a positive impact on mood, particularly during inclement weather. Whether you're seeking solace in a cozy café or immersing yourself in a captivating exhibit, the variety of indoor options in Singapore reflects the city's commitment to offering quality experiences rain or shine.
Best Rainy Day Activities Singapore
Creative Activities
1. Terrarium Workshop
Unleash your creativity by crafting your miniature ecosystem in a Terrarium Workshop. Choose from an array of plants, stones, and decorative elements to build your serene garden encapsulated in glass. Learn about plant care and design principles as you assemble your unique terrarium, a perfect rainy day activity that brings a touch of nature indoors.
2. Clay Making Workshop
Get your hands dirty in a Clay Making Workshop where you can mold and shape clay into artful creations. Learn sculpting techniques and bring your ideas to life as you craft anything from pottery to figurines. This tactile experience offers a therapeutic escape from the rain, allowing you to craft personalized souvenirs or home decor.
3. Perfume Workshop
Engage your senses in a Perfume Workshop where you'll discover the art of blending scents. Experiment with various essences and learn about fragrance notes to create a signature perfume that suits your style. As rain patters outside, indulge in a fragrant indoor experience that lets you leave with a custom-made scent.
4. Canvas Art Jamming
Release your inner artist in a Canvas Art Jamming session. Armed with a blank canvas and a palette of paints, you'll have the freedom to paint whatever inspires you. Whether you're a seasoned painter or a first-timer, this relaxed and creative environment allows you to express yourself and produce a unique masterpiece.
5. Stitched Leather Workshop
Discover the world of leathercraft in a Stitched Leather Workshop. Guided by skilled artisans, you'll learn to create small leather goods like wallets or key holders. As raindrops fall, focus on crafting intricate designs, stitching, and assembling pieces of leather to fashion functional and stylish items.
6. Soy Candle Making Workshop
Craft your ambiance with a Soy Candle Making Workshop. Learn the art of candle making using eco-friendly soy wax and essential oils. Customize scents, colors, and container styles to create candles that evoke the cozy atmosphere you crave on a rainy day.
7. Tote Bag Art Jamming
Turn a plain tote bag into wearable art in a Tote Bag Art Jamming session. Express your style through painting and design, creating a unique accessory that showcases your creativity. Rainy days are the perfect time to engage in this artistic endeavor, making a functional and personalized accessory.
8. Non-Stitched Leather Workshop
In a Non-Stitched Leather Workshop, delve into the world of leathercraft without sewing. Create chic and minimalist leather items like cardholders and passport covers using adhesive techniques. The rain provides a soothing backdrop as you focus on precision and design.
9. Gel Candle Making Workshop
Craft dazzling gel candles in a Gel Candle Making Workshop. Manipulate translucent gel wax to embed decorative elements like seashells or beads, resulting in captivating and luminous candles. As the rain taps on the windows, immerse yourself in this creative process to produce stunning home decor.
10. Cooking Class
Elevate your culinary skills in a Cooking Class where expert chefs guide you through preparing gourmet dishes. From local delicacies to international cuisine, these classes offer hands-on experience and delicious rewards. Rainy days offer the perfect opportunity to enhance your cooking repertoire while indulging in comfort food.
Adventure Activities
1. Laser Tag
Embark on adrenaline-pumping battles in a Laser Tag arena. Equip yourself with a phaser and navigate through dimly lit mazes, strategizing and targeting opponents with laser beams. Rainy days are no obstacle to this indoor adventure that combines strategy and excitement.
2. Combat Archery Tag
Combine archery and dodgeball in a thrilling Combat Archery Tag game. Armed with foam-tipped arrows and protective gear, teams compete to eliminate opponents by striking them with arrows or knocking down target cones. Rainy weather enhances the intensity of this fast-paced and exhilarating activity.
3. Poolball
Play an oversized game of pool on a life-sized billiards table in a Poolball session. Use your feet to aim and kick soccer balls into pockets, putting a unique twist on a classic game. Rainy days bring added fun as you enjoy indoor soccer-pool fusion.
4. SaberFit
Engage in a full-body workout with a saber in a SaberFit class. Inspired by lightsaber combat, this fitness activity combines martial arts, cardio, and conditioning exercises. Rainy days won't deter you from embracing your inner Jedi while getting fit indoors.
5. Saber Tag
Experience heart-pounding excitement in a Saber Tag game, a combination of tag and lightsaber dueling. Equipped with foam-padded lightsabers, participants engage in friendly battles, working up a sweat as they dodge and strike. Rainy days transform your surroundings into a galaxy far, far away.
6. Bubble Soccer
Bounce into a hilarious and bumpy game of Bubble Soccer. Climb into inflatable zorb-like bubbles and roll, bump, and crash into opponents while trying to score goals. Rainy weather adds an extra element of fun as you slip, slide, and bounce indoors.
7. Ninja Tag
Channel your inner ninja warrior in a Ninja Tag course. Navigate through obstacle courses, test your agility, and challenge friends to tag and be tagged. Rainy days offer the perfect opportunity to embrace indoor athleticism and friendly competition.
8. Giant Whack-A-Mole
Step into a life-sized version of the arcade classic with Giant Whack-A-Mole. Armed with foam mallets, players pop up and down to earn points, all while avoiding being whacked by their opponents. Rainy days are a fantastic backdrop for this energetic and entertaining game.
9. Bullet Strike (Nerf Gun)
Immerse yourself in action-packed battles with Bullet Strike (Nerf Gun) games. Equip yourself with foam dart blasters and join fast-paced team games that combine strategy and marksmanship. Rainy days make indoor Nerf battles even more exciting and dynamic.
10. Bullet Ball
Engage in high-energy competitive play in a Bullet Ball session. Combining elements of dodgeball and soccer, players aim to score points by hitting targets with foam balls. Rainy days become an opportunity to challenge friends and family to this unique and active indoor sport.
Expert Tips for Enjoying Rainy Days
Staying prepared for rainy days enhances the overall experience. Here are some expert tips for making the most of your indoor adventures in Singapore:
Always carry an umbrella or raincoat to stay dry while traveling between indoor venues.
Check the weather forecast before heading out to plan your activities accordingly.
Embrace the cozy ambiance by choosing cafes and lounges with comfortable seating and warm beverages.
Consider combining indoor and outdoor attractions for a well-rounded experience, weather permitting.
Take advantage of weekday mornings or late afternoons to avoid crowds at popular indoor spots.
Future-Proofing Your Rainy Day Plans
As Singapore's indoor entertainment scene continues to evolve, future-proofing your rainy day plans becomes essential. Establishing a list of go-to indoor venues and activities can ensure that you're always ready to have a good time, rain or shine. Anticipate emerging trends in indoor entertainment and explore new attractions as they come to light.
Rainy Day Activities Singapore
With an array of indoor activities and entertainment options, Singapore's rainy days offer a world of adventure and discovery. Whether you're immersing yourself in a workshop, challenging friends to a high-energy game, or learning a new skill, the city's indoor venues have something for every interest and age group. Rain or shine, Singapore remains a dynamic and vibrant destination, promising memorable experiences.
So, embrace the changing weather patterns, consider the expert tips, and dive into the plethora of activities that redefine the concept of rainy day fun. Explore, learn, and enjoy – because, in Singapore, even rainy days can be a delight!
Frequently Asked Questions
If you have any questions about rainy day activities in Singapore, you can refer to the frequently asked questions (FAQ) about the Best Rainy Day Activities in Singapore below:
Are these creative workshops suitable for beginners?
Absolutely! These creative workshops cater to individuals of all skill levels, including beginners. Instructors provide step-by-step guidance to ensure everyone can create something wonderful.
Can I participate in adventure activities if I'm not very physically active?
Certainly! Many adventure activities offer varying levels of intensity, and instructors often tailor experiences to participants' comfort levels. Don't hesitate to discuss any concerns with the staff before participating.
Are creative activities suitable for children?
Yes, many of the creative activities are family-friendly and offer options suitable for children. Check with the workshop organizers to find activities appropriate for different age groups.
Do I need to bring any materials to the creative workshops?
Materials are usually provided for creative workshops, but it's a good idea to check with the organizers in advance to ensure you're prepared. Sometimes, workshops might offer options to upgrade or personalize your creations.
What's the duration of adventure activities like Laser Tag and Combat Archery Tag?
The duration varies depending on the activity and the package you choose. On average, sessions for these activities typically last between 30 minutes to an hour.
Can I book these activities for group events or parties?
Absolutely! Many of these activities offer group booking options, making them perfect for birthday parties, team-building events, or simply a fun gathering of friends.
Are there any age restrictions for adventure activities?
Age restrictions can vary for different activities. Some activities are suitable for children as young as 6 or 7, while others might have age limits of 12 or older. Always check with the organizers for specific age requirements.
Do I need to make reservations in advance for these activities?
It's recommended to make reservations in advance, especially for popular activities or during peak times. This ensures that you secure your spot and have a seamless experience.
What's the average cost of these activities?
The cost varies depending on the activity, duration, and package you choose. Creative workshops might have different pricing based on the type of craft and materials used. Adventure activities can range from budget-friendly to higher-end experiences.
Can I combine multiple activities in a single day?
Absolutely! Many venues offer options to participate in multiple activities in one day. Combining a creative workshop with an adventure activity can create a well-rounded rainy day experience.