Staff Retreat Singapore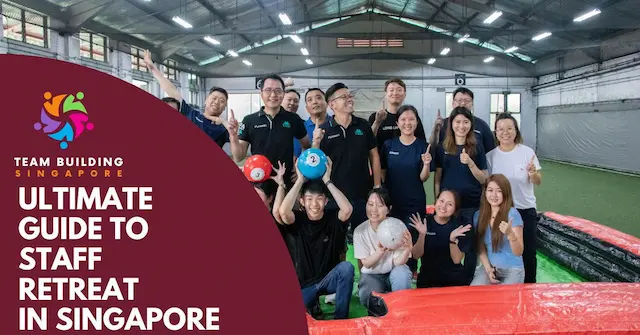 Welcome to the ultimate guide to planning a successful staff retreat in the vibrant city of Singapore! Staff retreats are a fantastic way to boost team morale, strengthen bonds, and enhance productivity. Singapore, with its modern infrastructure, diverse culture, and business-friendly environment, offers an ideal setting for a memorable retreat. In this guide, we will walk you through the essential steps to plan an unforgettable staff retreat in Singapore in 2023.
Why Choose Singapore for Your Staff Retreat?
A Global Business Hub: Singapore is renowned as a global business hub, making it an ideal location for companies from around the world to come together and strategize for the future.
Diverse Culture: The multicultural environment of Singapore allows for unique team experiences and encourages team members to appreciate and respect different perspectives.
World-Class Attractions: The city offers a myriad of attractions, from stunning gardens to cutting-edge architecture, providing ample opportunities for team members to explore and unwind during the retreat.
Planning Your Staff Retreat
Set Clear Goals: Define the objectives of the retreat – whether it's improving teamwork, enhancing communication, or celebrating team achievements.
Involve the Team: Encourage team members to contribute ideas and preferences for the retreat, ensuring their interests are considered.
Timing Matters: Choose a suitable time for the retreat that aligns with the team's workload and the availability of key team members.
Selecting the Perfect Retreat Venue
Singapore offers an array of exceptional venues for your staff retreat. Consider the following factors when making your decision:
Capacity: Ensure the venue can comfortably accommodate your team size.
Facilities: Check for necessary amenities such as meeting rooms, audio-visual equipment, and recreational spaces.
Budget: Find a venue that suits your budget while still providing the necessary facilities and atmosphere for a successful retreat.
Top Staff Retreat Venues in Singapore
Indoor Team Building Venues Singapore
1. FunEmpire HQ
FunEmpire HQ is an excellent indoor venue for team-building activities in Singapore. This spacious and versatile venue offers a wide range of exciting team-building games and experiences to foster collaboration and camaraderie among your team members. With state-of-the-art facilities and experienced facilitators, FunEmpire HQ promises a fun and memorable retreat experience.
2. CharisTurf @ Eunos
CharisTurf @ Eunos provides a unique indoor team-building experience with its artificial turf and multi-functional spaces. Your team can engage in various team-building activities, from sports challenges to creative workshops, in this vibrant and dynamic setting. The venue's inviting atmosphere and customizable programs make it an ideal choice for an immersive and impactful staff retreat.
3. FutsalArena @ Yishun
FutsalArena @ Yishun offers a dynamic indoor environment, perfect for high-energy team-building games like futsal and other interactive activities. Whether your team is sports-oriented or looking to try something new, this venue provides an exciting space to build teamwork and cooperation while enjoying friendly competition.
4. The Cage @ Kallang
The Cage @ Kallang is a popular indoor venue known for its fun and challenging team-building activities. From bubble soccer to obstacle courses, your team will have a blast bonding and strategizing together. The Cage's central location and variety of team-building options make it a convenient choice for your staff retreat.
5. Wing Fong Building
Wing Fong Building offers a flexible and well-equipped space for indoor team-building activities. This venue allows you to customize your retreat program to meet your team's specific needs and goals. With its accessibility and modern amenities, Wing Fong Building ensures a successful and productive staff retreat.
Outdoor Team Building Venues Singapore
1. Sentosa
Sentosa, a resort island in Singapore, provides a breathtaking outdoor setting for your staff retreat. With a plethora of attractions and team-building activities such as beach games, water sports, and nature treks, your team will have plenty of opportunities to bond and rejuvenate amidst scenic beauty.
2. West Coast Park
West Coast Park offers a serene outdoor retreat experience away from the hustle and bustle of the city. With spacious green spaces, barbecue pits, and recreational facilities, your team can enjoy a relaxing day of team-building and leisure activities in this charming park setting.
3. East Coast Park
East Coast Park is a popular choice for outdoor team-building events due to its stunning coastal scenery and wide range of outdoor facilities. From cycling trails to beach volleyball, your team can engage in both recreational and team-building activities while embracing the refreshing sea breeze.
4. Pasir Ris Park
Pasir Ris Park provides a tranquil retreat venue with lush greenery and serene lakeside views. This peaceful setting is perfect for team-building activities such as nature walks, outdoor games, and team challenges, allowing your team to connect and bond in a calming environment.
5. Labrador Park
Labrador Park offers a unique blend of history and nature for your staff retreat. Your team can explore the park's historical relics and picturesque coastal areas while participating in engaging team-building exercises. This hidden gem provides an enriching and immersive experience for your team.
Best Team Building Activities in Singapore
Creative Workshops
1. Neon Art Jamming
Engage your team's creative side with Neon Art Jamming, where participants get to paint with neon colors on canvases. This fun and vibrant workshop encourage team members to express themselves artistically while fostering teamwork and collaboration in a relaxed setting.
2. Art Jamming
Art Jamming allows your team to unleash their artistic talents and create beautiful artworks together. No prior experience is required, making it a great activity for team members to bond and discover each other's creative flair.
3. Leather Workshop
In the Leather Workshop, participants learn the art of leather crafting and create their own personalized leather goods. This hands-on activity promotes problem-solving and attention to detail while enabling team members to produce unique souvenirs from the retreat.
4. Tote Bag Art Jamming
Tote Bag Art Jamming combines the creativity of art jamming with practicality as team members design and paint their own tote bags. It's a great way to blend creativity and functionality, resulting in a memorable and useful keepsake for everyone.
5. Perfume Workshop
The Perfume Workshop offers a sensory experience where participants learn the art of blending scents to create their unique fragrances. This activity not only stimulates creativity but also encourages team members to work together to develop signature scents that represent their collective journey.
6. Terrarium Workshop
The Terrarium Workshop brings nature indoors as team members create their miniature gardens in glass containers. This activity promotes relaxation and appreciation for nature while fostering teamwork in the careful arrangement of plants and decorations.
7. Candle Making Workshop
In the Candle Making Workshop, participants craft their candles with various scents and colors. This hands-on experience promotes innovation and teamwork, as team members collaborate to design and produce their candles.
8. Clay Making Workshop
The Clay Making Workshop allows participants to mold and shape clay into various forms, encouraging creativity and imagination. This tactile activity fosters collaboration as team members exchange ideas and work together to bring their clay creations to life.
9. Balloon Sculpting
Balloon Sculpting adds a playful and entertaining element to your staff retreat. Participants learn to twist and shape balloons into fun and colorful sculptures, promoting a sense of joy and camaraderie among the team.
10. Cooking Class
A Cooking Class brings the team together in the kitchen to learn new culinary skills and prepare a delicious meal. This interactive activity encourages communication and coordination as team members work in sync to create a memorable dining experience.
Adventure Activities
1. Bullet Strike (Nerf Gun)
Bullet Strike (Nerf Gun) offers a thrilling and action-packed team battle experience. Participants engage in friendly combat using Nerf guns, promoting team strategy, and camaraderie while unleashing their competitive spirits.
2. Laser Tag
Laser Tag immerses your team in a futuristic battleground, where they work together to achieve victory by outmaneuvering opponents and completing mission objectives. This adrenaline-pumping activity encourages teamwork, communication, and strategic planning.
3. Neon Laser Tag
Neon Laser Tag brings an exciting twist to the classic game with neon lights and vibrant colors. The futuristic setting enhances the immersive experience, making it a memorable and thrilling team-building activity.
4. Combat Archery Tag
Combat Archery Tag combines archery with dodgeball, creating an exhilarating game of strategy and agility. Participants compete in friendly combat, aiming to eliminate opponents and achieve victory through teamwork and communication.
5. Saber Tag®
Saber Tag® is a unique team-building activity that incorporates saber combat and team strategy. Participants engage in exciting lightsaber battles, promoting teamwork, and camaraderie in a galaxy far, far away.
6. Poolball™
Poolball™ offers a hilarious and entertaining experience where participants play soccer on a giant pool table. This activity encourages teamwork and communication as team members strategize to score goals using their feet as cues.
7. Giant Whack A Mole
Giant Whack A Mole is a larger-than-life version of the classic arcade game. Teams compete to whack moles with oversized mallets, promoting friendly competition and teamwork.
8. Bubble Soccer
Bubble Soccer infuses soccer with the fun of bouncing around in inflatable bubbles. This activity encourages laughter, teamwork, and a sense of camaraderie as participants enjoy a hilarious and entertaining experience.
9. Bullet Ball
Bullet Ball is a fast-paced game that combines elements of dodgeball and soccer. Team members must work together to dodge incoming balls while aiming to score goals, fostering communication and cooperation.
10. Giant Board Games
Giant Board Games offer a nostalgic twist on classic games like Jenga, Checkers, and Connect Four. Participants bond and strategize as they navigate the oversized game boards, creating a fun and engaging team-building experience.
11. Neon Archery Tag
Neon Archery Tag combines archery with neon lighting, creating an exciting and visually stunning team game. Participants compete in archery battles using glow-in-the-dark equipment, promoting teamwork and strategic planning.
12. Ninja Tag
Ninja Tag is an action-packed team game where participants navigate obstacle courses, similar to a ninja warrior challenge. Team members collaborate to overcome obstacles, building trust and teamwork in the process.
13. SaberFit
SaberFit is a fitness-based activity that combines saber combat with workout routines. Participants engage in dynamic and fun exercises using lightsabers, promoting fitness, and camaraderie.
Quest Activities
1. Amazing Race
The Amazing Race is an exhilarating team-building activity that requires teams to solve clues and complete challenges at various locations. This thrilling and competitive quest promotes teamwork, problem-solving, and quick thinking.
2. Escape Room
Escape Room offers an immersive puzzle-solving experience where teams must work together to escape a locked room within a time limit. This mentally stimulating activity fosters teamwork and communication as participants unravel clues and solve mysteries.
Leisure
1. Yacht Rental
A Yacht Rental allows your team to unwind and enjoy the stunning views of Singapore's coastline. This leisurely activity provides a relaxing and luxurious retreat experience for team members to bond and recharge.
2. Neon Bowling
Neon Bowling transforms the traditional game into a vibrant and electrifying experience. Participants enjoy glow-in-the-dark bowling, fostering a fun and social atmosphere for team members to relax and celebrate their time together.
Creating Lasting Memories
Capture the moments that matter during the retreat:
Team Photos and Videos: Assign someone to document the retreat through photos and videos.
Team Bonding Rituals: Create special rituals that represent the team's unity and shared experiences.
Evaluating the Retreat's Success
Feedback Surveys: Gather feedback from participants to understand their thoughts and experiences.
Measure Outcomes: Assess the impact of the retreat on team dynamics and productivity.
Staff Retreat Singapore
Planning and executing a successful staff retreat indeed requires considerable effort. Yet, the rewards far outweigh the challenges. The activities listed provide a wide array of experiences, from adrenaline-filled pursuits to serene leisurely engagements, all designed to foster stronger relationships, improved communication, and increased camaraderie among staff.
Every retreat, set against the beautiful backdrop of Singapore, promises to be a unique and memorable experience, contributing to a healthier, happier, and more productive workplace. So gear up, bring your team together, and get ready to create some unforgettable memories!
Frequently Asked Questions (FAQ)
If you have any questions about staff retreat in Singapore, you can refer to the frequently asked questions (FAQ) about the Staff Retreats In Singapore below:
What are the benefits of organizing a staff retreat in Singapore?
Organizing a staff retreat in Singapore offers several benefits, including boosting team morale, strengthening team bonds, enhancing communication, fostering creativity, and improving overall team productivity.
How can I select the right retreat venue in Singapore for my team?
When choosing a retreat venue, consider factors such as the venue's capacity, available facilities, budget, location, and whether it aligns with the goals and preferences of your team.
What types of team-building activities are available in Singapore?
Singapore offers a diverse range of team-building activities, including creative workshops like art jamming and leather crafting, adventure activities like laser tag and bubble soccer, quest activities like escape rooms, and leisure options like yacht rentals.
How do creative workshops benefit the team's dynamics?
Creative workshops promote teamwork, encourage communication and collaboration, stimulate creativity, and provide a relaxed and enjoyable environment for team members to bond and build stronger relationships.
What are some popular adventure activities for team building in Singapore?
Popular adventure activities for team building in Singapore include laser tag, combat archery tag, bullet ball, bubble soccer, and giant board games, among others.
How do quest activities like the Amazing Race enhance teamwork and problem-solving skills?
Quest activities like the Amazing Race require teams to work together to solve clues, complete challenges, and navigate locations. This promotes teamwork, quick thinking, problem-solving, and effective communication.
Can leisure activities be beneficial for team bonding?
Yes, leisure activities provide opportunities for team members to relax, have fun, and socialize in a casual setting, fostering a positive and enjoyable atmosphere that contributes to team bonding.
What should we consider when planning a team-building workshop?
When planning a team-building workshop, consider the goals of the workshop, the specific skills or values you want to emphasize, the expertise of the facilitators, and the availability of suitable venues and resources.
Are there outdoor venues in Singapore suitable for large teams
Yes, Singapore offers several outdoor venues like East Coast Park and Sentosa, which can accommodate large teams and provide ample space for various team-building activities.
How can we measure the success of our staff retreat?
Measuring the success of the staff retreat can be done through feedback surveys from participants, observing changes in team dynamics, assessing progress towards retreat goals, and evaluating the impact of team-building activities on teamwork and productivity.