Team Building Games Singapore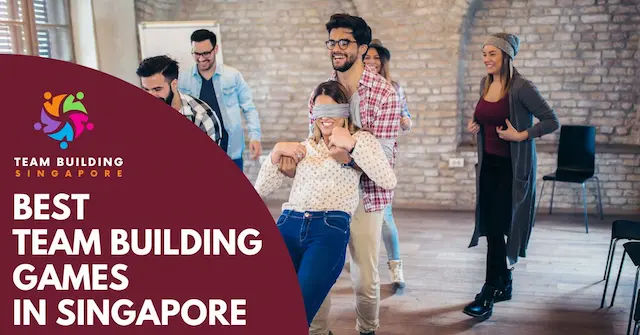 Team building games are interactive activities designed to foster camaraderie, improve communication, and enhance problem-solving skills among team members.
The Best Team Building Games in Singapore include Bubble Soccer, Escape Room, Amazing Race, Laser Tag, Archery Tag, Art Jamming, Poolball, Giant Whack-A-Mole, Bullet Ball, and Giant Board Games.
When orchestrating team building games in Singapore, consider the crux of engagement: physical capabilities, participant interests, available resources, and overarching objectives intertwine to create an atmosphere of collaboration.
FunEmpire is one of the best providers of team building games in Singapore, having an impressive history of more than 50,000 successful events and 8,000+ 5-Star client reviews, this company has established its expertise in organizing effective team bonding activities.
So, let's explore the Best Team Building Games In Singapore and turn your next team event into an unforgettable experience!
Importance of Team Building in Singapore
Singapore's fast-paced and competitive business environment demands teams that can adapt quickly, communicate effectively, and innovate to stay ahead. This is where team building games play a crucial role. Singaporean companies face unique challenges, including cultural diversity, high levels of stress, and the need for continuous innovation. Team building activities address these challenges by creating a positive work atmosphere, breaking down communication barriers, and promoting collaboration among employees from diverse backgrounds.
Studies have shown that organizations that prioritize team building experience higher employee satisfaction and lower turnover rates. When employees feel connected and supported, they are more likely to stay committed to the company's mission and vision. Additionally, team building games have been proven to improve overall productivity and creativity, as they provide employees with a platform to brainstorm ideas and solve puzzles and problems collectively.
Factors to Consider When Choosing Team Building Games
Group Size: Understand the size of the group and choose games that can accommodate the number of participants effectively.
Physical Requirements: Consider the physical abilities of team members and select games that can be enjoyed by all without excluding anyone based on physical limitations.
Indoor or Outdoor Options: Determine whether an indoor or outdoor setting is more suitable for the team building event and select games accordingly.
Alignment with Team Goals: Choose games that align with the specific objectives and goals of the team building event, such as improving communication or fostering teamwork.
Time Constraints: Take into account the available time for the team building event and select games that can be completed within the allocated timeframe.
Cultural Sensitivity: Be mindful of the cultural diversity within the team and ensure that the chosen games are inclusive and respectful of different backgrounds.
Budget: Consider the budget allocated for the team building event and choose games that fit within the financial constraints.
Level of Challenge: Balance the difficulty level of games to cater to the abilities and preferences of the team members, ensuring everyone can actively participate.
Benefits of Team Building Games
Improved Communication: Team building games encourage open communication and active listening among team members, leading to better understanding and collaboration.
Enhanced Team Dynamics: By participating in team building activities, team members develop a sense of camaraderie and trust, leading to stronger team dynamics.
Increased Trust: Trust is built through shared experiences and challenges. Team building games create opportunities for team members to rely on each other, fostering trust, foster strong relationships and mutual support.
Creative Problem-Solving: Engaging in collaborative problem-solving tasks during team building games nurtures creativity and innovative thinking among team members.
Positive Work Culture: Team building games promote a positive work culture, where employees feel valued, motivated, and excited to be part of the team.
Leadership Development: Through team building games, emerging leaders have the chance to showcase and develop their leadership skills.
Higher Employee Morale: Employees who feel connected and appreciated through team building activities are more likely to have higher job satisfaction and increased morale.
Stress Reduction: Team building games offer a break from daily work routines, reducing stress and promoting overall well-being.
Best Team Building Games Singapore
Adventure Activities
1. SaberFit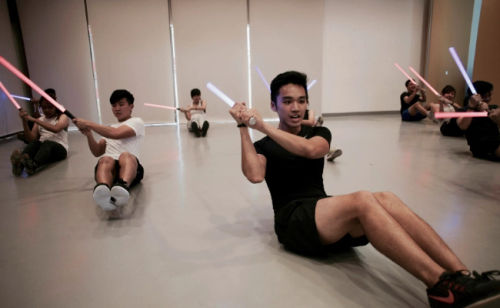 SaberFit is an action-packed fitness program that takes fitness to a whole new level. Combining martial arts and lightsaber techniques, participants embark on an exhilarating journey that enhances their physical agility, coordination, and mental focus.
In this immersive experience, team members engage in thrilling lightsaber duels, honing their combat skills while building camaraderie and fostering teamwork. This unique and dynamic fitness program not only promotes a healthy competitive spirit but also instills a sense of empowerment and confidence.
Join SaberFit and unleash your inner Jedi! May the Force be with you!
2. Bullet Ball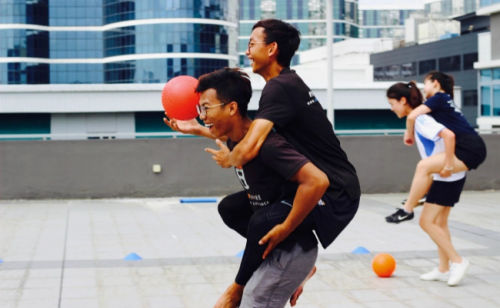 Bullet Ball is an incredibly thrilling and dynamic team-building game that brings excitement to any gathering. The objective is to skillfully maneuver inflatable balls across a designated area while tactically dodging opponents' shots.
Teams strategize and work together to eliminate opponents and protect their own members, fostering a sense of unity and collaboration. This exhilarating game not only promotes quick thinking and effective communication but also cultivates a strong sense of camaraderie and team spirit among its participants.
Get ready for an unforgettable experience filled with action, strategy, and unforgettable memories!
3. Poolball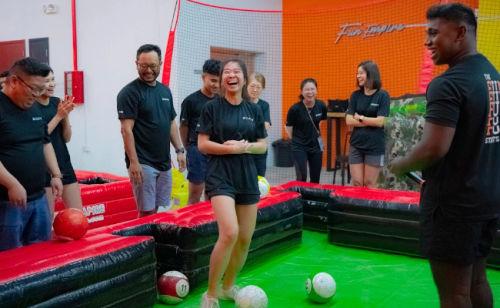 Poolball is a captivating and innovative sport that seamlessly blends the excitement of soccer with the strategy of pool. Picture this: players skillfully use their feet to expertly kick soccer balls across a massive pool table, aiming to pocket them strategically into designated pockets.
As the game unfolds, participants must rely on teamwork, precision, and problem-solving skills to outmaneuver their opponents and emerge victorious.
Whether you're a soccer enthusiast, a pool aficionado, or simply seeking a unique and thrilling experience, Poolball offers an exhilarating blend of athleticism and strategy that is sure to leave you hooked.
4. Combat Archery Tag
Combat Archery Tag is an exhilarating and action-packed archery-based game that combines the adrenaline of dodgeball with the strategic thrill of paintball. Players equip themselves with foam-tipped arrows as they engage in epic battles, skillfully tagging opponents while swiftly dodging incoming shots.
This exhilarating game not only provides a thrilling experience but also fosters teamwork, communication, and agility as teams work together to outmaneuver their opponents, aiming to achieve ultimate victory.
5. Giant Whack-A-Mole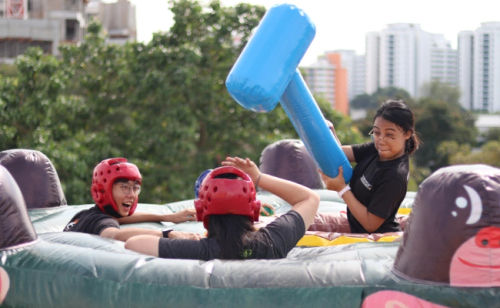 Giant Whack-A-Mole is an exciting and larger-than-life version of the beloved arcade game. Imagine stepping into a world where you are transformed into a mischievous mole, eagerly popping up from the game board. Your teammates, armed with soft hammers, are ready to "whack" you with a friendly tap.
This exhilarating experience brings together laughter, coordination, and lightning-fast reflexes, creating unforgettable moments of joy and camaraderie. Get ready for an uproarious adventure that will leave you wanting more!
6. Bubble Soccer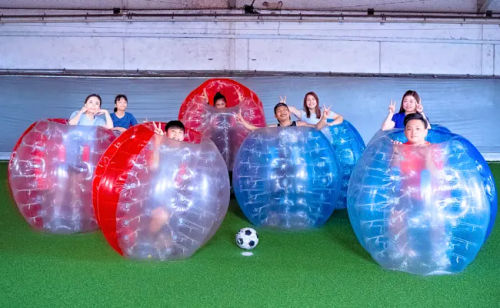 Bubble Soccer is an incredibly fun and wacky twist on the traditional game of soccer. In this unique sport, players wear inflatable bubbles that cover their upper bodies, creating a hilarious and entertaining sight.
As teams compete in a soccer match, they not only focus on scoring goals but also on bumping into opponents and rolling around the field, adding an element of unpredictability and laughter to the game.
The experience promotes teamwork and resilience as players learn to adapt to the unusual dynamics of playing inside a bubble. With its lighthearted and energetic atmosphere, Bubble Soccer guarantees an unforgettable and enjoyable time for all participants and spectators alike.
7. Ninja Tag
Ninja Tag is an adrenaline-pumping game that draws inspiration from the thrilling obstacles of ninja warriors. Players embark on an exhilarating journey as they navigate through a meticulously designed and challenging course that puts their balance, strength, and problem-solving abilities to the ultimate test.
The game fosters a sense of teamwork, encouraging players to collaborate and strategize together to overcome each obstacle and conquer the course. Get ready for an action-packed adventure that will push your limits and leave you craving for more!
8. Laser Tag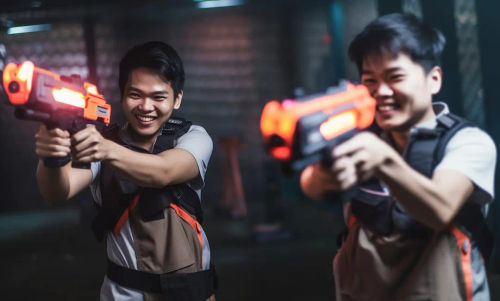 Laser Tag, a thrilling and immersive team-based game, brings participants into a world of high-energy action and strategy. Equipped with infrared laser guns, players engage in an adrenaline-pumping battle to tag opponents, testing their agility, precision, and tactical skills.
This exhilarating game demands not only individual prowess but also effective teamwork, as players collaborate, communicate, and devise clever strategies to outwit and outmaneuver the opposing team. With each pulse-pounding moment, Laser Tag creates an unforgettable experience that leaves participants craving for more.
9. Saber Tag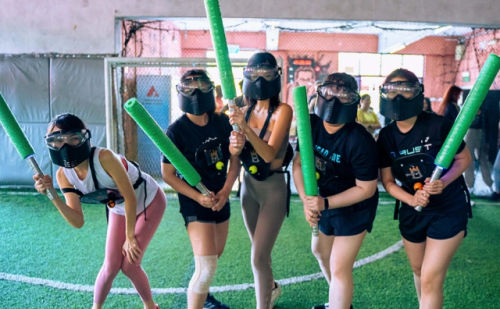 Saber Tag brings together the exhilarating elements of lightsabers and strategic gameplay, immersing players in a thrilling experience like no other. In a galaxy far, far away, teams engage in epic duels, honing their lightsaber combat skills with every swing.
As they work together to defeat their opponents, players must also navigate through challenging missions that test their wit and agility. Step into this galactic adventure and unleash your inner Jedi or Sith as you embark on an unforgettable journey through the stars. May the Force be with you!
10. Bullet Strike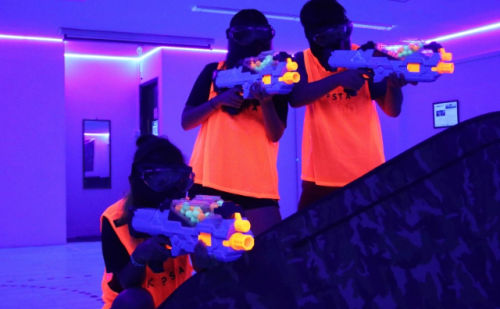 Bullet Strike is an immersive and thrilling tactical shooting game that takes realism to the next level. It meticulously simulates real-life combat scenarios, offering an unparalleled experience that pushes participants to their limits. Equipped with state-of-the-art airsoft guns, players engage in intense battles where every decision matters.
In this adrenaline-fueled game, participants not only rely on their shooting skills but also on their strategic thinking and communication abilities. Each mission presents unique challenges that require teamwork, coordination, and quick thinking to overcome. From stealthy infiltrations to intense firefights, Bullet Strike provides a dynamic and engaging gameplay experience.
Whether you are a seasoned airsoft enthusiast or new to the world of tactical shooting games, Bullet Strike is designed to captivate and challenge you. Step into the immersive world of Bullet Strike, where every shot counts and every decision can be the difference between victory and defeat. Are you ready to test your skills and experience the thrill of realistic combat scenarios? Join us on this exhilarating adventure!
Creative Activities
11. Canvas Art Jamming Workshop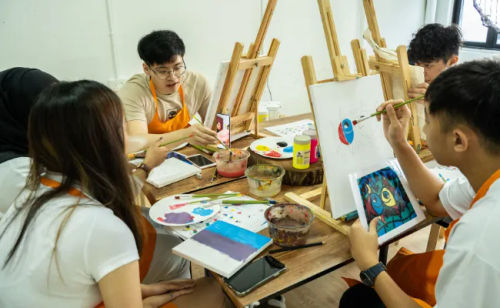 The Canvas Art Jamming Workshop offers teams a unique opportunity to unleash their creativity on canvas together. Participants can freely express their artistic flair, experimenting with various techniques and colors, while fostering a sense of camaraderie and connection with their colleagues.
This engaging and immersive activity not only provides a relaxing and enjoyable experience but also encourages collaboration, ignites imagination, and sparks innovative thinking. Join us for an extraordinary artistic journey that will leave lasting memories and inspire your team's creative spirit!
12. Soy Candle Making Workshop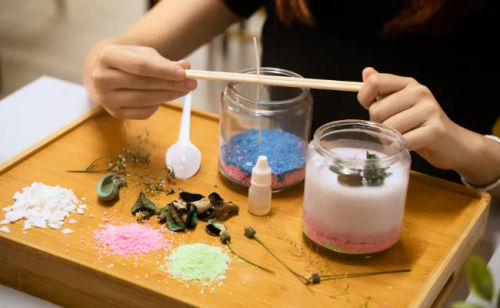 During the Soy Candle Making Workshop, teams embark on a delightful journey into the world of personalized soy candles. This captivating hands-on activity not only fosters teamwork, but also encourages participants to unleash their creativity as they collaborate to design and craft exquisite candles that reflect their unique style and personality.
As the warm glow of the candles illuminates the room, it creates a soothing and tranquil atmosphere, providing a sensory experience that promotes relaxation, connection, and lasting camaraderie among the participants.
13. Neon Art Jamming Workshop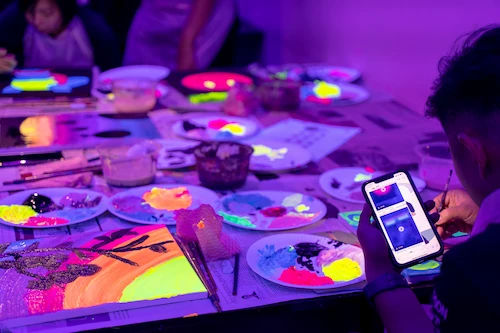 The Neon Art Jamming Workshop provides an extraordinary and immersive experience, offering participants an exciting opportunity to unleash their creativity and create vibrant neon artworks as a team.
With a wide array of neon paints and materials at their disposal, participants can explore their artistic talents and collaborate to design stunning masterpieces that radiate with color and energy.
This electrifying and highly interactive activity not only sparks individual creativity but also fosters effective communication, collective inspiration, and the joy of creating something truly unique together. Join us for a memorable and illuminating journey into the world of neon art!
14. Gel Candle Making Workshop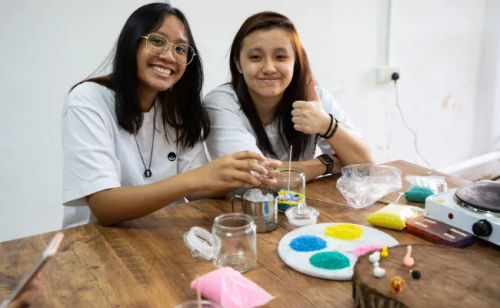 In the Gel Candle Making Workshop, teams are immersed in a creative journey where they get to experiment with translucent gel wax of vibrant colors and an array of captivating decorative elements.
From shimmering seashells to delicate dried flowers, participants have the freedom to choose from a wide selection of embellishments to craft their own unique and stunning candles.
Throughout the process, problem-solving skills are put to the test as teams collaborate and coordinate their efforts, fostering a sense of unity and camaraderie as they work together to design exquisite gel candles that reflect their individual creativity and style.
15. Cooking Class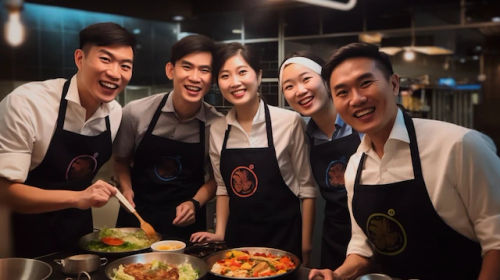 Cooking classes offer a fantastic opportunity for teams to engage in an interactive culinary experience. Through hands-on learning, participants not only acquire culinary skills but also foster teamwork and collaboration. As they come together to explore various recipes, sharing tasks and responsibilities, a sense of camaraderie is built.
And when the delectable dishes are finally prepared, the team can savor the fruits of their labor, celebrating their achievements and the shared joy of creating something delightful together.
16. Terrarium Workshop
The Terrarium Workshop offers teams a unique opportunity to cultivate their own mini indoor gardens using a variety of beautiful succulents and other lush greenery. Participants not only get to work collaboratively, but also have the chance to unleash their creativity as they design and assemble these miniature ecosystems.
By nurturing and taking care of their terrariums, participants develop a deep sense of responsibility and an even greater appreciation for the wonders of nature. It's an engaging and rewarding experience that leaves a lasting impression.
17. Non-Stitched Leather Workshop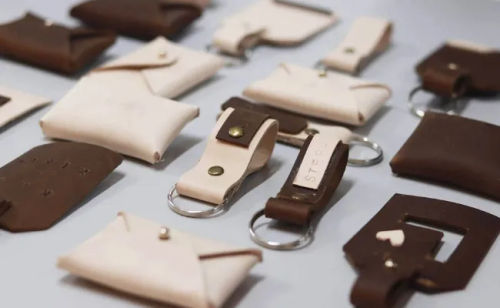 In the Non-Stitched Leather Workshop, teams embark on a journey to master the ancient art of leather crafting, but with a unique twist – no stitching involved!
Participants come together in a collaborative environment, where they unleash their creativity and learn various techniques to create exquisite and personalized leather accessories or items. From meticulously shaping the leather to expertly embellishing it, this immersive experience fosters not only teamwork but also a deeper appreciation for the craftsmanship and beauty of this age-old tradition.
Join us as we delve into the world of non-stitched leather crafting and unlock your inner artisan!
18. Leather Workshop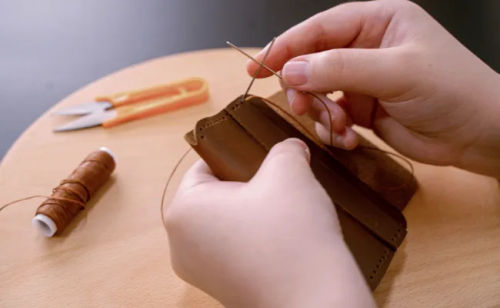 The Leather Workshop offers a unique and immersive opportunity for teams to delve into the art of crafting exquisite leather products using time-honored techniques.
With a focus on hands-on learning, participants are able to fully immerse themselves in the process, combining their individual craftsmanship skills with seamless cooperation to produce high-quality, handcrafted leather goods that are truly one-of-a-kind.
Whether it's the careful selection of materials, the intricate stitching, or the meticulous attention to detail, every step of the workshop is designed to ignite creativity and foster a deep appreciation for the artistry of leather craftsmanship.
Join us on this enriching journey and discover the joy of creating beautiful and functional leather products that will be treasured for years to come.
19. Perfume Workshop
Perfume Workshops offer an extraordinary team-building experience, immersing participants in the art of fragrance creation. Guided by expert perfumers, teams come together to explore and experiment with a vast selection of scents, unlocking their creativity and unleashing their olfactory prowess.
With each blend, they embark on a sensory journey, crafting unique and personalized perfumes that reflect their individuality and team spirit. This hands-on and immersive workshop not only fosters collaboration but also nurtures a deep appreciation for the artistry and science behind perfumery.
20. Tote Bag Art Jamming Workshop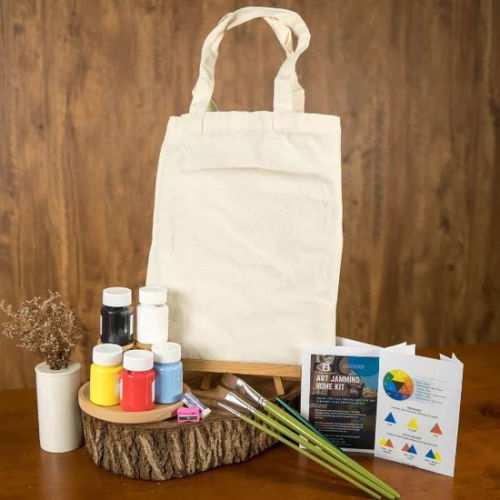 The Tote Bag Art Jamming Workshop offers an exciting opportunity for teams to unleash their creativity, as they delve into the world of artistic expression. Participants will have the chance to design and personalize their own tote bags using a wide range of artistic techniques, such as painting, stenciling, and embellishing.
Through this immersive and engaging experience, team members not only get to showcase their individuality but also foster communication and collaboration as they collectively express their unique ideas and styles. Get ready to embark on a journey of artistic exploration and team bonding like never before!
Quest Activities
21. Escape Room Puzzle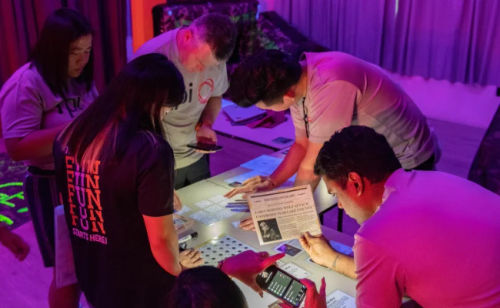 Escape Room Puzzles challenge teams to work together and solve a series of challenging puzzles to escape from a locked room within a set time. The activity promotes problem-solving, communication, and teamwork as participants collaborate to unravel mysteries and find their way out.
22. Amazing Race
The Hybrid Amazing Race is an exciting combination of physical and mental challenges that teams must conquer. Participants race through various locations, solving clues and completing tasks that require collaboration and creativity.
Leisure Activities
23. Yacht Rental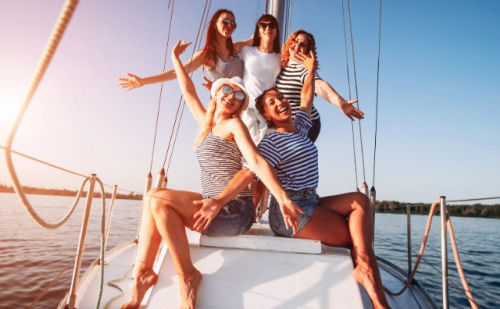 Yacht Rental offers a luxurious and relaxing team outing on the water. Participants can bond while enjoying the scenic views and engaging in team-building activities onboard, creating lasting memories.
24. Giant Board Games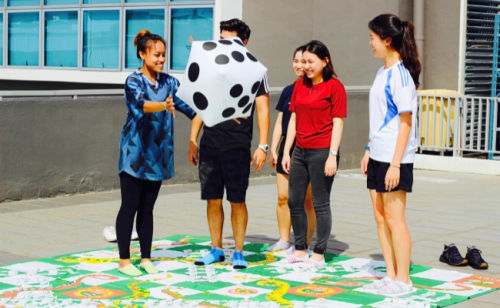 Giant Board Games bring classic games to life on a larger scale. Participants collaborate, strategize, and compete in games like giant chess, Jenga, and Scrabble, fostering a playful and competitive team spirit.
25. Neon Bowling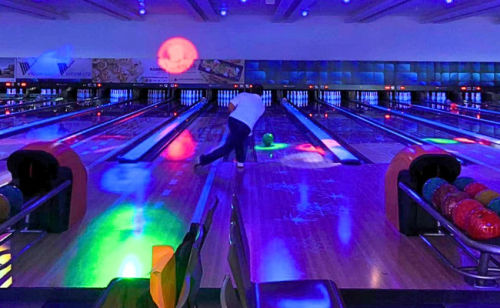 Neon Bowling transforms the traditional game into a cosmic experience with glowing lanes and neon lights. Teams can compete in friendly matches, enhancing communication and camaraderie.
Virtual Games
26. Virtual Amazing Race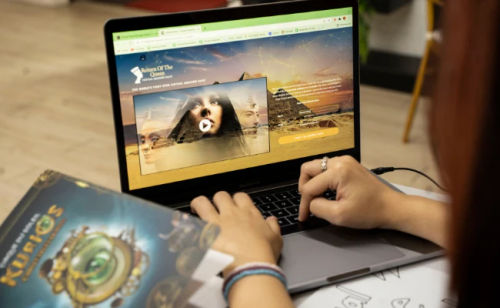 The Virtual Amazing Race takes teams on a virtual adventure across various locations. Through challenges and puzzles, teams collaborate to race to the finish line in this thrilling online game.
27. Virtual Squid Escape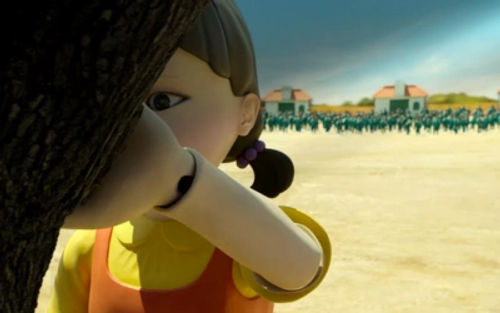 In Virtual Squid Escape, participants navigate through a virtual underwater world, solving puzzles and challenges to escape the deep sea. Teamwork and problem-solving are essential to succeed in this virtual adventure.
28. Virtual Escape Room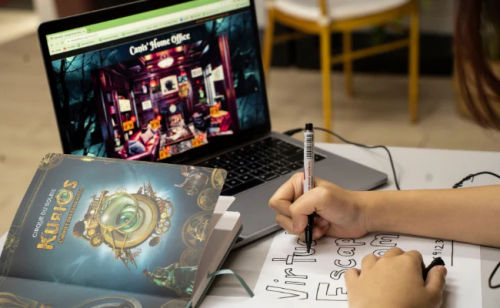 Virtual Escape Rooms transport teams to virtual environments filled with mysteries and puzzles. Teams must communicate and collaborate to solve puzzles and escape before time runs out.
29. Virtual Time Travel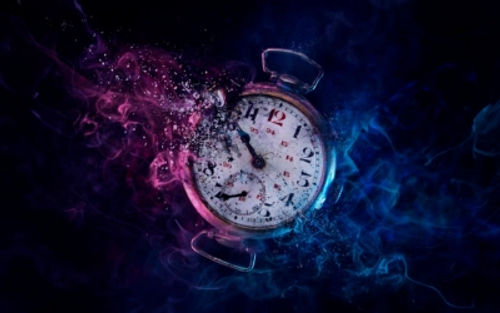 Virtual Time Travel lets teams explore different historical eras and complete missions throughout time. It's an interactive and educational experience that encourages teamwork and creativity.
30. Virtual Food Quest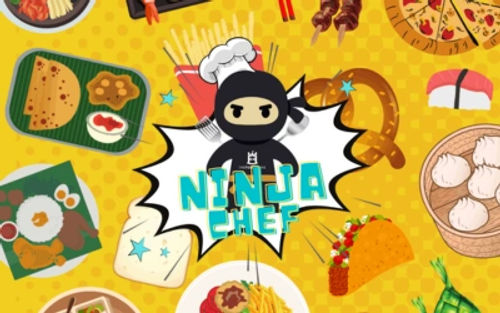 In Virtual Food Quest, teams embark on a culinary adventure, solving food-related challenges and trivia. It's a delightful and engaging experience that promotes teamwork and friendly competition.
31. Virtual Game Show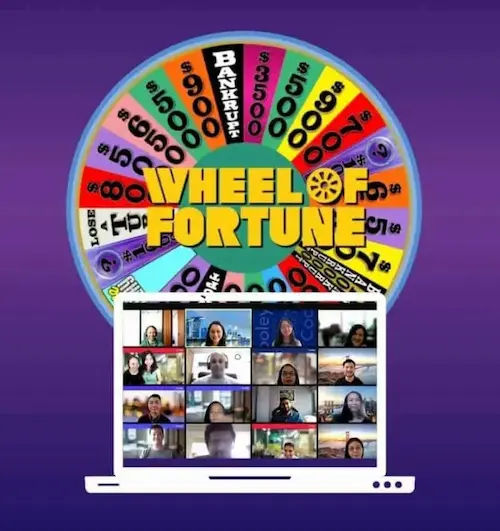 Virtual Game Shows recreate the excitement of TV game shows, with teams competing in various trivia and skill-based challenges. Participants collaborate, strategize, and have fun together.
32. Virtual Party Mania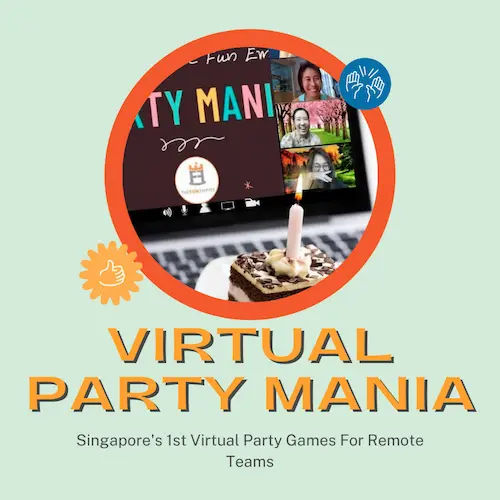 Virtual Party Mania offers an interactive and entertaining experience with virtual games, music, and dance challenges. Teams groove together while enjoying a virtual party atmosphere.
33. Virtual Nightfall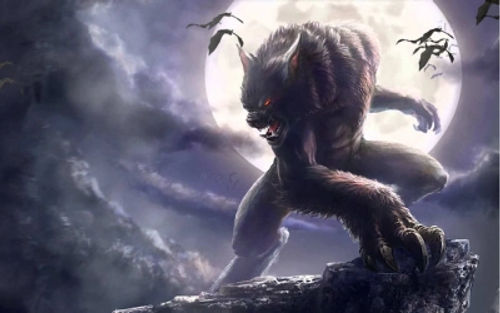 Virtual Nightfall is an intense VR game where teams must work together to survive a nightmarish world. Communication and coordination are crucial to overcoming obstacles and adversaries.
34. Virtual Travel Experience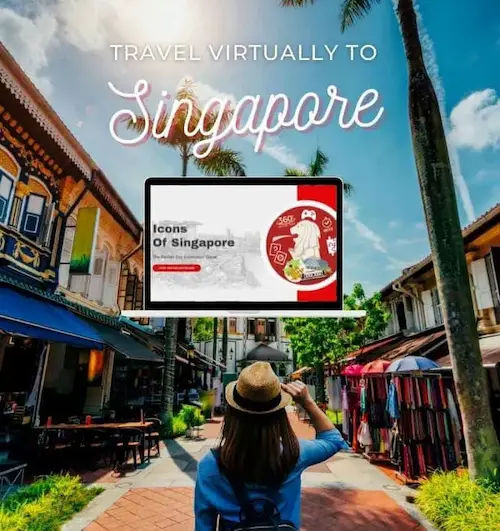 Virtual Travel Experiences allow teams to explore different countries and cultures through virtual reality. Participants collaborate on challenges that immerse them in unique global settings.
35. Hybrid Amazing Race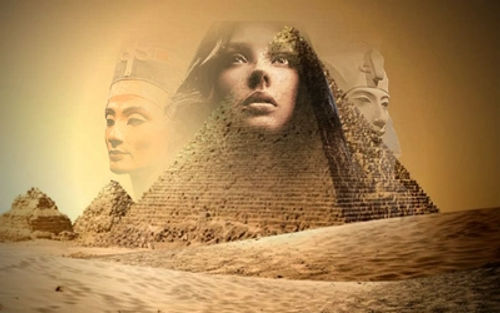 The Hybrid Amazing Race combines virtual and physical challenges, offering teams a mix of online and in-person experiences that demand creativity and cooperation.
Virtual Workshops
36. Virtual Canvas Art Jamming Workshop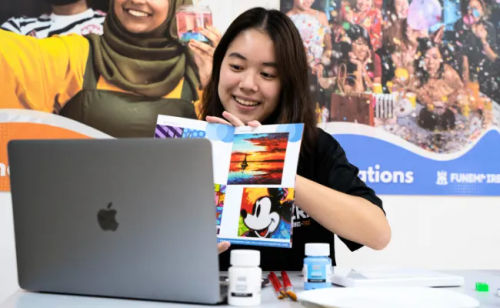 In the Virtual Canvas Art Jamming Workshop, teams create art together through virtual platforms. Participants share ideas, collaborate on digital canvases, and appreciate each other's creativity.
37. Virtual Clay Making Workshop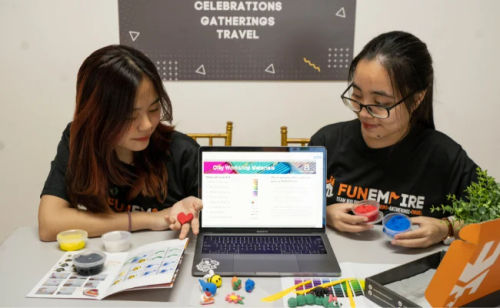 Virtual Clay Making Workshops offer teams a chance to explore pottery and sculpting in a virtual environment. Participants mold digital clay into artistic shapes, fostering teamwork and imagination.
38. Virtual Balloon Sculpting Workshop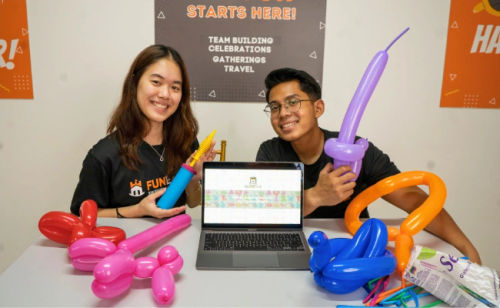 Virtual Balloon Sculpting Workshops enable teams to learn the art of balloon twisting virtually. Participants collaborate to create intricate balloon sculptures and decorations.
39. Virtual Stitched Leather Workshop
The Virtual Stitched Leather Workshop allows teams to learn leathercrafting virtually, creating customized leather items together. Participants communicate and assist each other throughout the crafting process.
40. Virtual Candle Making Workshop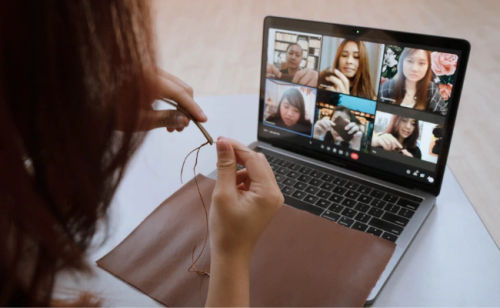 Virtual Candle Making Workshops offer teams the opportunity to craft personalized candles using virtual tools. Participants share ideas and designs, fostering teamwork and creativity.
41. Virtual Tote Bag Art Jamming Workshop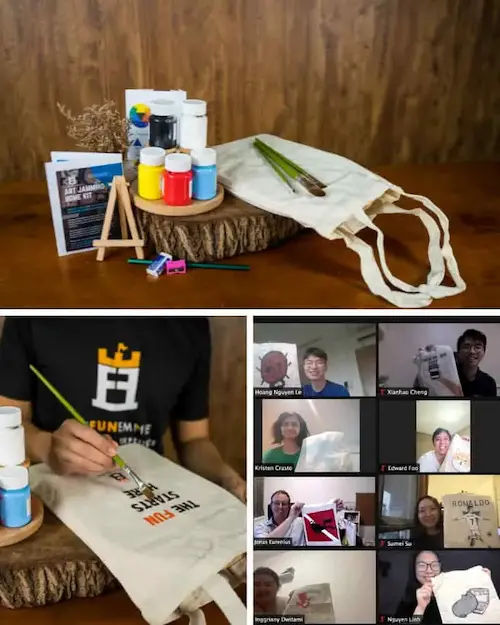 In the Virtual Tote Bag Art Jamming Workshop, teams design tote bags together through virtual collaboration. This creative activity promotes communication and collective expression.
42. Virtual Non-Stitched Leather Workshop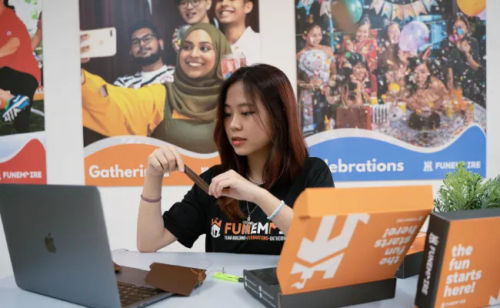 The Virtual Non-Stitched Leather Workshop teaches teams the art of leather crafting without stitching, fostering teamwork and innovation.
43. Virtual Terrarium Workshop
Virtual Terrarium Workshops guide teams in creating virtual mini indoor gardens with succulents and other greenery. This activity promotes teamwork, creativity, and a sense of responsibility for nature.
Other Activities
44. Dragon Boat
Dragon Boat Racing is an exhilarating water-based activity that requires coordination and synchronization. Teams paddle together in unison, fostering teamwork and determination.
45. Wine Appreciation
Wine Appreciation sessions offer teams a chance to explore and savor different wines together. Participants learn about the nuances of wine tasting and discuss their impressions, fostering camaraderie and conversation.
46. Human Foosball
Human Foosball transforms the classic tabletop game into a life-sized version where participants become the players. Teams must work together to control the rods and kick the ball, promoting communication and cooperation.
47. Go-Kart
Go-Kart racing provides teams with a thrilling and competitive experience on the racetrack. Participants strategize and collaborate to achieve the fastest lap times.
48. Paintball
Paintball is an adrenaline-pumping game where teams engage in friendly combat using paintball markers. Participants work together to strategize and outmaneuver opponents, promoting teamwork and quick decision-making.
49. Trampoline
Trampoline parks offer teams an exciting and energetic bonding experience. Participants can bounce, flip, and play together, promoting laughter and camaraderie.
50. Stand-Up Paddleboard Adventure
Stand-Up Paddleboarding allows rival teams to explore the waterways while standing on paddleboards. Teams coordinate their movements to navigate and enjoy the adventure together.
51. Giant Beer Pong
Giant Beer Pong is a larger-than-life version of the classic drinking game. Teams compete to toss balls into oversized cups, fostering friendly competition and team spirit.
52. Running Man Games
Running Man Games are inspired by the popular Korean variety show, where teams engage in hilarious and exciting challenges. Participants must collaborate to complete missions and win the game.
53. Virtual Reality
Virtual Reality (VR) experiences offer teams immersive and interactive adventures in virtual worlds. Participants must communicate and strategize to overcome virtual challenges.
54. PoundFit
PoundFit is a high-energy workout that combines drumming and exercise. Teams drum and move together to the beat, fostering synchronization and teamwork.
55. BounceFit
BounceFit is a fitness class that takes place on trampolines, where teams bounce and move to upbeat music. The activity promotes fun, fitness, and team bonding.
56. Puzzle Mania
Puzzle Mania challenges teams to solve various puzzles and brain teasers together. Participants use critical thinking and collaboration to crack codes and unlock mysteries.
57. Tug of War
Tug of War is a great team building activity that requires strength and coordination. Teams must work together to pull the rope to their side, promoting unity and teamwork.
58. Soap Making
In Soap Making workshops, teams create personalized soap bars together. Participants communicate and share creative ideas to design unique and fragrant soaps.
59. Music Video Challenge
The Music Video Challenge lets teams create their music videos. Participants collaborate on scripting, choreography, and filming, fostering teamwork and creativity.
60. Dance Challenge
Dance Challenges involve teams learning and performing dance routines together. Participants support and encourage each other to master the moves and showcase their creativity.
61. The Egg Drop
The Egg Drop challenge tasks teams with designing and building a protective contraption to prevent an egg from breaking when dropped from a height. Teams collaborate on innovative designs, promoting problem-solving and teamwork.
62. Domino Challenge
The Domino Challenge requires teams to work together to create intricate domino patterns and trigger a chain reaction. This activity promotes planning, coordination, and patience.
63. Music Jamming
Music Jamming sessions allow teams to explore their musical talents together. Participants collaborate to create melodies and harmonies, fostering creativity and unity.
64. Singapore Heritage Trail
The Singapore Heritage Trail takes teams on a cultural journey, exploring historical landmarks and sites. Participants engage in educational activities that promote appreciation for local heritage.
65. Treasure Hunt
Treasure Hunts challenge teams to follow clues and solve riddles to find hidden treasures even at the comfort of your own office space. Participants collaborate and communicate effectively while practicing company values to decipher clues and reach the final destination.
66. Game Show Challenge
Game Show Challenges bring the excitement of TV game shows to team building. Teams compete in a variety of games and quizzes, encouraging camaraderie and friendly competition.
67. Video Workshop
In Video Workshops, teams collaborate to create their videos. Participants brainstorm ideas, film scenes, and edit footage together, promoting creativity and teamwork.
68. Building Bridges Challenges
Building Bridges Challenges involve teams constructing bridges with limited materials. Participants must communicate and collaborate to design sturdy structures.
69. Human Knot Challenge
The Human Knot Challenge requires teams to untangle themselves from a human knot without letting go of each other's hands. Participants must work together closely to unravel the knot.
70. Team Trivia Night
Team Trivia Nights challenge teams with quizzes on various topics. Participants pool their knowledge and expertise to answer questions and score points.
71. Team Olympics
Team Olympics feature a series of friendly athletic competitions. Teams collaborate and compete in various sports, fostering teamwork and sportsmanship.
72. Charades Challenge
Charades Challenges test teams' communication skills as they act out words or phrases without speaking. Participants must rely on gestures and teamwork to convey messages effectively.
73. Raft Building Challenge
Raft Building Challenges require teams to construct sturdy rafts using limited materials and navigate them in water. Participants must collaborate on design and teamwork for successful navigation.
74. Drone Racing Challenge
Drone Racing Challenges offer a high-tech team-building experience. Teams operate drones through obstacle courses, promoting communication and precision.
75. Adventure Race
Adventure Races involve teams competing in a multi-disciplinary race, combining running, biking, and other challenges. Teams strategize and collaborate to reach the finish line together.
76. Sailing Experience
Sailing Experiences provide teams with an unforgettable adventure at sea. Participants work together to navigate and sail a boat, fostering communication and teamwork.
77. Archery Workshop
Archery Workshops allow teams to learn and practice archery together. Participants encourage each other and aim for precision and accuracy.
78. Board Game Tournament
Board Game Tournaments bring out the competitive spirit in teams as they engage in friendly matches of classic board games. Participants strategize and challenge each other in various games.
79. Water Sports Fun Day
Water Sports Fun Days offer teams a wide range of water-based activities. Participants enjoy a fun-filled day engaging in water sports, promoting camaraderie and adventure.
80. Kaboom
Kaboom is an interactive game where teams must construct a chain reaction machine to set off a spectacular explosion. Participants communicate and collaborate to create a successful chain reaction.
Tips for Planning a Successful Team Building Event
To ensure a successful team building activity in Singapore, consider the following tips:
Understand Team Needs: Identify specific areas where the team needs improvement, such as communication, trust, or conflict resolution.
Choose Suitable Games: Select games that align with the team's needs and preferences while considering physical abilities and cultural sensitivities.
Set Clear Objectives: Communicate the objectives of the team building event to participants beforehand, so they understand the purpose and are actively engaged.
Facilitate Debriefing Sessions: After each game, conduct debriefing sessions to discuss lessons learned and how they can be applied in the workplace.
Encourage Inclusivity: Ensure that all team members feel included and valued during the team building event. Create an atmosphere where everyone's ideas and contributions are respected.
Balance Fun and Learning: While the primary goal is to have fun, incorporate learning moments within the games to reinforce the key takeaways and skills.
Provide Necessary Resources: Ensure that all required materials and resources for the team building games are readily available and in good condition.
Consider Virtual Options: If some team members work remotely or cannot attend in person, explore virtual team building games and activities to include everyone.
Seek Professional Assistance: If organizing team building events seems overwhelming, consider partnering with professional event planners who specialize in thrilling team building activities.
Follow Up: After the event, gather feedback from team members to understand their experiences and suggestions for future improvements.
Team Building Games Singapore
Team building games are a dynamic and engaging manner to foster camaraderie, improve communication, improve team performance, and develop cooperation among team members. Whether it's through the excitement of an Adventure Race, the precision required in a Drone Racing Challenge, or the creative collaboration of a Video Workshop, these activities offer fun and engaging ways to enhance teamwork.
Remember to align the games with your team's needs, set clear objectives, and ensure all participants feel included. With the variety of options available in Singapore, from high-energy physical challenges to more cerebral, strategy-based games, you're sure to find the perfect fit for your team.
If you want to read more interesting articles, follow the links below:
Frequently Asked Questions (FAQ)
If you have any questions about team building games in Singapore, you can refer to the frequently asked questions (FAQ) about the Best Team Building Games in Singapore below:
Additional Useful Articles
If you are looking for other useful guides and articles about team building games in Singapore, check them out below: