Team Building Venues Singapore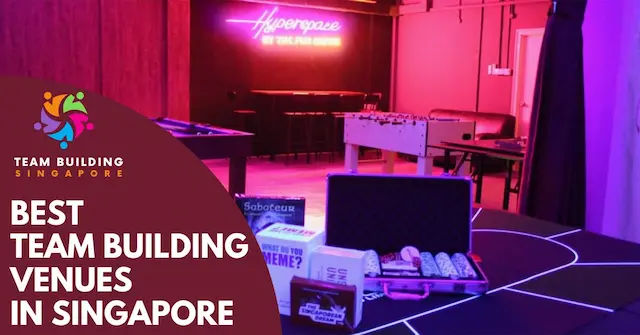 Team building is an essential aspect of fostering a strong and cohesive workforce within organizations.
The best Team Building Venues in Singapore are FunEmpire HQ, The Cage @ Kallang, CharisTurf @ Eunos, and Futsal Arena @ Yishun.
When choosing a venue, it is crucial to assess factors such as the location, amenities, capacity, atmosphere, budget, and safety precautions.
FunEmpire's Team Building Venue in Singapore is the top choice, boasting 8,000+ 5-star client reviews and a remarkable track record of over 50,000 successful events.
In this article, we will explore the best team building venues in Singapore, ensuring that your next team building event is both engaging and effective.
Quick Summary
Best Team Building Venues in Singapore are FunEmpire HQ, The Cage @ Kallang, CharisTurf @ Eunos, and Futsal Arena @ Yishun.
When selecting a venue, it's important to evaluate the location, facilities, capacity, ambience, budget, and safety measures.
FunEmpire's Team Building Venue stands out as the best Team Building Venue in Singapore, with 8,000+ 5-star client reviews and an impressive track record of over 50,000 successful events to date.
Understanding the Significance of Team Building
Team building goes beyond mere fun and games; it is a strategic approach to building strong relationships among team members, fostering mutual trust, and promoting a positive work environment. By engaging employees in well-planned team building activities, organizations can reap the benefits of improved productivity, better problem-solving capabilities, and increased employee satisfaction.
Benefits of Team Building
Encourages open communication: Team building breaks down barriers and fosters a collaborative and cooperative atmosphere among team members.
Enhances interpersonal relationships: It creates a sense of camaraderie and mutual support within the team.
Identifies and nurtures leadership skills: Through team building activities, employees' leadership skills are identified and nurtured, empowering them to take on more significant roles within the organization.
Boosts employee morale and job satisfaction: A positive team building experience can heighten employee morale and overall job satisfaction, which in turn, leads to reduced turnover and increased retention rates.
Factors to Consider When Choosing a Team Building Venue
Location: Ensure the venue is easily accessible to all team members, minimizing travel-related stress and logistical challenges.
Facilities: Check if the venue offers the necessary facilities for your team building activities, such as spacious indoor areas for problem-solving exercises or outdoor spaces for adventurous challenges.
Capacity: Ensure the venue can comfortably accommodate the entire team, taking into account the number of participants attending the event.
Customization: Look for venues that offer flexibility in designing activities and programs to tailor the team building experience to your organization's unique requirements.
Expertise: Consider venues with a track record of hosting successful team building events and staff who are experienced in facilitating engaging activities.
Reputation: Research the venue's reputation and read reviews from previous clients to gauge their overall customer satisfaction.
Safety Measures: Verify that the venue has appropriate safety measures in place, especially for outdoor or adventurous activities.
Amenities: Check for additional amenities that can enhance the overall experience, such as catering services, audio-visual equipment, and comfortable accommodations if the event extends over multiple days.
Budget: Ensure the venue's pricing aligns with your budget and that there are no hidden costs.
Accessibility: Consider any special accessibility needs that team members may have and choose a venue that caters to those requirements.
Ambience: Evaluate the venue's ambiance to see if it complements the atmosphere you wish to create for the team building event.
Feedback from Others: Seek recommendations and feedback from colleagues or other organizations that have previously used the venue for team building events.
Best Team Building Venues Singapore
1. FunEmpire HQ
FunEmpire HQ is a leading team building venue that offers a wide array of exciting and interactive team bonding activities. From adrenaline-pumping combat archery tag to creative art jamming sessions, their diverse range of experiences caters to various team dynamics. Their professional facilitators ensure a seamless and enjoyable event that fosters camaraderie and strengthens teamwork.
2. The Cage @ Kallang
The Cage @ Kallang provides a unique team building experience with its state-of-the-art futsal pitches and dynamic bubble soccer games. With multiple court options, teams can engage in friendly yet competitive matches that promote team spirit and strategic thinking. The venue's lively atmosphere and skilled trainers create an ideal setting for memorable team building events.
3. CharisTurf @ Eunos
CharisTurf @ Eunos offers a serene outdoor space, perfect for team building activities in a natural environment. Their well-maintained turf fields accommodate team games like soccer and rugby, while their beautiful gardens allow for relaxing team discussions and bonding. The venue's tranquil ambiance fosters a sense of unity and enhances the overall team building experience.
4. Futsal Arena @ Yishun
Futsal Arena @ Yishun provides excellent futsal facilities for teams to engage in fast-paced and action-packed games. With its covered pitches, rain or shine, teams can enjoy uninterrupted team building activities. Their friendly staff and well-maintained facilities ensure a seamless and enjoyable team building event.
5. Wing Fong Building
Wing Fong Building offers versatile indoor spaces for unique team building workshops and activities. From team challenges to problem-solving games, their spacious rooms cater to various team sizes and preferences. With customizable setups and professional support, teams can look forward to a productive and engaging team building experience.
6. Sentosa Pavilion
Nestled on Sentosa Island, Sentosa Pavilion presents an idyllic setting for team building events. The venue's outdoor spaces allow for engaging activities like beach Olympics and team sports. With the stunning beachfront as a backdrop, teams can bond and unwind in a relaxing yet invigorating environment.
7. Level Up
Level Up takes team building to the next level with its interactive and nostalgic arcade games. Teams can unleash their competitive spirit through classic games like Pac-Man and air hockey. The venue's vibrant and entertaining atmosphere guarantees a fun-filled team building experience.
8. Hort Park
Hort Park offers a refreshing escape for team building activities amidst lush greenery. The park's picturesque gardens and outdoor trails provide opportunities for team challenges and nature-inspired exercises. Engaging in activities here fosters creativity, teamwork, and a sense of well-being.
9. D'resort
D'resort offers a perfect blend of team building and leisure with its charming accommodation options and exciting activities. Teams can unwind after a day of bonding with cozy chalets and enjoy water-based team building games at the nearby Wild Wild Wet water park.
10. SEA Aquarium
SEA Aquarium provides a unique team building experience surrounded by marine wonders. Teams can embark on exciting scavenger hunts or engage in educational workshops amidst captivating ocean exhibits. The venue's aquatic ambiance creates a memorable setting for team building events.
11. Marina Barrage
Marina Barrage, situated at the waterfront, offers a truly remarkable venue for team building activities. With its picturesque view of the city skyline, it provides a captivating backdrop that enhances the overall experience.
The expansive open spaces are meticulously designed to accommodate various team challenges and outdoor games, providing ample room for creativity and collaboration.
The tranquil surroundings, complemented by the gentle breeze and serene atmosphere, foster a sense of unity and camaraderie among team members. All these remarkable features make Marina Barrage an unforgettable destination for team building events, where teams can come together, bond, and create lasting memories.
12. Karting Arena
Karting Arena, the ultimate destination for adrenaline junkies, offers an exhilarating and unforgettable team building experience. With a perfect blend of speed and excitement, teams can indulge in thrilling go-kart races on their meticulously designed track, pushing their limits while fostering healthy competition and strengthening team camaraderie.
The venue's highly trained and professional staff not only ensures a safe racing environment but also goes the extra mile to provide an enjoyable and memorable racing experience for all participants. Get ready to unleash your inner speed demon and create lasting memories at Karting Arena!
13. Zouk
Zouk, a legendary nightclub known for its vibrant and energetic ambiance, transforms into an exciting and unique team building venue after hours. With its state-of-the-art sound system, dazzling light shows, and spacious dance floor, Zouk provides the perfect setting for teams to come together and unleash their creativity.
Teams can engage in friendly dance-offs, guided by professional instructors who teach them the latest dance moves and techniques. Additionally, DJ workshops offer participants the opportunity to learn the art of mixing music and creating their own beats, fostering a sense of teamwork and collaboration.
In between activities, teams can enjoy delicious refreshments and socialize in the stylish lounge area, further strengthening their bonds and camaraderie. The lively atmosphere and pulsating music of Zouk create an unforgettable team bonding experience, leaving participants inspired and energized.
Whether it's the thrill of the dance-offs, the excitement of the DJ workshops, or simply the chance to connect and have fun with colleagues, Zouk provides a truly immersive and exhilarating team building experience like no other.
14. Yi Xing Xuan Tea House
Yi Xing Xuan Tea House offers a truly serene and culturally immersive team building experience. Step into a world where time slows down, and teams are transported to the heart of Chinese tea traditions. Immerse yourselves in tea appreciation sessions led by knowledgeable experts, where you'll discover the nuances and flavors of exquisite teas. Dive deeper into the art of Chinese tea ceremonies, learning the intricate rituals and symbolism behind each graceful movement.
Amidst the tranquil surroundings adorned with traditional aesthetics, engage in meaningful discussions that foster connection and understanding. Take a moment to appreciate the harmony and unity that the venue's ambiance cultivates, creating an atmosphere that inspires creativity and collaboration.
At Yi Xing Xuan Tea House, team building becomes an unforgettable journey of exploration, learning, and bonding, leaving participants with cherished memories and a deeper appreciation for Chinese tea culture.
15. Singapore Management University
Singapore Management University offers state-of-the-art facilities that are perfectly suited for indoor team building workshops and seminars. With their well-equipped spaces, which can comfortably accommodate large groups, the university provides an ideal setting for team development programs.
The venue's central location in Singapore adds an extra layer of convenience for the participants, allowing them to easily access the university and explore the vibrant city during their stay.
Whether it's collaborating in spacious meeting rooms or networking in modern common areas, SMU's facilities create an environment that fosters productivity, collaboration, and growth.
16. Pasarbella
Pasarbella, a vibrant market-style venue nestled in the heart of the city, offers a truly unique and immersive team building experience that is sure to delight all senses. With its diverse range of culinary delights from around the world, teams can indulge in an array of cooking challenges that test their skills and creativity. From mastering the art of sushi making to exploring the secrets of fine chocolate tempering, there is something for every palate.
Not only can teams embark on gastronomic adventures, but they can also partake in food tastings that showcase the finest flavors and ingredients. The venue's lively and inspiring atmosphere sets the stage for team-based competitions, where camaraderie and friendly rivalry thrive. It's in this vibrant setting that collaboration and creativity are fostered, as teams work together to create delectable masterpieces that leave lasting impressions.
Pasarbella's food-centric approach not only satisfies the taste buds but also ignites a passion for culinary excellence. With a plethora of unique dining options, from trendy food trucks to artisanal stalls, teams can explore a world of flavors and expand their culinary horizons.
Whether it's bonding over a shared love for food or discovering hidden talents in the kitchen, Pasarbella promises an unforgettable team building experience that will leave everyone craving for more.
17. Ginett Restaurant & Wine Bar
Ginett Restaurant & Wine Bar provides a luxurious and refined setting for team building activities that revolve around the art of wine appreciation and gourmet cuisine. Our meticulously crafted experiences enable teams to savor exquisite wine-tasting sessions, master culinary skills through hands-on cooking classes, and engage in exciting team challenges specifically designed to foster effective communication and seamless cooperation. Immerse your team in an unforgettable journey of flavors, camaraderie, and personal growth.
18. This Flower Haus
This Flower Haus offers a truly unique and immersive team building experience that combines artistry and inspiration through its engaging flower arranging workshops. Teams have the opportunity to come together and collaboratively create stunning floral arrangements, fostering not only teamwork but also igniting creativity and innovation.
The venue's meticulously crafted floral-themed ambiance sets the perfect stage for a truly relaxing and enjoyable team building session, allowing participants to unwind and connect in a serene and beautiful environment.
Whether it's the vibrant colors of the blossoms or the soothing fragrance that fills the air, every aspect of the experience is carefully curated to provide a memorable and enriching team building activity.
19. Gardens by The Bay
Gardens by The Bay offers a captivating blend of nature and technology, creating a magical setting for team building. With nature-inspired challenges and stunning outdoor gardens to explore, teams can immerse themselves in a unique experience. The venue's commitment to sustainability also aligns perfectly with eco-conscious team building goals.
20. SuperPark
SuperPark is an exceptional indoor playground meticulously crafted to provide an exhilarating team-building experience. With a myriad of activities to choose from, teams can delve into thrilling obstacle courses, defy gravity on trampolines, and immerse themselves in interactive games that ignite their competitive spirit.
Within this vibrant and high-energy environment, participants are not only encouraged to foster teamwork but also to foster lasting connections through friendly competition. Let the adventure unfold at SuperPark!
21. The Mind Café
The Mind Café, nestled in a charming corner, offers a cozy and intellectually stimulating team-building experience like no other. With its extensive collection of board games and mind-boggling puzzles, teams can immerse themselves in a world of strategic thinking and problem-solving. Engage in friendly battles of wits, foster camaraderie, and create lasting memories within the relaxed and casual ambiance of this remarkable haven.
22. Dairy Farm Nature Park
Dairy Farm Nature Park offers a tranquil and picturesque setting, perfect for team building activities immersed in the captivating beauty of nature. Teams can embark on exciting adventures along scenic trails, encounter thrilling outdoor challenges, and partake in a variety of engaging team-based activities that foster a sense of collaboration, enhance communication skills, and strengthen bonds among team members.
With its serene ambiance and abundant natural wonders, Dairy Farm Nature Park provides an idyllic retreat that leaves a lasting impression on both individuals and teams alike.
23. Team Music
Team Music is your go-to destination for unique and engaging music-themed team building events. Our meticulously curated experiences offer an array of activities, including invigorating drum circles, captivating musical performances, and thrilling rhythm-based challenges.
By immersing your team in the world of music, we aim to enhance coordination, foster a deep sense of unity, and ignite a passion for collaboration. Join us as we embark on a transformative journey, where the power of music brings teams closer together and unlocks their full potential.
24. Sands Expo & Convention Centre
Sands Expo & Convention Centre is the perfect destination for hosting large-scale team building events. Our versatile and spacious venue provides ample room for teams to come together and engage in a wide range of activities, seminars, and workshops.
With customizable spaces and state-of-the-art facilities, we offer the flexibility to create a tailored experience that meets your specific needs.
Whether you're looking to foster collaboration, enhance communication, or develop leadership skills, our venue is designed to facilitate productive and memorable team building experiences. Join us at Sands Expo & Convention Centre and unlock the potential of your team!
25. Suntec Singapore Convention
Suntec Singapore Convention is renowned for its premier venue, providing a perfect setting for team building events. With its state-of-the-art facilities and prime central location, it offers an ideal space for fostering team spirit and collaboration.
The spacious and versatile areas can effortlessly accommodate large groups, allowing for the customization of impactful team building programs that cater to the unique needs and goals of each organization.
Whether it's engaging indoor activities or outdoor challenges, Suntec Singapore Convention ensures an unforgettable experience that strengthens bonds and cultivates a thriving team culture.
Tips for Planning a Memorable Team Building Event
Planning a memorable team building activity requires thoughtful consideration and preparation. Here are some practical tips to ensure a successful experience:
Define Objectives: Clearly outline the objectives and desired outcomes of the team building activity to align activities with specific goals.
Engage Participants: Involve team members in the planning process to increase their enthusiasm and commitment to the event.
Choose Activities Wisely: Select activities that cater to various personalities and interests, ensuring everyone can participate comfortably.
Incorporate Team Building Into Work: Integrate team building activities with day-to-day work to foster continuous team bonding.
Gather Feedback: Collect feedback from participants after the event to assess its effectiveness and identify areas for improvement.
Team Building Venues Singapore
With such a diverse array of team building venues in Singapore, selecting the right one can significantly enhance your team's bonding and development experience. From high-energy FunEmpire adventures to the tranquil beauty of the Dairy Farm Nature Park, there's a venue to cater to every team's preferences. Remember, the success of a team building lies not just in the venue, but also in carefully planned activities that align with your team objectives. Above all, remember to have fun and make lasting memories along the way.
Frequently Asked Questions (FAQ)
If you have any questions about Team Building Venues in Singapore, you can refer to the frequently asked questions (FAQ) about the best Team Building Venues in Singapore below:
What are some exciting team building activities that can be done in Singapore?
In Singapore, there are numerous exciting team building to choose from. These can include outdoor activities like the Amazing Race, virtual team building like online escape rooms, or even unique workshops like a team building perfume workshop.
How important is choosing the right team building venue?
Choosing the right team building venue is crucial as it sets the tone and atmosphere for the event. A well-suited venue can enhance engagement, facilitate team bonding, and provide the necessary facilities for team building exercises.
Can you recommend some top team building venues in Singapore?
Some of the top team building venues in Singapore include Suntec City Mall, which offers various event spaces suitable for team building sessions. Other notable venues include Sentosa Island, Gardens by the Bay, and Marina Bay Sands.
What are some popular outdoor team building activities in Singapore?
Singapore offers a range of popular outdoor team building such as beach Olympics, dragon boat racing, and treasure hunts. These activities encourage teamwork, communication, and problem-solving skills while enjoying the outdoors.
How can an online event management system enhance team building sessions?
An online event management system can enhance team building sessions by providing a platform for seamless coordination, registration, and communication. It allows organizers to efficiently manage the logistics of the event, making it easier to execute team building exercises and activities.
What are some event spaces suitable for team building activities in Singapore?
Singapore has a variety of event spaces that are suitable for team building. Some options include function rooms at hotels, dedicated event venues, and even outdoor spaces like parks or open-air arenas.
How can escape rooms contribute to team building exercises?
Escape rooms are immersive and challenging team building that require participants to work together to solve puzzles and escape within a set time limit. They promote collaboration, communication, and problem-solving skills among team members.
Are there virtual team building activities available in Singapore?
Yes, there are virtual team building available in Singapore. These activities include online escape rooms, virtual scavenger hunts, and interactive workshops that can be conducted remotely, allowing teams to bond and collaborate even when physically apart.
How can a team building perfume workshop foster team bonding?
A team building perfume workshop allows team members to engage in a creative and sensory activity together. It encourages communication, collaboration, and mutual appreciation as participants work together to create unique fragrances.
Can you recommend an event space for team building activities near Suntec City Mall?
For team building near Suntec City Mall, you can consider options like Suntec Singapore Convention & Exhibition Centre or nearby hotels with function rooms. These venues provide convenient access to Suntec City Mall while offering ample space for team-building sessions.