Things To Do Singapore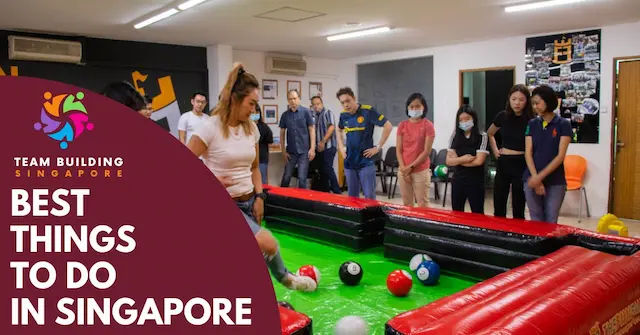 Singapore, a dynamic city-state known for its modern marvels and cultural heritage, beckons travelers with a diverse array of activities and attractions. Whether you're a local seeking new adventures or a tourist eager to explore, this guide will unveil the best things to do in Singapore for the year 2023. From iconic landmarks to culinary delights, from cultural gems to family-friendly experiences, Singapore offers a kaleidoscope of options that cater to all interests and preferences.
Benefits of Exploring Singapore's Attractions
Venturing into Singapore's attractions brings forth a myriad of rewards:
Cultural Enrichment: Exploring neighborhoods like Chinatown and Kampong Glam deepens your understanding of Singapore's multicultural fabric.
Memorable Experiences: Shared experiences at attractions like Universal Studios Singapore create lasting memories for families, friends, and couples.
Culinary Adventures: Indulging in hawker center delicacies introduces your taste buds to an explosion of flavors unique to Singapore.
Nature's Respite: Amid the urban hustle, gardens and nature reserves provide a serene retreat for relaxation and tranquility.
Key Consideration Factors for Exploring Singapore
Enhancing your Singapore experience requires thoughtful planning and consideration. Here are some key factors to keep in mind:
Weather and Seasons: Singapore's tropical climate can vary throughout the year. Plan outdoor activities during the cooler months of November to February to avoid excessive heat and rain.
Advance Tickets: Popular attractions like Universal Studios Singapore and Gardens by the Bay can have long queues. Purchase tickets online in advance to skip the lines and ensure a smoother experience.
Cultural Sensitivity: Singapore is a melting pot of cultures and religions. Respect local customs and traditions, especially in places of worship and during festivals.
Language: English is widely spoken, making communication easy for travelers. However, familiarizing yourself with common local terms can enhance your interactions with locals.
Best Things To Do Singapore
Creative Workshops
1. Neon Art Jamming
Experience the thrill of creating under neon lights. Neon Art Jamming combines the joys of painting with the mesmerizing glow of neon colors. Express yourself on canvas as you experiment with hues that come alive in the dark, resulting in a masterpiece that's both captivating and unique.
2. Leather Workshop
Embark on a journey of craftsmanship with the Leather Workshop. Learn the art of working with leather, from cutting and stitching to embossing intricate designs. Craft your personalized leather accessory and gain insights into the age-old techniques that transform leather into functional art.
3. Cooking Class
Elevate your culinary skills with a hands-on Cooking Class. With guidance from experienced chefs, dive into the world of gastronomy, mastering techniques, and savoring the flavors you create. Whether you're a novice or a seasoned home cook, this class offers a delectable adventure for your taste buds.
4. Art Jamming
Unleash your creativity in an Art Jamming session. Amid a relaxed and inspiring environment, experiment with different artistic mediums, colors, and techniques. Whether you're painting for the first time or seeking to refine your skills, Art Jamming provides a platform for self-expression and artistic growth.
5. Tote Bag Art Jamming
Fashion meets art in the Tote Bag Art Jamming experience. Customize a stylish tote bag with your unique designs and patterns. From brush strokes to stencils, let your imagination run wild as you transform a blank canvas into a functional accessory that reflects your personality.
6. Terrarium Workshop
Discover the enchanting world of terrariums in a hands-on workshop. Create your own miniature ecosystem using plants, stones, and decorative elements within a glass container. Delve into the art of balance and design as you assemble a self-contained garden that brings a touch of nature to any space.
7. Clay Making Workshop
Sculpt your imagination into reality with a Clay Making Workshop. Learn the basics of working with clay, molding and shaping it into intricate forms. Whether you craft functional pieces or artistic sculptures, this workshop offers a tactile and fulfilling experience.
8. Balloon Sculpting
Unlock your inner balloon artist with Balloon Sculpting. Learn the techniques to twist and shape balloons into whimsical creations, from animals to intricate characters. Perfect for parties or simply to bring a smile, Balloon Sculpting offers a fun skill that spreads joy to all ages.
9. Perfume Workshop
Embark on a sensory journey with a Perfume Workshop. Explore the art of fragrance creation as you blend aromatic notes to craft a signature scent. With expert guidance, discover the science behind perfumery and leave with a personalized fragrance that reflects your individuality.
10. Candle Making Workshop
Dive into the world of candle crafting in a Candle Making Workshop. From selecting fragrances to molding and designing candles, learn the art and science behind creating aromatic and decorative pieces. This hands-on experience lets you take home not just candles, but also the joy of mastering a traditional craft.
Adventure Activities
11. Giant Board Games
Elevate your game night with Giant Board Games. Experience the classics like never before as you strategize and compete on a larger-than-life scale. Engage in friendly rivalry while enjoying the outdoors and the nostalgia of beloved games.
12. Laser Tag
Enter an exhilarating world of Laser Tag, where strategy and adrenaline collide. Navigate darkened arenas, utilizing teamwork and precision to tag opponents with harmless laser beams. With heart-pounding action and friendly competition, Laser Tag promises an immersive adventure.
13. Saber Tag®
Embrace your inner Jedi or Sith with Saber Tag®, a futuristic combat experience. Engage in epic duels using foam-padded lightsabers, honing your combat skills while immersed in a galaxy far, far away.
14. SaberFit
Get fit in style with SaberFit, a workout that combines lightsaber combat and cardio exercises. Channel your inner warrior as you swing, strike, and sweat your way to a more active lifestyle.
15. Bubble Soccer
Roll, bounce, and score in Bubble Soccer, a hilarious and action-packed game. Strap into inflatable bubbles and take to the field for a unique and unforgettable twist on traditional soccer.
16. Combat Archery Tag
Experience archery like never before with Combat Archery Tag. Dodge and aim foam-tipped arrows at opponents, using barricades and strategy to outwit and outshoot your adversaries in a safe and exciting environment.
17. Neon Archery Tag
Take archery to a neon-infused level with Neon Archery Tag. Engage in fast-paced, glow-in-the-dark archery battles using illuminated equipment and blacklight effects. Navigate the darkness and hit your targets for an electrifying experience.
18. Ninja Tag
Channel your inner ninja in an adrenaline-pumping obstacle course. Race against time as you navigate through challenges, perfecting your agility and focus to complete the course like a true ninja warrior.
19. Poolball™
Combine soccer and billiards with Poolball™, a captivating fusion of two beloved games. Use your feet to maneuver soccer balls on a life-sized pool table, aiming for pockets and strategic placements.
20. Bullet Strike (Nerf Gun)
Engage in high-energy battles with Bullet Strike, using foam dart blasters for thrilling skirmishes. Plan strategies, compete in team-based games, and enjoy the excitement of friendly Nerf gun warfare.
21. Bullet Ball
Experience a dynamic blend of soccer and dodgeball in Bullet Ball. Strategize with your team to outscore opponents while dodging balls aimed at you. Fast-paced and fun, Bullet Ball brings an extra layer of excitement to traditional sports.
22. Giant Whack A Mole
Step into the classic arcade game in a larger-than-life way with Giant Whack A Mole. React quickly and coordinate with your team to dodge "moles" and score points, creating an engaging and entertaining experience for all.
23. Neon Laser Tag
Experience the thrill of Laser Tag in a neon-infused arena. Navigate through blacklight-lit battlegrounds, aiming your laser beams at opponents while evading their shots. With an electrifying atmosphere, Neon Laser Tag guarantees a memorable time.
Quest Activities
24. Escape Room
Challenge your intellect in an Escape Room adventure. Collaborate with your team to solve puzzles, decipher codes, and unlock clues that lead to your escape within a themed setting. With the clock ticking, every moment counts in this exhilarating quest for freedom.
25. Amazing Race
Embark on a real-life version of the Amazing Race. Solve clues, tackle challenges, and race against the clock as you explore the city in this thrilling team-building adventure. Test your problem-solving skills and teamwork while enjoying a unique and competitive experience.
Leisure Activities
26. Yacht Rental
Indulge in luxury with a Yacht Rental experience. Whether for a special occasion or a leisurely day out, cruising on a private yacht offers breathtaking views, relaxation, and an opulent way to explore the seas.
27. Neon Bowling
Add a neon-infused twist to classic bowling with Neon Bowling. Enjoy the thrill of striking down pins under vibrant neon lights, transforming a traditional pastime into an electrifying and memorable activity.
Virtual Workshops
28. Virtual Food Quest
Embark on a global culinary adventure from the comfort of your home with a Virtual Food Quest. Learn to cook international dishes guided by expert chefs, expanding your culinary repertoire and mastering new flavors.
29. Virtual Terrarium Workshop
Bring the outdoors indoors with a Virtual Terrarium Workshop. Learn the art of creating a self-sustaining ecosystem within a glass container through virtual instruction. Craft your own miniature garden with ease and embrace the tranquility of nature at home.
30. Virtual Art Jamming
Ignite your creativity virtually with Art Jamming. Under the guidance of skilled artists, unleash your artistic potential, creating digital masterpieces from the comfort of your own space. Whether a beginner or an experienced artist, Virtual Art Jamming offers a platform for self-expression and artistry.
31. Virtual Leather Making Workshop
Explore the world of leathercraft through a Virtual Leather Making Workshop. Learn to create personalized accessories using virtual instruction, from embossing to stitching. With the guidance of expert artisans, craft unique leather items from wherever you are.
32. Virtual Clay Making Workshop
Sculpt and shape virtually with a Clay Making Workshop. Delve into the tactile world of clay artistry as you learn to craft intricate pieces through online guidance. Create unique sculptures and enjoy the therapeutic experience of working with clay from the comfort of your home.
Virtual Games
33. Virtual Ben's Big Heist
Immerse yourself in a virtual heist adventure with Ben's Big Heist. Solve puzzles, navigate challenges, and uncover secrets as you become a master thief in this thrilling virtual escapade. Collaborate with your team to crack codes and outwit obstacles for an immersive and engaging experience.
34. Virtual Squid Escape Game
Dive into an underwater mystery with the Virtual Squid Escape Game. Solve puzzles, unlock clues, and work together with your team to unravel the story and escape the virtual depths.
35. Virtual Escape Room
Challenge your wit and teamwork in a Virtual Escape Room experience. Solve intricate puzzles, decipher riddles, and unravel the mysteries within themed scenarios. Engage in a thrilling adventure without leaving the comfort of your home.
36. Virtual Time Travel
Embark on a virtual journey through time with the Virtual Time Travel game. Solve historical puzzles, unlock secrets, and explore different eras as you navigate a captivating narrative.
37. Virtual Amazing Race
Race around the world virtually in the Virtual Amazing Race. Solve clues, complete challenges, and collaborate with your team to conquer a global adventure through the power of technology.
38. Virtual Party Mania
Elevate your virtual gatherings with Party Mania. Engage in a series of fun and interactive virtual games, challenges, and activities that bring the party to your screen and foster memorable connections.
39. Virtual Ben's Big Heist
Immerse yourself in a virtual heist adventure with Ben's Big Heist. Solve puzzles, navigate challenges, and uncover secrets as you become a master thief in this thrilling virtual escapade. Collaborate with your team to crack codes and outwit obstacles for an immersive and engaging experience.
40. Virtual Nightfall
Embark on a virtual adventure with Nightfall. Solve mysteries, decode puzzles, and work with your team to navigate a suspenseful storyline set in a captivating virtual world.
Practical Tips for Exploring Singapore
Maximize your Singapore adventure with these practical tips:
Efficient Transportation: Utilize the efficient public transportation system, including the MRT (Mass Rapid Transit) and buses, to navigate the city affordably.
Weather-Appropriate Attire: Pack light and breathable clothing to stay comfortable in Singapore's humid climate. Don't forget sunscreen, a hat, and an umbrella for sudden rain showers.
Cashless Transactions: Singapore is highly digitalized. Use contactless payment methods like credit cards and mobile wallets for hassle-free transactions.
Cultural Etiquette: Show respect by covering your shoulders and knees when visiting religious sites. Remove your shoes when entering homes and certain indoor spaces.
Diverse Cuisine: Don't hesitate to explore local markets and hawker centers for a taste of authentic Singaporean cuisine. Opt for well-frequented stalls for a delicious and safe culinary journey.
Things To Do Singapore
Singapore offers a vibrant blend of cultures, a diverse array of activities, and a robust digital landscape that caters to varied interests and preferences. From thrilling physical adventures to immersive virtual experiences, this city-state provides a dynamic playground for explorers. With efficient transportation, a highly digitalized economy, and an eclectic culinary scene, it's a destination that effortlessly marries tradition with modernity.
So, whether you're looking to delve into Singapore's rich heritage, marvel at its architectural wonders, or explore its innovative digital offerings, the Lion City ensures a memorable journey. Just remember to observe cultural etiquettes and be prepared for the tropical climate. Now, it's time to embark on your Singapore adventure!
Frequently Asked Questions
If you have any questions about things to do in Singapore, you can refer to the frequently asked questions (FAQ) about the best things to do in Singapore below:
What is Neon Art Jamming?
Neon Art Jamming is a creative workshop where participants paint using vibrant neon colors under blacklight. It creates a glowing effect that adds an exciting and unique twist to traditional art jamming sessions.
What can I expect from a Leather Workshop?
In a Leather Workshop, you'll learn the art of crafting leather accessories like wallets and keychains. Expert instructors guide you through techniques such as stitching, embossing, and dyeing to create personalized items.
How does a virtual Cooking Class work?
A virtual Cooking Class connects you with professional chefs who teach you to prepare gourmet dishes from the comfort of your kitchen. You'll follow step-by-step instructions and gain valuable culinary insights.
What is a Terrarium Workshop?
A Terrarium Workshop teaches you to create self-sustaining mini gardens within glass containers. You'll arrange plants, moss, stones, and decorations to build a small ecosystem that's easy to care for.
How does Combat Archery Tag differ from traditional archery?
Combat Archery Tag combines archery with elements of dodgeball. Players use foam-tipped arrows to tag opponents, aiming for both accuracy and agility in an exciting battle scenario.
Can you explain Virtual Escape Rooms?
Virtual Escape Rooms are online versions of physical escape room games. You and your team solve puzzles and riddles virtually to progress through a themed storyline and "escape" within a set time.
What is Yacht Rental used for?
Yacht Rentals offer a luxurious experience for various occasions. From intimate celebrations to leisurely outings, you can cruise the waters in style and enjoy stunning views from a private yacht.
What is a Virtual Food Quest?
A Virtual Food Quest involves learning to cook international dishes through online classes led by expert chefs. It's a virtual culinary journey where you explore diverse flavors and techniques from around the world.
How do I join the Virtual Amazing Race?
Participating in the Virtual Amazing Race involves solving clues and completing challenges through virtual platforms. Collaborate with your team remotely to compete in this exciting virtual adventure.
Are the Virtual Games suitable for team-building events?
Absolutely! Virtual Games like Virtual Amazing Race and Virtual Party Mania are perfect for team-building. They promote communication, problem-solving, and collaboration among participants, even when they're not physically together.